Why AFC Championship Game Proved the New England Patriots Are Entirely Beatable
January 23, 2012

Elsa/Getty Images
This was the first time in the 2011-2012 season that the Patriots beat a team with a winning record.
The Ravens were a good team and earned the right to be in that game, but they would have been underdogs most likely against any of the potential NFC Super Bowl opponents.
Keeping all of that in mind, and trying not to take too much away from the Patriots victory, the Ravens should have at least tied the game and forced overtime at which point anything could have happened.
New England looked very human in this game, especially at their marquee position of quarterback. Tom Brady registered no touchdowns through the air and was dangerously close to throwing four interceptions instead of the two that actually counted.
The team made unforced errors via turnovers, missed passes and blown coverages which all might have spelled doom against a more potent offensive attack.
The most frightening thing for the Patriots is that Tom Brady was not under a lot of pressure in this game, and many of the mistakes were simply misfires by the future Hall of Fame quarterback. 
Another interesting moment that should give opponents of the Patriots hope is the fact that New England chose not to allow Brady the chance to convert points at the end of the first half and instead decided to take a knee.
Could that mean that the Patriots are not wholly confident in the sum of their parts on offense? Maybe, but whatever factors went into the decision they seem to point to chinks in the armor of New England's attack.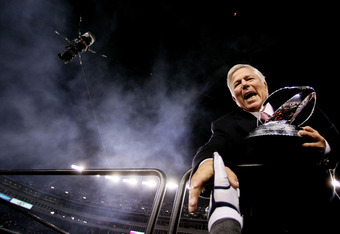 Elsa/Getty Images
Whoever the opponent ends up being for the Patriots in the Super Bowl, they're sure to offer a better pass rush than what the Ravens were able to muster. That doesn't mean that the all-around defense of the Ravens wasn't very good in this game, but New England's next opponent will have more tools to help pressure Brady than what was encountered today.
The chances are low that Brady will come out and deliver another performance like the one he did today, but the road that the Patriots have trodden on the way to the Super Bowl has not been an extremely tough one.
New England looked shaky against the first true Super Bowl contender they faced in Baltimore making their dominating win over Denver more of an anomaly than an expectation.
The Patriots are always going to be a dangerous team with Tom Brady at the helm, but their performance today didn't do much to credit the belief that they are a juggernaut coming out of the AFC.