Ravens vs. Patriots: Biggest Heroes in New England's Narrow Victory
January 22, 2012

Elsa/Getty Images
Tom Brady had a bad game against the Baltimore Ravens on Sunday, but somehow the New England Patriots still managed to earn a trip to the Super Bowl.
Brady threw for 239 yards, had no touchdown passes and threw two costly interceptions.
But, the defense rallied and the ground game was just effective enough to slow down the Ravens.
Of course, a missed field goal from Baltimore kicker Billy Cundiff prevented overtime, but it was a good team win for New England nonetheless.
Let's take a look at three of the biggest heroes from the Patriots' narrow 23-20 victory.
BenJarvus Green-Ellis
On a day when Brady struggled, having a decent running game was incredibly important.
Green-Ellis didn't have a great game, but he did just enough to keep the Pats' offense moving.
Running for 68 yards and a touchdown is just what the Patriots needed on Sunday.
If he can put up another 68-yard performance in the Super Bowl, the Patriots will have a great chance of beating either the Giants or the 49ers.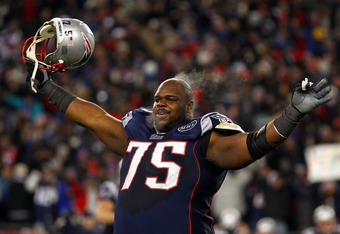 Al Bello/Getty Images
Vince Wilfork
Wilfork was a beast in the middle of the Patriots' defensive line. The big man finished the game with a sack and three tackles for loss.
By not allowing Ray Rice and Ricky Williams to run up the middle, the Patriots were able to keep the Ravens contained offensively.
And, Wilfork's sack and consistent pass rush up the middle often prevented Joe Flacco from stepping up in the pocket.
He anchored the defense and led the Patriots to one of their best (and certainly most clutch) defensive performances of the season.
The Ravens can now attest to how important a kicker can be.
After Billy Cundiff shanked a chip shot field goal that would have sent the game to overtime, Gostkowski needs to be properly appreciated.
He was 3-for-3 on his field goals, hitting from 24, 29 and 35 yards.
Though those weren't exactly hard field goals, it was incredibly important that he made them.
Nothing is a gimme, especially not when it comes to field goals. Gostkowski's leg was steady and sure and powered the Pats to victory.