Tom Brady vs. Eli Manning: Super Bowl QB Breakdown
January 23, 2012

Jim Rogash/Getty Images
Super Bowl weekend has finally been set with the conclusion of the conference championship games as the New England Patriots will meet the New York Giants at Super Bowl XLVI in Indianapolis. This is a rematch of Week 9 of this season as well as Super Bowl XLII, both of which the Giants won.
The quarterbacks, who are always the center of attention, of the teams are two of the best in the NFL today. New England Patriots signal-caller Tom Brady has been one of the most consistent performers in recent NFL history, consistently showing the ability to carry his team and make big throws. 
For the New York Giants, it was a different team when they won the Super Bowl as quarterback Eli Manning was not the player he is today. Today he has taken his game to another level and officially put the Eli in "Elite". Like other quarterbacks, Eli has his strengths and weaknesses.
Eli Manning—Giants
Strengths
Throwing Under Pressure
Manning is one of the best quarterbacks under pressure, showing the ability to side step pass rushers and keep his eyes down the field. His pocket presence is also one of the better in the league and because of this, he has bailed the Giants offensive line out of a plethora of sacks.
Throwing from Different Platforms 
Throwing off different platforms is one of the most important traits of a quarterback in my opinion because he is not always going to have a clean pocket to step through and deliver the ball. Eli has done an excellent job this season showing the ability to throw from various platforms, both on the move and out of the pocket where he has to square his shoulders before delivering the ball.
Clutch
The clutch factor is always a big plus with quarterbacks and few match Manning in this department. He set a record this season for comeback wins in a season with tough throws when the Giants were counted out and he was being battered by pass rushers. Despite all of this, he has come through and led his team to the Super Bowl.
Arm Velocity
Eli has the ability to deliver throws with great velocity, sticking them in tight windows on both short and deep passes. He has shown this numerous times this season and in years past, fitting the ball into zone coverage and making unbelievable deep passes against man coverage.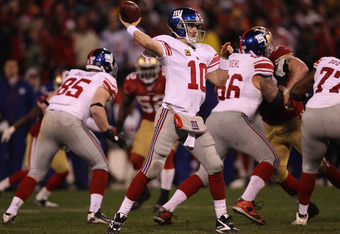 Ezra Shaw/Getty Images
Patience
A lot of quarterbacks are too quick to go through their reads and find their outlet receiver but this is not the case with Manning. He stays in the pocket and goes through all of his progressions before delivering the pass, even when there is a defender staring him down.
Weaknesses
Decision Making
Although he's cut down his turnover total from last season, Manning still can get caught making poor decisions. These can be seen when he throws off his back foot, trusting his arm too much and not squaring his shoulders before throwing.
Tom Brady—Patriots
Arguably the greatest player to ever play his position, New England Patriots quarterback Tom Brady has done it again; he's taken his team to the Super Bowl for the fifth time in his career with a significant contribution to the 23-20 win over the Baltimore Ravens in the AFC Championship Game.
Although Brady did not have his best career game against the Ravens, he's still considered by most as the standard at the quarterback position. But what makes Brady one of the best? Here are his strengths and weaknesses that I've identified after watching him over the course of several years.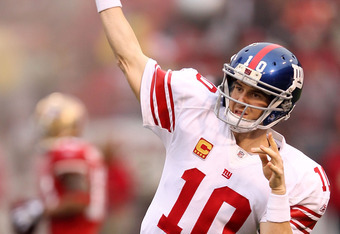 Ezra Shaw/Getty Images
Strengths
Pocket Presence 
Perhaps his greatest strength, the Patriots signal-caller's pocket presence is off the charts. He's got ice running through his veins regardless of his chaotic surroundings and is able to feel any kind of pressure, whether it be through the interior or from the blindside. 
He doesn't have great foot quickness but he's subtle in the pocket and is able to sidestep the rush while keeping his eyes up the field, a must for all quarterbacks.
Accuracy
Accuracy is one of the toughest things to acquire or develop in practices. Its said that it can't be improved much, rather its an innate ability of the athlete. If "it" is accuracy, then Brady has it. He's got great, pure accuracy when throwing the ball to his intended targets.
Another term that often is applied to the evaluation of accuracy is ball placement. Many will say these two are the same and to a degree they are, but they are not in my opinion. Ball placement can be taught to an extent, which is often seen by coaches teaching quarterbacks where to place the ball based off of the leverage of the defender. This is something that Brady does exceptionally well.
Footwork
You can have the strongest arm, best accuracy and poise in the pocket but if you don't have footwork, you will still have issues.
The reason for this is because footwork is developed in an offensive system for rhythm. Rhythm dropbacks are used to tie footwork with the routes run by the pass catchers. 
Three step drops often consist of one big step and two small ones while a five-step drop consists of three big steps and two small ones while a seven-step drop utilizes five big steps and two small ones. These steps are important because of the aforementioned reasons and they are done very well by Brady. 
Football Intelligence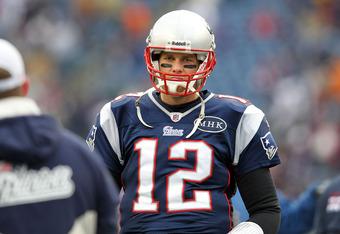 Jim Rogash/Getty Images
Football intelligence or "FBI" is very important at the quarterback position and Tom Brady's IQ is very high. He has a great understanding of where to slide his pass protection to counter a blitz as well as the ability to decipher blitzes and coverages before and after the snap. 
A big help for Brady's football intelligence development has been head coach Bill Belichick, a genius on the defensive side of the ball, who meets with Brady late in the week to break down the defenses that he'll be seeing.
Weaknesses
While Tom Brady has many great traits that make him a great quarterback, he is not without weaknesses. Like every other athlete, he has his issues and while there are not many, only two to be specific, they are still important to note.
Interior Pressure
As calm as Brady is in the pocket, he has issues dealing with pressure up the middle of the pocket. He's a pure pocket passing quarterback and needs a clean pocket to work from to be able to step through his passes. However, when he does not have this, he will have issues delivering the ball. 
Mobility
A significant reason why the Patriots quarterback will have issues with interior pressure is because of his lack of mobility outside the pocket. He is not an elite physical athlete and his lack of foot quickness shows up in this area.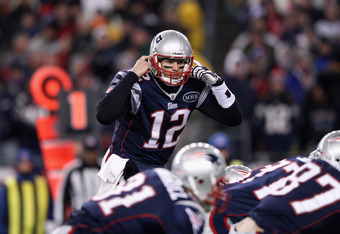 Elsa/Getty Images
With that said, both of these quarterbacks are excellent at what they do because of their consistency and clutch throws. They are able to put their teams on their back and carry them in a game—something many quarterbacks cannot do. What do you think are the strengths and weaknesses of the two quarterbacks?