Australian Open 2012 Scores: Predicting the Men's Day 9 Matches
January 23, 2012

Mark Dadswell/Getty Images
The 2012 Australian Open is creeping closer and closer to what should be a thrilling final on the men's side.
The top three players in the world—Novak Djokovic, Rafael Nadal and Roger Federer—all appear to be in top form.
That means the final should consist of either Federer or Nadal meeting the Djoker in the final, which would be some must-see TV.
Let's take a look at the Day 9 matchups and predict who will advance to the semifinals.
No. 3 Roger Federer def. No. 11 Juan Martin Del Potro: 6-4, 3-6, 6-3, 5-7, 7-5
Federer is playing like he did when he was the No. 1 player in the world, and that's a scary thought for his opponents.
But, if there's one person not ranked outside the top three who can stop Fed's momentum, it's Del Potro.
Del Potro was the guy who ended Federer's streak of five straight US Open titles back in 2009, so he knows how to beat Federer on a hard court.
Del Potro's length is a great counter to Fed's precision. He can reach shots that no one else can reach with his long arms.
Federer is going to have to work harder to get this victory, but he should still emerge from this match victorious.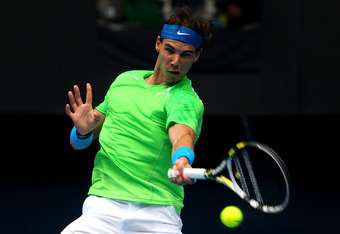 Cameron Spencer/Getty Images
No. 2 Rafael Nadal def. No. 7 Tomas Berdych: 6-4, 6-4, 6-3
Nadal is making things look easy so far in this year's Australian Open.
He's beaten every single one of his opponents in straight sets and hasn't really broken much of a sweat doing it.
Meanwhile, Berdych has had to go to extra sets twice, including a hard-fought battle against Nicolas Almagro in Round 4.
Fatigue won't be a factor for Nadal, but it might be for Berdych. He's going to have to give it everything he's got to even force a fourth set with the talented Spaniard.
My prediction: Nadal makes it look easy again.