Rob Gronkowski Injury: Updates on New England Patriots Star's Ankle Injury
January 22, 2012

Al Bello/Getty Images
Rob Gronkowski is far too important to the New England Patriots and thankfully he has two weeks to heal his ankle and prepare for the New York Giants at Super Bowl XLVI.
UPDATE: Friday, Jan. 27 at 1:56 p.m. EST
Rob Gronkowski has the devastated high-ankle sprain, according to his father, per CSNNE.com's Tom E. Curran. 
"The father of Patriots tight end Rob Gronkowski says his son has a "high ankle sprain" and that he expects him to play in next Sunday's Super Bowl."
UPDATE: Wednesday, Jan. 25 at 6:45 p.m. EST
Per a report from NFL.com, the Patriots listed Gronkowski as unable to practice in their injury report for Wednesday.
This is not exactly encouraging, but it shouldn't be viewed as bad news either. The Patriots have every excuse to be cautious with Gronkowski, and holding him out of practice is a good way to be cautious.
UPDATE: Tuesday, January 24 at 4:20 p.m. EST
The Boston Herald's Ian Rapoport says that Gronkowski is expected to play, but ligament damage may make him less than 100%.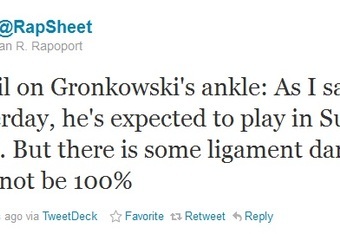 While the phrase "ligament damage" may scare Pats fans, they have to be relieved that he'll likely see the field at all after seeing the injury in the AFC Championship.
UPDATE: Tuesday, January 24 at 1:24 p.m. EST
Courtesy of WEEI.com's Christopher Price, Bill Belichick had this to say regarding his superstar tight end's injury and status:
"'We haven't practiced, obviously, in the last couple of days. We'll just see how all that is when it's time to go,' Belichick said when asked if he felt fortunate that the injury wasn't more serious...

'As you know, it's hard to gauge injuries,' Belichick said. 'We've seen some of the biggest hits in the game and guys get up and back to the huddle all right, and it's not any big thing. And we've seen other plays that look a lot less contact, or less impact, and because of the angle or the way it happened, or whatever caused the problem, that it's more serious. It's just hard -- I just don't know how to really comment on that.'"
Typical Belichick being Belichick. Expect Gronkowski to play, and play well for that matter, in his first Super Bowl appearance.
UPDATE: Sunday, January 22nd at 9:00 p.m. EST
Rob Gronkowski told ESPN after the New England Patriots' 23-20 victory over the Baltimore Ravens that his ankle feels "good". Gronkowski had his left foot in a walking boot while he was on the field after the game.
In any case, Gronk will have a full two weeks to let his ankle heal before the Pats take to the field at Lucas Oil Stadium in Indianapolis for Super Bow XLVI.
---------------------------
Gillette Stadium hasn't exactly been friendly to the New England Patriots during the AFC Championship Game, with the latest nightmare claiming Rob Gronkowski.
The Pro Bowl tight end left the game after turning his ankle on a 23-yard catch toward the end of the third quarter. The reception was Gronk's fifth of the afternoon, bringing his tally for the day to 87 yards.
Gronkowski returned to the field in the fourth quarter with his left ankle taped up, just in time to help sneak Tom Brady into the end zone on fourth down to give the Pats at 23-20 lead over the Baltimore Ravens.