UFC: Chael Sonnen vs. Anderson Silva: 5 Reasons This Fight Must Happen in 2012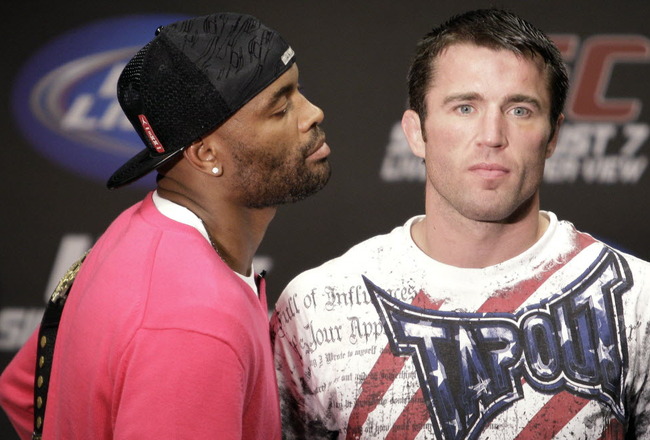 While UFC middleweight champion Anderson Silva is on the mend, both Michael Bisping and Chael Sonnen will meet next Saturday at UFC on FOX 2, where the two will vie for No. 1 contender status.
Bisping would be a new face to throw into the 185-pound title picture, though a Silva-Sonnen battle just has a better ring to it.
Both men have faced each other before, with the Team Quest product nearly cinching a dominant decision win over the Brazilian; that is, before the jiu-jitsu black belt locked in a fight ending triangle-armbar in the waning moments of the fight.
Should Sonnen get past the Brit, he will be next in line for the champion, creating a highly-anticipated rematch of epic proportions.
Silva Has Something to Prove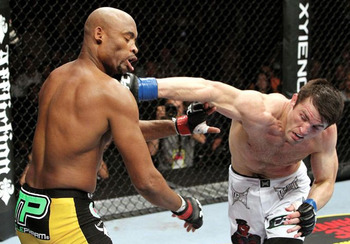 In their initial outing, many pegged Silva as the consummate favorite, though Sonnen surprised most with just how effective his wrestling was against the Black House fighter.
Save for the late rally submission, Silva was well on his way to a decisive loss, suffering the first of his long and illustrious UFC career.
Sonnen Has Something to Prove
mmafighting.com
Sonnen choked at the biggest opportunity of his career—literally.
Just 90 seconds away from a clear-cut decision win, Silva latched onto a fight-ending triangle-armbar finish. Though both men walked away with "Fight of the Night" honors, the fact remains that Sonnen lost the most pivotal bout of his career.
Furthermore, the middleweight great was subsequently suspended by the California State Athletic Commission for alleged steroid use—though his high levels of testosterone were found to be a new form of TRT treatment he had endured.
No More Viable Contenders for Silva Left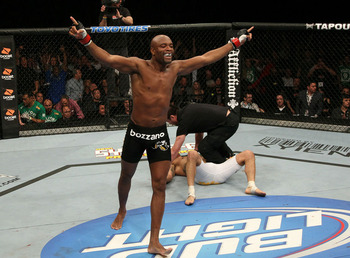 The dominance that Silva has shown in the UFC is unrivaled by any other champion in the organization's history.
His list of accolades includes victories over Chris Leben, Rich Franklin, Nate Marquardt, Dan Henderson, Forrest Griffin, Yushin Okami, Vitor Belfort and the aforementioned Sonnen.
Though of all men, only the Oregon native has made Silva look the least bit human. Other contenders like Michal Bisping and Mark Munoz still linger, though none carry the same kind of prestige that surrounds that of Sonnen.
Sonnen Is Silva's Toughest Test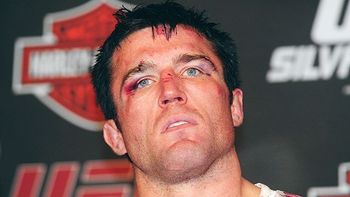 Stylistically, Sonnen is Silva's test challenge in the middleweight division.
A collegiate wrestler who has adapted his grappling skills to mixed martial arts, Sonnen also wields next level cardio, an unmatched pace and iron chin that has often willed him through victory.
Silva may be able to hit Sonnen with some of his best shots early, though you can expect him to plod forward and continue to muscle "The Spider" to the canvas over and over again.
Rematch of Epic Proportions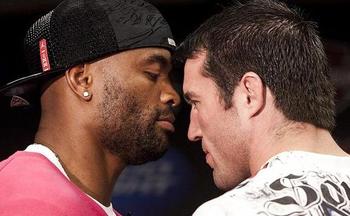 mmafighting.com
Out of all of Silva's opponents, none have captured the attention of the public much like Sonnen has.
Both colorful and controversial, Sonnen has the chops to sell any fight, but it's his budding rivalry with Silva that has endeared him most to the public.
If this fights ever takes place, it will be regarded as one of the biggest, if not the biggest, in middleweight history.
Keep Reading