Worst Starting Player from Every NBA Team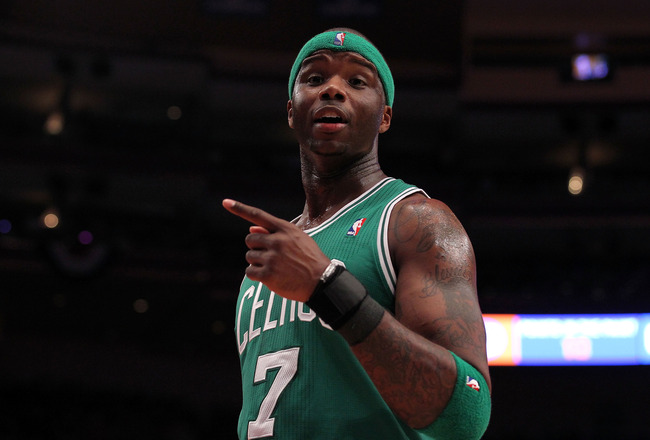 Nick Laham/Getty Images
This article will look at the worst starting player from every NBA team. To qualify for selection for this dubious honor, a player must have been one of the five players on his team who have started the most games this season.
So a player wouldn't have necessarily had to start every game to qualify. Also, a player who would normally be starting but is injured (Eric Gordon and Manu Ginobili, for instance) doesn't qualify in this case.
Let's take a look at the worst of the best from each NBA team.
Atlanta Hawks: Marvin Williams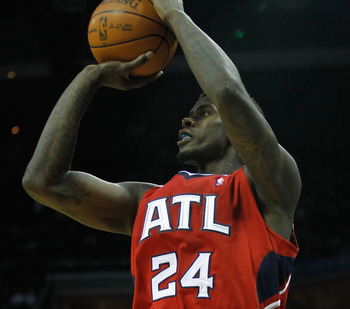 Streeter Lecka/Getty Images
There is no question Marvin Williams hasn't lived up to his expectations since being selected by the Atlanta Hawks with the second overall pick in the 2005 Draft.
However, Williams has been far from a total bust in his time with the Hawks.
Williams has started 14 of the team's first 17 games this season, averaging nine points and five rebounds.
Boston Celtics: Jermaine O'Neal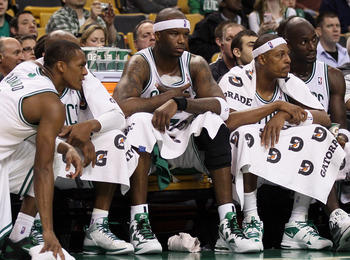 Elsa/Getty Images
The Boston Celtics are off to a slow start this season (6-9), thanks in part to their aging roster and lack of practice time due to the lockout-shortened schedule.
The average age of the Boston's five starters (Kevin Garnett, Ray Allen, Rajon Rondo, Paul Pierce and Jermaine O'Neal) is 32.
Playing with four likely future Hall of Famers doesn't help Jermaine O'Neal's argument in this case, but averaging five points a game and not having the "gritty history" of his fellow starters doesn't either.
Charlotte Bobcats: Tyrus Thomas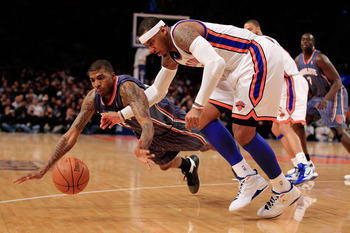 Chris Trotman/Getty Images
By season's end, the Charlotte Bobcats could very well end up with the conference's and/or league's worst record. Thanks to overall poor personnel and battling through early season injuries to Corey Maggette, Eduardo Najera and Reggie Williams, the team will probably have used multiple starting lineups by the time winter turns to spring.
Among the five Bobcats who have started the most games for the team this season, Thomas gets the nod over D.J. White as the worst starter.
Chicago Bulls: Richard Hamilton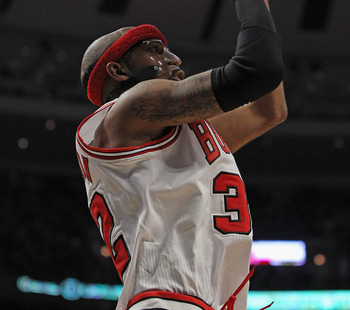 Jonathan Daniel/Getty Images
Rip Hamilton made his return to the Chicago Bulls' lineup this past week after missing time with a groin injury.
The Bulls cannot wait to for their big offseason acquisition to get comfortable playing alongside his new teammates. Many Chicagoans believe Hamilton is the difference in the Bulls making the Eastern Conference Finals and winning them.
Also, once he gets more time playing alongside Derrick Rose and Co. he may not be the team's worst starter.
Cleveland Cavaliers: Omri Casspi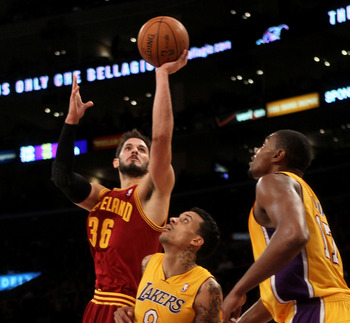 Stephen Dunn/Getty Images
After being originally drafted by the Sacramento Kings in 2009, Omri Casspi was traded to the Cleveland Cavaliers this offseason in-exchange for J.J. Hickson.
It says a lot about the Cavs' starting lineup, and the team in-general for that matter, that rookie Kyrie Irving is their best starter.
I gave the nod to Casspi as the worst Cleveland starter over Anthony Parker based solely on playing experience.
Dallas Mavericks: Brendan Haywood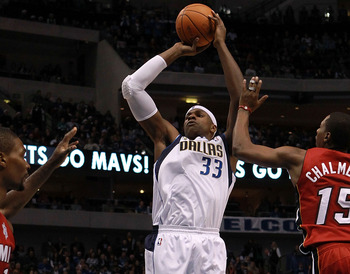 Ronald Martinez/Getty Images
With the departure of Tyson Chandler, who was thought to be one of the big reasons the Dallas Mavericks won the championship last season, Brendan Haywood has big shoes to fill at the center position this season for the Dallas Mavericks.
Denver Nuggets: Timofey Mozgov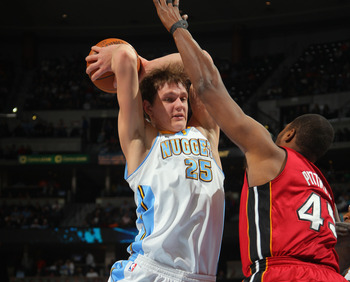 Doug Pensinger/Getty Images
One of the things I love about the Denver Nuggets is they don't have one clear-cut superstar or Alpha dog in their starting lineup.
However, there's no doubt as to who the weakest link in Denver's starting lineup is.
We have all heard the old creed that some players have a nose for the ball. Well, Timofey Mozgov has a nose for being dunked on.
Detroit Pistons: Jonas Jerebko
Streeter Lecka/Getty Images
For as bad as the Detroit Pistons have been this season (currently 4-13), their starting lineup isn't that bad on paper, with a blend of young talent (Greg Monroe and Brandon Knight) and veteran experience (Ben Gordon and Tayshaun Prince).
Jerebko is the odd-man out in this case.
Golden State Warriors: Andris Biedrins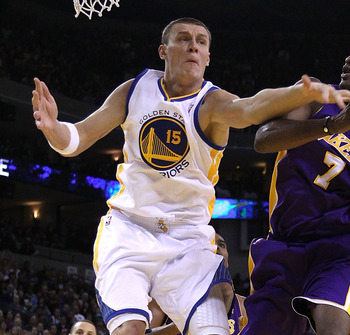 Ezra Shaw/Getty Images
The Golden State Warriors' starting center, Andris Biedrins, is averaging his lowest amount of points since his rookie season in 2004-05 and is having his worst rebounding season since 2005-06.
Another interesting trend with Biedrins is if you combine the 12 games he has appeared in this season and the 59 from last season, he has shot a combined total of 35 free throws, making only 10 of them. That's just doesn't seem right for a 7'0", 250-pound center.
Houston Rockets: Chandler Parsons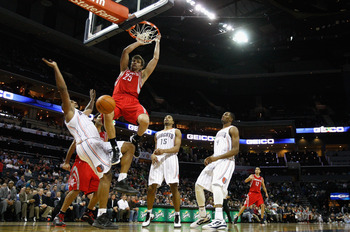 Streeter Lecka/Getty Images
Chandler Parsons, the rookie from the University of Florida, has started the last nine games for Kevin McHale's Houston Rockets, the last six of which have been victories.
His promotion to the starting lineup was somewhat of a surprise, but the fact I have chosen the rookie as the Rockets' worst starting player shouldn't be.
Indiana Pacers: Paul George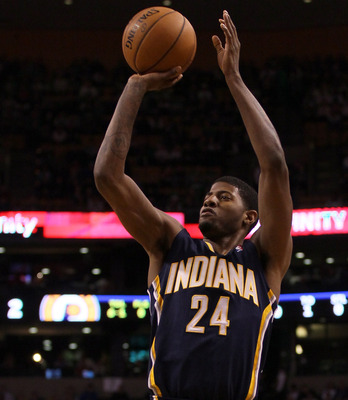 Elsa/Getty Images
I have heard many basketball fans mention Paul George as being the young player in the league with the most upside.
However, playing with perennial All-Stars—David West and Danny Granger, Roy Hibbert and Darren Collison—who are arguably the most underrated point guard and center in the league, George has a way to go in climbing up the Pacers' hierarchy.
Los Angeles Clippers: Chauncey Billups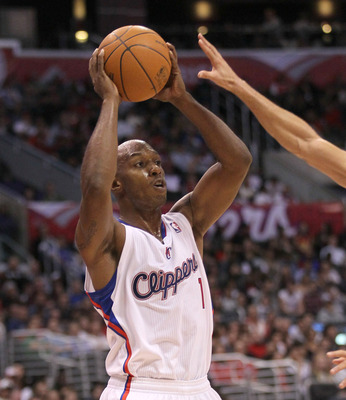 Stephen Dunn/Getty Images
Sorry Chauncey Billups, despite your veteran leadership and penchant for hitting big shots, I have no choice to select you as the team's worst starter.
Not only are you the oldest in a starting lineup filled with youngsters such as Blake Griffin, DeAndre Jordan and Chris Paul, but you are also the most disposable, given the fact the Clips have Mo Williams on their bench.
Los Angeles Lakers: Derek Fisher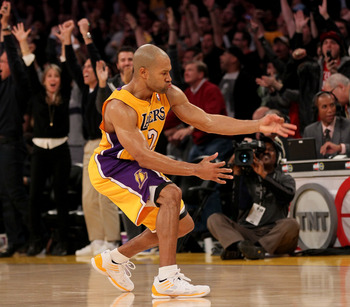 Stephen Dunn/Getty Images
Derek Fisher has been considered the Los Angeles Lakers' worst starter since he rejoined the team prior to the 2007-08 season.
Now, along with his already shaky defense, Fisher's offense is starting to slowly decline. The 16-year veteran is currently shooting a career-low percentage from beyond the arc (24 percent) and is shooting his worst percentage since the 2003-04 season.
Memphis Grizzlies: Marreese Speights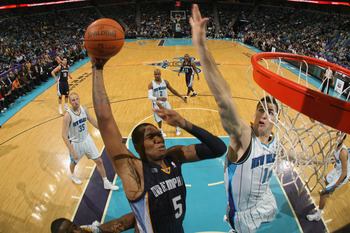 Chris Graythen/Getty Images
First of all, if there was a contest in the NBA for the coolest name to say and type, Marreese Speights would win hands down.
Speights was acquired by the Memphis Grizzlies earlier in the month in hopes of filling the void left by Zach Randolph missing time with his knee injury
Since joining the Grizz, Speights has averaged a career-high eight points and six rebounds per contest.
Miami Heat: Joel Anthony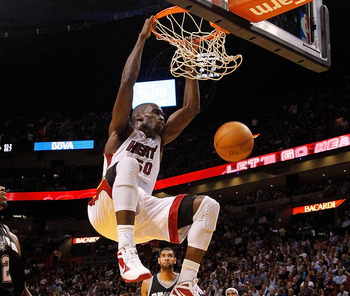 Mike Ehrmann/Getty Images
There's a reason the Miami Heat are often maligned for their deficiency in the paint. Joel Anthony is their starting center.
Milwaukee Bucks: Ersan Ilyasova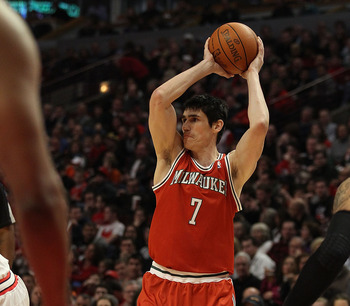 Jonathan Daniel/Getty Images
Just for the record, I did not select Ersan Ilyasova as the Milwaukee Bucks' worst starter because of the ferocious facial he received from Blake Griffin a couple of weeks ago.
Ilyasova is averaging a starting lineup low seven points a game, amongst the five Milwaukee Bucks who have started the most games this season.
Minnesota Timberwolves: Darko Milicic
Christian Petersen/Getty Images
Even if Darko Milicic was having an All-Star caliber start to the season, it would be hard not to name him Minnesota's worst starter. After all, bad first impressions are hard to erase, and Milicic is widely considered one of the biggest draft busts in recent memory after being selected No. 2 overall by the Detroit Pistons in 2003.
Milicic has played decent basketball with the Timberwolves the last two seasons, however, leading the team in blocks the last two seasons.
New Jersey Nets: Anthony Morrow
Elsa/Getty Images
Anthony Morrow is currently leading the New Jersey Nets in three-point percentage.
Unfortunately, he is still the team's worst starter, edging out impressive first year player MarShon Brooks.
New Orleans Hornets: Marco Belinelli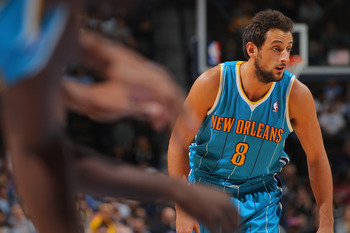 Doug Pensinger/Getty Images
With Chris Paul leaving town and Eric Gordon suffering through early season injuries, things have been pretty ugly in the Big Easy this season. The New Orleans Hornets currently have the worst record in the Western Conference (3-13).
Starting shooting guard Marco Belinelli, like most mediocre European-born NBA players, is beneficial to the team when his three-ball is working. Unfortunately, if it's not, he is a liability on both ends of the court.
New York Knicks: Iman Shumpert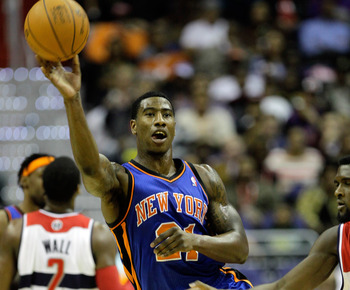 Rob Carr/Getty Images
In his first NBA season, Iman Shumpert is averaging a very respectable 12 points, three assists and three rebounds.
Although the New York Knicks are allergic to defense and have ultimately underachieved despite having two superstars in the lineup, they have one of the more impressive rosters on paper in the league. This makes Shumpert fifth-best lined up next to Amare Stoudemire, Carmelo Anthony, Tyson Chandler and Landry Fields.
Oklahoma City Thunder: Thabo Sefolosha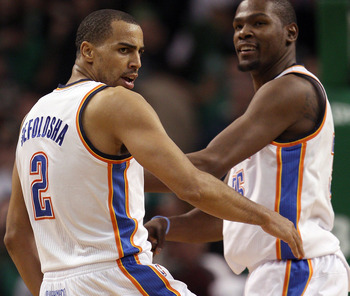 Elsa/Getty Images
Considering Thabo Sefolosha is sharing a starting lineup with Kevin Durant, Russell Westbrook, Kendrick Perkins and Serge Ibaka, it's easy to point to him as the easy pick for as the "worst" starter.
But Sefolosha is shooting 57 percent from three-point range and has the highest offensive rating amongst the team's five starters.
Orlando Magic: Jason Richardson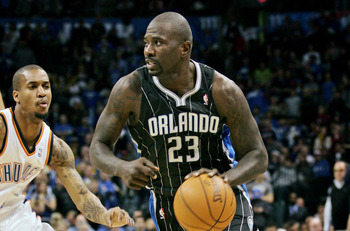 Brett Deering/Getty Images
Any other season, I would have likely selected Ryan Anderson as the worst starter on the Orlando Magic. But Anderson is averaging a career-high 17 points per game this season. Despite having a down season thus far, it's hard to deem Jameer Nelson as the team's worst starter.
Therefore, Jason Richardson is the worst Orlando starter by default. J-Rich is currently averaging a career-low 11 points per game.
Philadelphia 76ers: Elton Brand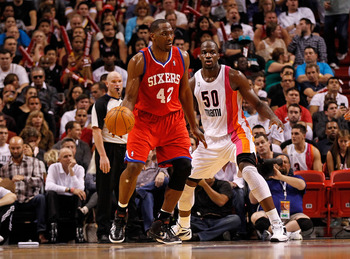 Mike Ehrmann/Getty Images
Elton Brand is the aging, past-his-prime starting power forward on a young, athletic Philadelphia 76ers team who has been the biggest surprise this season, currently holding an 11-5 record.
Brand is currently averaging a career-low 10 points per game.
Phoenix Suns: Jared Dudley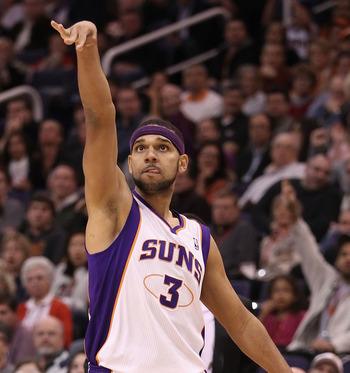 Christian Petersen/Getty Images
For the first time in his five-year NBA career serving as a full-time starter, Jared Dudley is averaging 10 points and four rebounds for the Phoenix Suns.
Portland Trail Blazers: Marcus Camby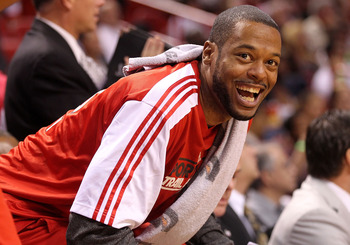 Mike Ehrmann/Getty Images
Marcus Camby's age unfortunately doesn't do him any favors when it comes to picking the worst starter on the Portland Trail Blazers. However, that doesn't mean the 16-year veteran isn't productive on the court, especially on the defensive end, where Camby is tied with teammate LaMarcus Aldridge for team high rebounding honors.
Sacramento Kings: John Salmons
Chris Graythen/Getty Images
In his second stint with the Sacramento Kings, John Slamons has started 16 of the team's first 17 games, averaging seven points and three rebounds.
Salmons is also the most veteran member of the Kings' starting lineup. The other four starters, Tyreke Evans, DeMarcus Cousins, Marcus Thornton and J.J. Hickson boast an average age of 22 years. Salmons is an old 32, in comparison.
San Antonio Spurs: Kawhi Leonard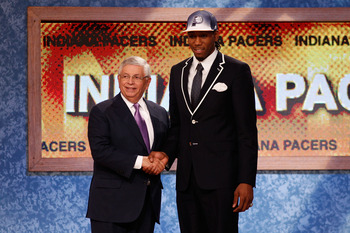 Mike Stobe/Getty Images
The rookie out of San Diego State has started seven games for the San Antonio Spurs this season, averaging seven points and five rebounds a game.
Not bad for a rook playing on such an established team like the Spurs.
I only look for Leonard's stock to rise. By the time I write this same article for the 2012-13 season, I don't think Leonard will be representing the Spurs as the team's worst starter.
Toronto Raptors: Rasual Butler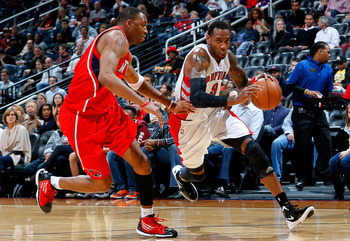 Kevin C. Cox/Getty Images
Once known as a legitimate three-point shooter, Rasual Butler has lost his touch this season with the Toronto Raptors, shooting a career-low 26 percent from three-point range
Butler is not only the Raptors' worst starter but arguably the worst starter in the league.
Utah Jazz: Raja Bell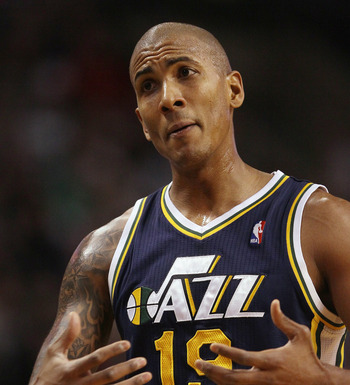 Elsa/Getty Images
Much like the Denver Nuggets, the Utah Jazz are currently a playoff team in the Western Conference despite not having a superstar in their lineup.
Raja Bell, whose biggest claim to fame is being the most notorious "Kobe Stopper" during the prime of Bryant's career (2006-08), has started every game for the Jazz this season. Despite being dubbed the "worst of the best" on the Jazz, Bell has the highest defensive rating on the team this season.
Washington Wizards: Chris Singleton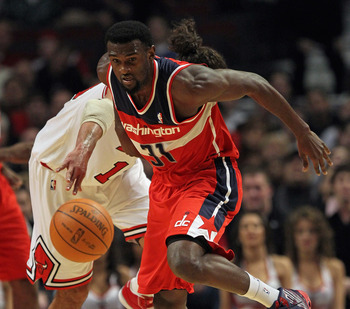 Jonathan Daniel/Getty Images
Former Florida State Seminole Chris Singleton has started the last nine games for the hapless Washington Wizards, who currently have the worst record in the NBA.
The other four Wizards who have started the most games this season (John Wall, JaVale McGee, Nick Young and Andray Blatche), despite being just as young and sometimes knuckleheaded, are ultimately more talented and experienced than Singleton.
Keep Reading