Oakland Raiders: Hiring Dom Capers Would Be Bad Move
January 22, 2012

Matt Ludtke/Getty Images
Hue Jackson pities his heir apparent.
Whoever ends up being the Oakland Raiders head coach better win early and often because no franchise puts its leaders on a shorter leash than the silver and black.  Dom Capers is a potential hire, but it would be a mistake for newly-hired general manager Reggie McKenzie to bring along his former Green Bay Packers co-worker.
CBS's Charlie Casserly reported details of the Raiders interest in Capers, tweeting: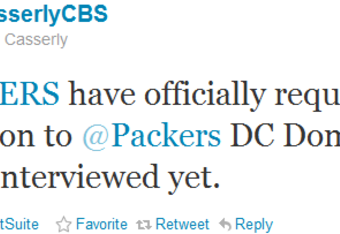 Capers had no influence on the Packers 15 wins this season.  Green Bay allowed 411.6 yards a game in 2011 ranking them dead last in the NFL.  They allowed 37 points in a nightmare loss to the New York Giants in the divisional round of the playoffs and Capers shouldn't be rewarded for his ineffective defensive scheme.
Not only has Capers success as a defensive coordinator been minimal, his last stint as a head coach was an utter disaster.  When he coached the Houston Texans, Capers' squad went 18-36 over a four-year span. 
Sure, he inherited an expansion team, but Capers practically wrote the book How to Ruin a Potential Franchise Quarterback for Dummies.  David Carr had absolutely no shot so succeed thanks to Capers' lack of initiative to improve their offensive line.
His poor ability as a head coach set the Texans franchise back years in their progression and is a major reason why it took them a decade to make the playoffs.
Capers also had a four-year coaching stint with the expansion Carolina Panthers.  And while he did lead the Panthers to the NFC Championship game in just their second-year in existence, mediocrity defined his three other years as they failed to record another winning record.
If the Raiders hire Capers, he won't last.  Oakland possesses the talent to be a playoff contender so the right hire will put them over the top.  Capers won't take them to the next level, but set them back just like he did the Texans.
David Daniels is a featured columnist at Bleacher Report and a syndicated writer.