Alex Smith: Improving Quarterback Has Proven He's the Long-Term Solution in SF
January 22, 2012

Ezra Shaw/Getty Images
Alex Smith has plenty of haters, but he's proven this season that he should be the long-term quarterback in San Francisco.
This year, Smith finally lived up to the potential that made him the No. 1 overall draft pick in 2005. He had career highs in passing yards (3,144), completion percentage (61.3) and quarterback rating (90.7).
More importantly, he has led the 49ers to 14 wins this season.
Smith is often referred to as a game manager. With San Francisco's elite defense and running game, Smith just needs to keep the defense honest, protect the ball and not screw up too badly. He's performed that role beautifully this year, throwing only five interceptions on the season.
However, that assessment of Smith's game devalues his importance to the Niners. Several times this season, Smith has won games instead of merely not losing them.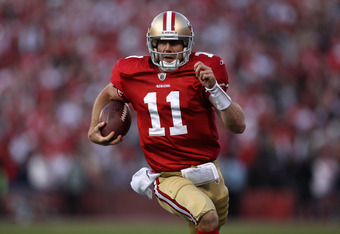 Jed Jacobsohn/Getty Images
In Week 4, San Francisco was losing to the Eagles by 20 points before Smith took the game over. He was surgical in the second half, completing 9-of-10 passes for 153 yards and two touchdowns. Frank Gore capped off the comeback for the 49ers, who won 24-23.
Last week, in the first playoff game of his career, Smith was the hero again. He threw for 299 yards and three scores, including the game-winning strike to Vernon Davis with just nine seconds remaining.
Smith has always been talented, but this season he made major improvements in his patience, decision-making and, most importantly, his confidence.
He's not Tom Brady or Drew Brees, but in big moments he steps up and makes the plays that need to be made.
Win or lose tonight, Alex Smith should be the starter in San Francisco for the next few years.