Australian Open 2012 Results: How Americans Cost Themselves Aussie Open 2012
January 22, 2012

Lucas Dawson/Getty Images
The 2012 Australian Open has been a memorable one for tennis fans worldwide, except for the Americans of course.
Several of the top Americans, including No. 8-seed Mardy Fish, No. 16-seed John Isner and Christina McHale, are all out after nearly four rounds of play in the books, as only Serena Williams remains alive in the Aussie Open.
These are the reasons behind each of the different American contenders were unable to capitalize at Melbourne in 2012.
Men's Draw: Fish Collapses and Isner Finds His Kryptonite
Mardy Fish was easily the most promising talent for the Americans in the 2012 Australian Open.
Fish was taken down in straight sets, as Colombian talent Alejandro Falla would get the best of Fish in both tiebreaks in the first and third sets. Unforced errors were the key statistic in the loss, with Fish committing a whooping 58 of them in just three sets of play.
Converting on just 4-of-11 break points, Fish was as good as done for in the match against the talented Falla.
John Isner, unlike Fish, was able to make a strong push in a five-set let-down against Feliciano Lopez. Isner was a serving machine during this 2012 Australian Open, putting in a whopping 92 aces this tournament.
It was Lopez that was able to defeat Isner with his strong return game and ability to break Isner on his tremendous serving game.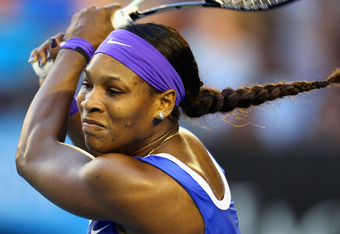 Scott Barbour/Getty Images
Women's Draw: Christina McHale Goes Out Strong, Vania King Falls Short
Christina McHale put on quite the impressive tournament in 2012 despite coming into the tournament unranked.
McHale was able last three rounds in this tournament and took down two solid talents in Lucie Safarova and Marina Erakovic. Her run would end against No. 13-ranked Jelena Jankovic in a match where she was simply out-matched.
Vania King also boasted a strong run in the women's singles draw, winning her first two rounds before losing to Ana Ivanovic in the third round. An inability to break Ivanovic was costly in this third-round matchup.
Serena Williams is the Last Hope
In spite of the multiple Americans to lose in this one, Serena Williams still goes on strong at the 2012 Australian Open.
The way she has played as of late has given Williams plenty of looks in this tournament, as she will look to contend for the title at Melbourne.
As it currently stands, Williams is the only American remaining in the Australian Open for both sides. Williams will take on Ekaterina Makarova in her fourth-round matchup, a match where she will be heavily favored to make the quarterfinals.