Pittsburgh Penguins: Evgeni Malkin's Renewed Swagger Enough to Help Win Cup
January 22, 2012

Justin K. Aller/Getty Images
The Pittsburgh Penguins' six-game winning streak hasn't been a spontaneous event. They've been led by the dominant Evgeni Malkin, who has scored at least one goal in each of his last six games. 
His chemistry with James Neal has been reminiscent of the Mario Lemieux-Jaromir Jagr days of the early 1990s. The Penguins haven't looked this great since Sidney Crosby's 25-game point streak early last year.
It's difficult to grasp the fact that the Penguins had actually lost six straight games a couple of weeks ago. All is well now in the Steel City because of Malkin's surge and also, Kris Letang's return to the lineup.
The Pens were just a 10-11 team without Letang. His absence had hurt the Penguins power play, and throughout a four-game span in the six-game losing streak, the Pens only scored three goals. 
Although Letang's return has definitely been a huge boost for the Penguins, Malkin's output has been the main source for the Penguins' recent success.
He has 13 points in the last six games. Nine of those 13 points have been goals. He's also had two shootout winners—one against Montreal, the other against Carolina. 
More importantly, Neal has come alive because of Malkin. During the six-game skid, Neal didn't even record a single point.
In the last six games, though, Neal has 10. If Malkin is a gun, then Neal is a bullet. Without Malkin, Neal is pretty harmless. But when Malkin's on his game, Neal becomes absolutely dangerous, like a bullet being fired from a rifle. 
This dynamic duo has made Penguins fans all around forget about Sidney Crosby's injury.
But the question becomes if the Penguins can be successful in the long run with this team. Even if Crosby returns, he's not going to be a certainty. So it's important that the Penguins are prepared to win even without him.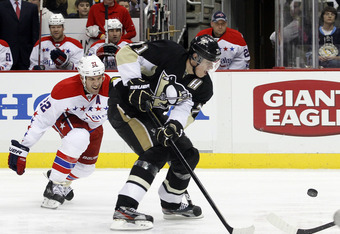 Justin K. Aller/Getty Images
Obviously, the way Malkin is playing, the Penguins could easily go deep into the playoffs. But can he sustain this? 
The numbers show that he can. This is because Malkin's streak hasn't been limited to two weeks. He's been tearing it up all season. He has 26 goals and 32 assists for 58 points for the year. This leads the NHL by six points. What's most impressive is that Malkin has played seven fewer games than Henrik Sedin and Marian Hossa, who are tied for second in the points race.
Malkin has done more in fewer games played, and he's done most of it without Crosby. That's an absolutely impressive feat, worthy of a Hart Trophy.
With James Neal also emerging as Malkin's Robin and Letang facilitating the offense, the Penguins might not need Crosby to win it all. At the very least, they should just take it easy on Crosby because of his health condition. Why not shut him down for the rest of the year? Why risk his future when the team is playing so well without him?
The Penguins need to take advantage of this luxurious situation they're in. If Crosby unnecessarily makes a return to the ice and gets another setback, more questions will arise regarding his future. It's not worth it, especially the way Malkin is playing.
He's playing the way he did back in 2009 when he won the Conn Smythe Trophy. He has an exemplary amount of swagger, and it's exemplified every time he touches the puck. He's at a different level. A man among boys. 
For Pens fans, this is exactly what they've come to expect from Malkin. This is the punch they were missing last season in the playoffs against the Tampa Bay Lightning. 
It'll be interesting to see how much longer Malkin keeps this streak going. He is human, so it's inevitable the streak ends. That being said, he can still find ways to be efficient by feeding Neal and perhaps getting a guy like Chris Kunitz going, who only has five points this month.
That's what an MVP is supposed to do. And right now, Geno has helped the Penguins back into the mix of things after what seemed like a downward spiral into the gutter a few weeks ago.