Missouri vs. Baylor: Tigers' Win Should Erase Remaining Doubts
January 22, 2012

Jamie Squire/Getty Images
With Notre Dame knocking off top-ranked and previously unbeaten Syracuse, and Florida State taking down No. 4 Duke in Durham later in the day Saturday, Missouri's win at No. 3 Baylor was pushed from its expected game-of-the-day status.
Despite that, nothing should be taken away from just how significant a win this was for Missouri.  While not really an upset, per se, most people—including myself—expected Baylor to bounce back from their humbling loss at Kansas and prevail against the Tigers on their home court in Waco. 
Instead, Missouri came out with what is by far their biggest win of the season to date.  While doing so, the Tigers also answered a few ongoing questions which had been raised—again, also by me—regarding just how legitimate this team was, despite a 17-1 record going into the weekend.
Question 1:  Missouri Hasn't Beaten Anyone Really Good
Before beating Baylor, Missouri's last game against a ranked team did not go very well.  The Tigers were beaten soundly at then-No. 22 Kansas State by 16 points, back on January 7. 
Missouri did beat Illinois in Saint Louis in late December and blew out California in Kansas City back in November.  However, neither of those teams is on the same level as the top teams in the Big 12. 
Despite a 17-1 record, Missouri had yet to beat someone that could make everyone agree they were a legitimate Top 10 team.  They were the only team in the Top 10—except for (previously) undefeated Syracuse and Murray State—that had yet to beat a Top 15 team themselves.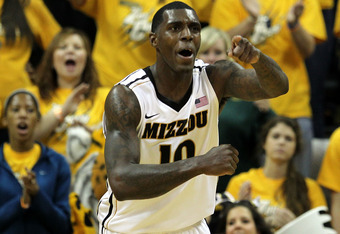 Jamie Squire/Getty Images
After Saturday's win over Baylor, Missouri has erased such skepticism over their ability to compete with the Big 12's—and the nation's—best teams. 
Question 2:  Missouri Can't Win on the Road
Last year, Missouri won just two games on the road all season, and just one in Big 12 play.  As a result, the Tigers backed into the NCAA Tournament as a No. 11 seed and were pounded by Cincinnati in the NCAA second round (Round of 64).
After winning at Baylor on Saturday, Missouri now has more road wins in the Big 12 (two) than they did all last year.  The Tigers also won at Iowa State, which is quickly emerging as one of the league's more dangerous teams at 4-2 in Big 12 play.  Saturday's win helps further establish that the loss at Kansas State will not be the norm for Missouri on the road this season.
This year's Missouri team has clearly matured and is well-equipped to handle the pressures and ups-and-downs that come with playing away from a friendly home crowd.  Defeating a Top 5 team on the road will only take this team's confidence to play away from home even higher.
Question 3:  Missouri is Too Small
In starting 13-0, Missouri didn't face too many teams that posed serious challenges inside.  Illinois, with Meyers Leonard, was probably the biggest challenge to Missouri's undersized frontcourt.  The Tigers handled him fairly well, thanks in large part to reserve center Steve Moore. 
However, the loss to Kansas State once again raised the question of whether Missouri could contend with the size that the likes of Kansas and Baylor bring to the table. 
This question was answered on Saturday thanks to the play of Ricardo Ratliffe on the offensive end. 
Ratliffe scored 27—a season-high—on 11-of-14 shooting.  He routinely benefited from Missouri's spacing and dribble penetration, which continually broke down Baylor's defense—whether it was the 2-3 zone or man-to-man. Baylor regularly plays four guys who are taller than the 6'8" Ratliffe, but Ricardo nonetheless was the dominant force in this one.
On defense, the quickness of Missouri's guards—particularly Flip Pressey—kept Baylor from consistently getting the ball inside.  Pressey had six steals in the Tigers' win and played a part in forcing some of the other Baylor turnovers (19 altogether). 
Once again, quickness won out over size for Missouri.  Passing the test against Baylor should give sufficient reason to believe Missouri can beat Kansas—or anyone else—they may face who has a significant size advantage.
Defeating the third-ranked team in the nation on their home court should also finally solidify Missouri's status as a Top 5 team with legitimate Final Four possibilities.