Setting the Table: Why Yankees Fans Can Expect a Solid Season from Brett Gardner
January 22, 2012

Harry How/Getty Images
In a New York Yankees lineup crowded with aging veterans, Brett Gardner provides a spark that nobody has been capable of providing since Johnny Damon from 2005-2009.
Gardner's stolen base prowess is well-documented. He led the American League in steals in 2011 with 49, following a season in which he stole 47. In his four-year career, he already has 135 stolen bases.
Gardner's defensive skills are also well-known. Many feel he was unfairly left out of the Gold Glove awards last season, as Alex Gordon was given the final outfield award. 
This was despite the fact that Gardner saved the Yankees a total 22 runs in 2011, tying him with Austin Jackson for the most among Major League outfielders.
In 2011, however, Gardner had a relatively down season with the bat. He hit .259/.345/.369 with seven home runs and 36 RBI. He scored just 87 runs and totaled 19 doubles.
This was following a season that saw Gardner hit .277/.383/.379 with five home runs, 47 RBI, 97 runs scored and 20 doubles. 
Ironically for Gardner, he stole more bases in 2011 than in 2010 despite having a nearly 40-point drop-off in on-base percentage. His stolen base percentage saw a drop as well, as he was caught 13 times.
In 2012, though, Yankees fans should expect a big season from Gardner. 
Gardner's power has increased slightly each season, but that's not where the Yankees need him to improve. He could realistically hit 10 big flies this season, and that would be a nice bonus for the club.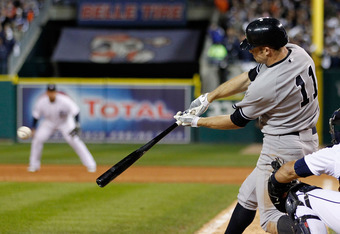 Gregory Shamus/Getty Images
Where Gardner really stands to improve, however, is his on-base percentage. His .383 rate from 2010 was very respectable, but Gardner is capable of getting on base at a .410 clip.
Solely for the sake of argument, let's just say that Gardner does get on base at that percentage. He would stand to see an increase in nearly every offensive category in 2012.
Realistically, Gardner could have a season where he hits .315/.410/.390 with 10 homers, 60 RBI, 110 runs scored, 30 doubles, 10 triples and 60 stolen bases.
Although Gardner will most likely begin the season as the ninth hitter in the lineup, a strong first half that puts him on pace for these predictions would propel him to the leadoff spot in the lineup.
A lineup with Gardner at the top would most likely look something like this:
1. Gardner, LF
2. Derek Jeter, SS
3. Robinson Cano, 2B
4. Alex Rodriguez, 3B
5. Mark Teixeira, 1B
6. Curtis Granderson, CF
7. Nick Swisher, RF
8. Russell Martin, C
9. Jorge Vazquez/Andruw Jones, DH
A lineup like this would easily score more than 1,000 runs and be tops in the league. Granted, it all starts at the top with Gardner.