Ravens vs. Patriots: 3 Keys to a New England Victory
January 22, 2012

Elsa/Getty Images
The New England Patriots and Baltimore Ravens are getting ready for action in the 2012 AFC Championship Game. The winner will represent the AFC in the Super Bowl.
These teams have very different styles, both offensively and defensively.
On offense the Patriots rely on Tom Brady to make plays with his arm, while the Ravens let Ray Rice make plays with his legs.
Defensively, the Patriots are terrible, while the Ravens have one of the best defenses in the league.
So, who will win on Sunday afternoon? If it's going to be the Patriots, there are three things they must do to ensure victory.
Get the Wide Receivers Involved
The Ravens have probably spent all week thinking of ways to stop Aaron Hernandez and Rob Gronkowski.
So, the Pats need to try something different. If they can get the ball to Deion Branch, Chad Ochocinco and Wes Welker, they'll catch Baltimore by surprise.
Then, if the receivers are being effective, it'll open up holes in the defense for the dynamic tight end tandem to exploit.
But, until they establish the receivers as legitimate threats, the tight ends probably won't be as open as they normally are.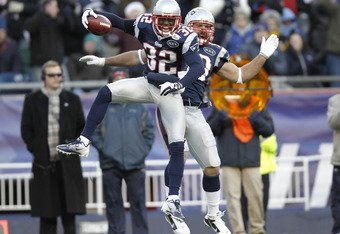 Winslow Townson/Getty Images
Play "Bend, Don't Break" Defense
The Patriots defense is terrible. In fact, only the Green Bay Packers had a worse defense in 2011.
But, the Ravens aren't exactly offensive juggernauts, especially with quarterback Joe Flacco's inconsistent play.
Still, with Ray Rice and the rest of the offense, the Ravens are going to move the football.
It'll be up to New England to keep Baltimore out of the end zone. If they can limit the Ravens to field goals, they should have no problem winning this game.
Forcing a couple turnovers would make that task even easier.
Establish the Running Game
With Ed Reed in the secondary, the Patriots can't expect to win by throwing the ball 60 times.
They need to establish BenJarvus Green-Ellis and the ground game early. Granted, that won't be easy with Ray Lewis on the prowl, but it has to be done.
Keeping the Ravens guessing defensively is of the utmost importance. It's the only way they'll be able to impose their will offensively.
They don't need Green-Ellis to run for 100 yards, they just need him to be enough of a factor that the Ravens have to respect the run and can't just play the pass.