Arsenal Football: Assessing the Statement That Arsene Wenger Made Today
January 22, 2012

Mike Hewitt/Getty Images
Does Arsene Wenger hate every Arsenal fan? After watching Manchester United hand the Gunners a 2-1 defeat at the Emirates on Sunday, one could come to that conclusion. 
The sheer joy of seeing Alex Oxlade-Chamberlain's name in the starting XI gave every Arsenal supporter something to look forward to. The 18-year-old Englishman has been a fan favourite for some time now. 
Arsenal began the game quite conservatively. In fact, it is difficult to recollect a single Arsenal chance in the first half. 
On the stroke of halftime, Antonio Valencia headed in a cross from Ryan Giggs and United were 1-0 leaders at the break. 
Arsenal seemed to find the form in the second half.
Robin Van Persie missed a golden opportunity after Tomas Rosicky played a nice cutback to the Dutchman. The skipper missed the target wide left. However, as he has done so many times this season, Van Persie had his moment of brilliance. 
Laurent Koscielny put in a fantastic challenge and continued to play a beautiful ball down the left to Oxlade-Chamberlain. Chamberlain then touched the ball on to Van Persie, who was making a trademark diagonal run.
The Dutchman netted a gorgeous shot across the box off of the right post, and the game was now tied 1-1. 
Arsenal fans were enthused. Alex Oxlade-Chamberlain was creating and delivering. He was sprinting and hustling. He wanted to win this game.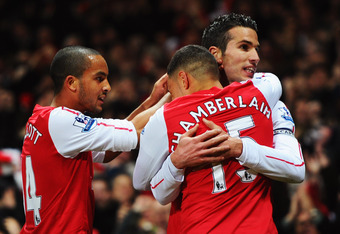 Mike Hewitt/Getty Images
Then it was the 74th minute, and Arsene Wenger made a statement. The fourth official held up his board to show the No. 15 in red and the No. 23 in green.
Cue my disbelief. 
Oxlade-Chamberlain was making way for Andrey Arshavin.
There was a lot of confusing elements to this decision. The first element was the fact that Oxlade-Chamberlain did not seem fatigued or injured. In fact, at that moment, he was Arsenal's best player.
A slow-motioned replay of Robin Van Persie showed the Dutchman uttering one word when he realized what was about to happen: "No."
Arshavin would end up being a key contributor to United's game-winning goal. His defensive cluelessness enabled Antonio Valencia to lay the ball off for Danny Welbeck to strike the ball into the net.
However, the most perplexing thing about this Arshavin substitution was Wenger's psychology to go through with it.
There was no disputing that Alex Oxlade-Chamberlain was Arsenal's most dangerous attacking player. What's more is the fact that the Englishman was not tired or injured. And finally, nobody wanted him to come off.
In the coming days, Wenger's ambitions and credentials will be questioned. It is a proverbial bed that he has made for himself. A defender of Wenger in the past, I can no longer continue to do so. Not after today and not after the decision that he made.
Is Wenger the right person for this Arsenal jobs? To be honest, I don't know. Who should Arsenal hire if they do decide to sack the Frenchman? I don't know.
All I can say at this moment in time is that I am personally offended and outraged at the disrespect that Arsene Wenger demonstrated today. So have at him, vultures. Maybe it is time for a change.