NFL Draft 2012: Should Vikings Consider Trading Third Overall Pick?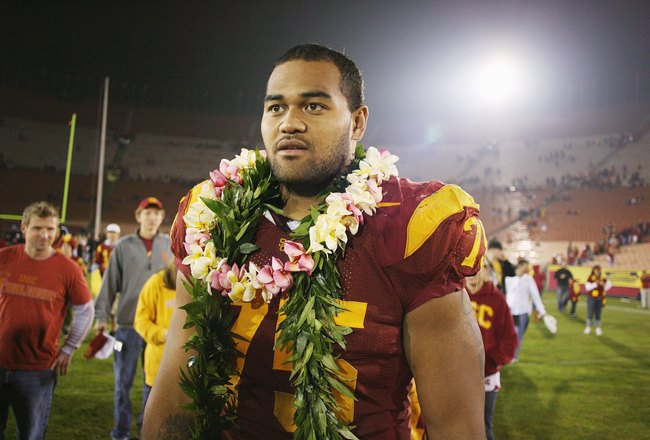 What if Kalil is not there at 3?
Jeff Golden/Getty Images
It's three months away, but the verbal jockeying has begun, and the questions are being asked, the most notable to fans is, "What will our team do?"
Before I get started, here are the top 10 team selections, and what I think are each team's priority. Most of you already know these, but I lay this out as a visual perspective.
Colts: QB
Rams: OL
Vikings: OL
Browns: QB, WR
Buccaneers: CB, RB
Redskins: QB
Jaguars: WR
Miami: QB, OL
Panthers: WR, DT
Bills: OLB, DE
My guess is that there are four or five players worth trading up for: Kalil, Claiborne, Blackmon, Richardson, RGIII. Any other trade ups into the top 10 might be reaches.
So, with that base, let's move forward.
Draft Day Is a Long Way off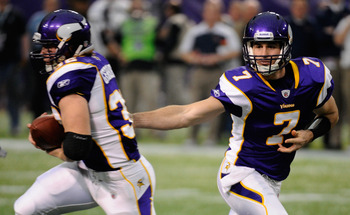 Protection or a weapon first?
Hannah Foslien/Getty Images
I know there are a lot of distractions between now and draft day, the combine and free agency being two of them, and many scenarios can play out between now and then.
The Vikings draft day priorities should go: LT, WR, period. We can worry and discuss other areas later.
Most likely the Vikings will have 10 picks. You can look at that two ways. One, we will get 10 draft picks, or two, we can trade up or back, lose a couple of picks here, gain a couple elsewhere. The bottom line is the Vikings will most likely end up with anywhere between nine to 11 picks.
There are some out there who would say the Vikings would be absolute fools to trade away their third pick. They would say the Vikings are an organization with no compass, and I would beg to differ.
Again, this article is based on no free agency, so it's strictly draft strategy.
I am going to say it today. The Vikings should consider trading their No. 3 pick if:
Draft Day Strategy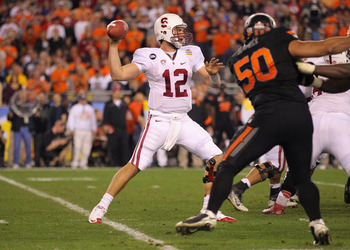 Consensus No. 1 overall will be wearing Blue and White
Doug Pensinger/Getty Images
I consider myself a man of average intelligence, and I know it would be foolish for the Vikings to show their draft day hand, but since I am not in the organization, I can say as I please. So, here are my reasons for considering this strategy.
I will guarantee the Colts take Andrew Luck and the Rams will follow with Matt Kalil.
Why would the Rams take Justin Blackmon? Be a GM for a second, or a new head coach for that matter. What is more important, your LT or a special WR? How many LTs come out with this type of talent that you would dare pass on?
At No. 3 everybody would think, okay the Vikings will take Blackmon, or Morris Claiborne. And trust me, either would be a solid pick, and I wouldn't have a problem with either guy. I am simply looking at maximizing leverage, and the Vikings have many needs, so, let's make a deal.
The Browns sit at No. 4. In all likelihood, they will want to draft RGIII. At least that is the hype being played right now. You have the Redskins sitting at No. 6. RGIII is Michael Vick on steroids, in a good way I mean. Snyder would love to make a splash if he doesn't somehow get Peyton Manning, but that's a whole other argument or article.
The Vikings trade down to No. 6, acquire the Redskins pick and their No. 1 pick for next year. Why? The Redskins need a lot as well. You can't get too greedy and ask for multiple picks this year, unless you find a way to get their third round pick and then maybe swap picks in Round Four or something like that. You have a much better chance of making the deal when you involve future picks.
Now, with that deal sealed, what do the Vikings do?
And the Pick Is...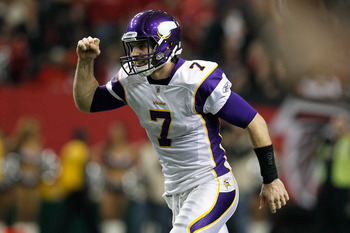 Hopefully Ponder will have something to cheer about come draft day
Kevin C. Cox/Getty Images
Well, if the dominoes fall the way I think they will and there are no other surprise trades, then it may go like this.
Cleveland is not happy, RGIII is gone, so they draft Justin Blackmon as a good consolation. The Buccaneers did not figure on Blackmon anyway, so they draft Trent Richardson, RB, Alabama, or Morris Claiborne, CB, LSU.
That leaves the Vikings at No. 6. If the Bucs take Richardson, the Vikings get, aha, Claiborne. See? Or, they have their choice with Jonathan Martin, Stanford, or Riley Reiff, Iowa. Yes, they are a drop off from Kalil, but you get your LT and an extra pick.
Here's an even more win-win for the Vikings. Let's say Cleveland hears the Redskins want to trade with the Vikings, so they call the Rams. The Rams make the trade with the Browns because the Browns have two first round picks and can afford it. The Browns draft RGIII and guess what, the Vikings get their man in Kalil. The Rams drop to four and get Blackmon.
As I stated in my free agency article, left tackles rarely are available in free agency, and if you get one, you either pay for an aging tackle, or take a chance on someone stepping up to start. It is imperative the Vikings get their LT in the first round, because if they wait until the second, they may have to look at the fourth or fifth LT on the board.
I'm not saying second round LTs don't make it in the NFL, but you are better off with one of the top three, as history bears out.
Will this happen, I can only write this article and speculate, and of course a plethora of things can happen between now and then. This article simply addressed the situation as if draft day was the only thing going on.
Now, many will call me out on this, but it's my article, and you are entitled to address your thoughts, of which I welcome.
I have to tell you, there could be some real fireworks in the top five of this year's NFL draft.
Keep Reading

Minnesota Vikings: Like this team?