Could Miami Heat Seriously Consider Trading Dwyane Wade?
January 22, 2012

Doug Pensinger/Getty Images
The defending Eastern Conference champion Miami Heat have had to battle injuries thus far in the lockout shortened season.  Like many teams, the lack of regular off days and the increased stress to the body has forced many NBA stars to be held out due to injuries that normally would be easily overcome. 
The shuffling of line-ups has had coaches around the league scrambling to find new combinations to help post victories.  Heat head coach Erik Spoelstra has been dealt one of the toughest early season hands having to deal with one of his top players missing six of his team's first 15 games.   
Interestingly, the Heat have won all six games with six time all-star Dwyane Wade out of uniform. Despite Wade missing over a third of the Heat's contests, Miami still sports the second best record in the Eastern Conference at 11-4. 
The Heat trail only the Chicago Bulls who are 15-3 thus far and too have had to deal with injuries—reigning MVP Derrick Rose has missed multiple games with a toe sprain.
In South Beach the question has quietly begun to shift from can the Heat overcome the Wade injury to are the Heat better without Wade?
It may seem like blasphemy to many Miami faithful to discuss trading Wade, the backbone of the franchise. After all, Wade is the man that led the Heat to an NBA title and another finals appearance, but the opportunity to get several additional players to support LeBron James is at the least worth examining.
But why would the Heat seriously consider trading Wade?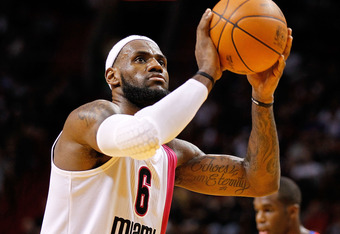 Mike Ehrmann/Getty Images
The 6-0 record might be a start but that is an awfully small sample size to consider trading away one of the games top 5 players.  More evidence must be gathered.
So if it isn't just the fact that the Heat are 6-0 this season when Wade isn't on the floor, it may be how teammate LeBron James plays when Wade is on the floor. 
LeBron, for all his talent, athleticism and skill, has been unusually aloof on the court when Wade is in the lineup.  LeBron's disappearing act was well documented last summer during the NBA finals and several times during the regular season thus far. LeBron has performed more like a role player supporting Wade than a guy averaging 29.8 points per game and 7.4 rebounds per game.
 James routinely defers to Wade in key situations when both are on the floor.  However, with Wade on the sideline LeBron plays like the beast he is.  Simply put, LeBron James is the most physically gifted athlete playing in any professional sport right now and he is a better player when he is in all-out attack mode.
The idea of bringing in several strong supporters to complement LeBron James is the most enticing aspect of this still highly speculative trade possibility. 
So as rumors are beginning to persist that teams are calling the Miami front office inquiring about Wade, theoretically, what would it take in return for the All-Star guard?
In my opinion there are not many teams, if any, that have the fire power to pull off a blockbuster midseason trade for D-Wade.  That said, I do believe in the long run the Miami Heat will be a better team by trading Wade now when he is still playing at and considered an elite player.
It is no secret that Wade has punished his 30 year old body during both his collegiate and NBA career, playing with reckless abandon, pushing himself to the limit each night.  It is this type of aggressive play that has made Wade the six-time all-star that he is.  This reckless play is also what may prematurely cut down the length and effectiveness of Wade's career. 
So although Pat Riley and the Miami Heat front office have no real need to trade Wade, would they consider trading him if they could get a young, defensive minded point guard a la Rajon Rondo?
The only way I see Wade getting moved is if the Boston Celtics would offer Ray Allen and Rajon Rondo in exchange for Mario Chalmers and Dwayne Wade.  The money is nearly equal and the both teams could see benefit from this type of deal. 
The Celtics get a fresh infusion of life in the form of a true super star still in his prime.  The idea of Wade paired with Pierce and Garnett can still put fear in most teams around the league. 
For the Heat, imagine teams having to deal with the athleticism of Rondo and LeBron while having to defend the NBA's greatest sharp shooter of all time in Ray Allen.
Rondo is just 25 years old and has had far less wear and tear on his body than the superstar Wade. Riley and company might just consider this were it actually on the table.
So could Wade be wearing Celtic green soon? The chances are still slim, but the longer Wade is out and the Heat keep winning the more expendable he becomes—especially if LeBron continues his Dr. Jeckyl and Mr. Hyde act when Wade is in and out of the lineup .  
Wade isn't getting any younger and if evidence keeps piling up that the Heat and James are more effective when Wade is out of the lineup this slim trade possibility may start to become a reality.