UFC on FOX 2: Info, Predictions for Every Fight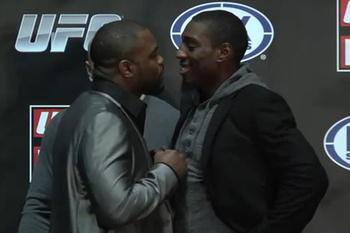 On Saturday, Jan. 28 the Ultimate Fighting Championship will look to increase its fan base when it airs its second event on the FOX Network.
UFC on FOX 2 will air live from the United Center in Chicago beginning at 5 p.m. PT/8 p.m. ET.
The main card will be headlined around two of the UFC's best wrestlers in former UFC light heavyweight champion Rashad Evans and up-and-coming grappler Phil Davis.
Also featured on the main card is Chael Sonnen, who will square off with Michael Bisping for another shot at UFC gold.
In total, the fight card consists of three main card fights and eight preliminary bouts.
The following slides display info and predictions for every fight at UFC on FOX 2.
Let's take a look.
Chris Camozzi vs. Dustin Jacoby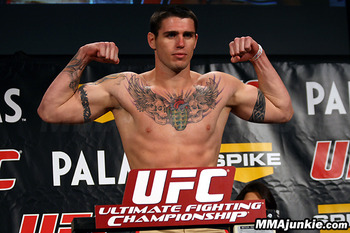 Chris Camozzi
Career Record: 15-5
UFC Record: 2-2
Key Win: Yang Dongi
Key Loss: Kyle Noke
Dustin Jacoby
Career Record: 6-1
UFC Record: 0-1
Key Win: Billy Horne
Key Loss: Clifford Starks
After being released by the UFC almost a year ago, Chris Camozzi has returned to take on Dustin Jacoby in a middleweight showdown.
Jacoby will need to impress early as he's coming off a recent loss to Clifford Starks where he displayed a lackluster performance.
It's likely Jacoby will be looking for the one-punch knockout when action begins as he's been recognized for his heavy hitting.
However, Camozzi is not only more experienced, but he's also the much more well-rounded fighter, ultimately pointing to his hand being raised.
Prediction: Camozzi by Unanimous Decision
Joey Beltran vs. Lavar Johnson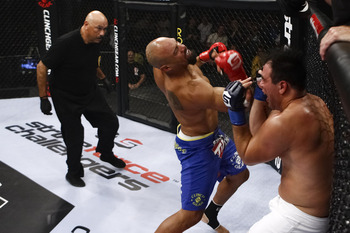 Joey Beltran
Career Record: 13-6
UFC Record: 3-3
Key Win: Aaron Rosa
Key Loss: Pat Barry
Lavar Johnson

Career Record: 15-5
UFC Record: 0-0
Key Win: Virgil Zwicker
Key Loss: Shawn Jordan
Joey Beltran and Lavar Johnson will meet in a heavyweight clash in a fight many consider to be similar to that of Brock Lesnar vs. Alistair Overeem.
Both Beltran and Johnson have been known for their vicious striking, which has allowed them to combine for 24 knockout victories.
Beltran is hardly ever finished while Johnson has displayed subpar submission defense. However, Johnson won't have to worry about being submitted as Beltran's never shown he can win by way of tap out.
Fans can expect a heavyweight slug-fest early and often.
Prediction: Johnson by Round 2 TKO
Michael Johnson vs. Shane Roller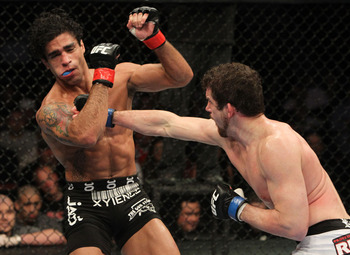 Michael Johnson
Career Record: 9-6
UFC Record: 1-2
Key Win: Eddie Faaloloto
Key Loss: Jonathan Brookins
Shane Roller

Career Record: 10-5
UFC Record: 1-2
Key Win: Thiago Tavares
Key Loss: Melvin Guillard
In one of the more black-and-white bouts of the evening at UFC on FOX 2, lightweights Michael Johnson and Shane Roller will look to rebound from their most recent defeats.
There's no doubt that Johnson will want to remain on his feet as he's been submitted five times up until this point in his career. If Johnson is taken to the ground, he'll be forced into Roller's strengths, considering he is one of the better lightweight submission artists.
If Johnson can stop the takedown, he'll have a fighter's chance.
Prediction: Roller by Round 2 Submission
Charles Oliveira vs. Eric Wisely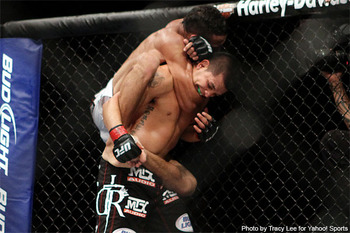 Charles Oliveira
Career Record: 14-2 (1)
UFC Record: 2-2 (1)
Key Win: Efrain Escudero
Key Losses: Donald Cerrone, Jim Miller
Eric Wisely

Career Record: 19-6
UFC Record: 0-0
Key Win: Hermes Franca
Key Loss: Pat Healy
Charles Oliveira and Eric Wisely will meet in a 145-pound showdown when action begins on Saturday, Jan. 28.
Oliveira will be the head-and-toe favorite heading into their preliminary bout as he's faced much stiffer competition.
Unfortunately for Wisely, he'll be thrown to the wolves in his Octagon debut as his opponent is one of more well-rounded featherweights in the UFC today.
If Wisely wants a chance, he'll need to remain on his feet.
Prediction: Oliveira by Round 1 Submission
Cub Swanson vs. George Roop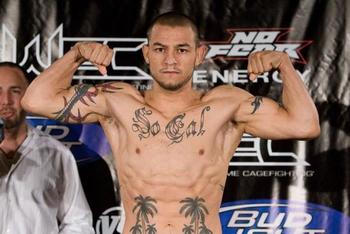 Cub Swanson
Career Record: 15-5
UFC Record: 0-1
Key Win: Mackens Semerzier
Key Loss: Jose Aldo
George Roop

Career Record: 12-8-1
UFC Record: 2-4
Key Win: Chan Sung Jung
Key Loss: Mark Hominick
Both Cub Swanson and George Roop will attempt to get their careers back on track when they meet in just a few short days. Swanson and Roop are in dire need of a victory as neither have demonstrated consistency as of late.
Roop can win from anywhere in the Octagon; he doesn't necessarily have a strong point to his game as do most martial artist.
Swanson's strength lies in his submission, which is an area Roop has struggled with in previous bouts.
However, expect this to be a thriller and expect it to find the judges' scorecards.
Prediction: Swanson by Unanimous Decision
Johnny Bedford vs. Mitch Gagnon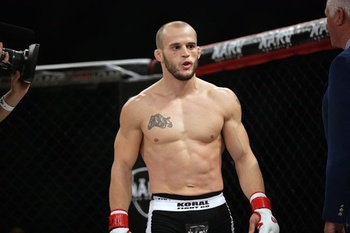 Johnny Bedford
Career Record: 18-9-1
UFC Record: 1-0
Key Win: Louis Gaudinot
Key Loss: Edwin Figueroa
Mitch Gagnon

Career Record: 8-1
UFC Record: 0-0
Key Win: David Harris
Key Loss: William Romero
Johnny Bedford will look to remain red hot in the early stages of his UFC career when he takes on UFC newcomer Mitch Gagnon.
Gagnon is one of the more promising fighters, establishing himself as a serious threat in the submission game. However, he will need to prove he can compete with the upper echelon of talent in the UFC's bantamweight division.
With that being said, Bedford clearly struggles against the submission, having tapped out an an eye-opening eight times in his career.
Prediction: Gagnon by Round 2 Submission
Mike Russow vs. John-Olav Einemo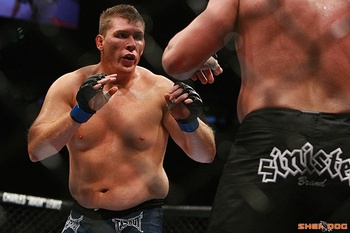 Mike Russow
Career Record: 14-1 (1)
UFC Record: 3-0
Key Win: Todd Duffee
Key Loss: Sergei Kharitonov
John-Olav Einemo

Career Record: 6-2
UFC Record: 0-1
Key Wins: James Thompson
Key Losses: Dave Herman
In the second of two heavyweight bouts, Mike Russow will look to win his 11th consecutive fight when he takes on John-Olav Einemo.
Russow is a rare talent and has the skill set to stand or grapple with Einemo, while Einemo will look to grapple with Russow, well aware of the threat he brings on his feet.
Two strong chins plus two heavyweight sluggers equals all the ingredients for "Fight of the Night" honors.
Prediction: Russow by Round 3 TKO
Evan Dunham vs. Nik Lentz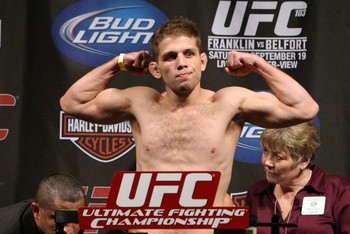 Evan Dunham
Career Record: 12-2
UFC Record: 5-2
Key Win: Shamar Bailey
Key Loss: Melvin Guillard
Nik Lentz

Career Record: 21-4-2 (1)
UFC Record: 5-1-1 (1)
Key Win: Tyson Griffin
Key Loss: Mark Bocek
A loss at UFC on FOX 2 will be the third loss in his last four appearances if Evan Dunham fails to come out on top when he squares off with Nik Lentz.
Few fans recognize just how skilled Lentz is as he's lost just one fight in his last 16 outings.
Dunham will need to avoid being put on his back if he wants any shot at leaving Chicago victorious, and Lentz's game plan will be to put his opponent in an uncomfortable situation.
If Dunham can remain on his feet and settle down, he has what it takes to pick Lentz apart, but that could be a difficult task to fulfill.
Prediction: Lentz by Unanimous Decision
Demian Maia vs. Chris Weidman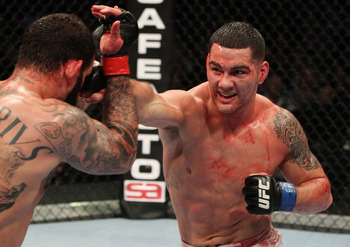 Demian Maia
Career Record: 15-3
UFC Record: 9-3
Key Win: Chael Sonnen
Key Loss: Anderson Silva
Chris Weidman

Career Record: 7-0
UFC Record: 3-0
Key Win: Tom Lawlor
Key Losses: N/A
In the biggest fight of his mixed martial arts career, Demian Maia will look to make his way back to the top of the middleweight division when he meets up-and-coming phenom Chris Weidman.
It will be interesting to see how things play out as Maia is one of the most experienced Brazilian Jiu-Jitsu black belts in the world.
However, Weidman's strength will play into Maia's strength as he is one of the best wrestlers in the 185-pound division. If Weidman can control action and not get caught, he'll prove to the world he's a top-five middleweight.
Prediction: Weidman by Unanimous Decision
Chael Sonnen vs. Michael Bisping
Chael Sonnen
Career Record: 26-11-1
UFC Record: 5-4
Key Wins: Nate Marquardt, Brian Stann
Key Losses: Anderson Silva, Demian Maia
Michael Bisping

Career Record: 22-3
UFC Record: 12-3
Key Wins: Jason Miller, Chris Leben
Key Losses: Rashad Evans, Dan Henderson
After an unexpected injury, Mark Munoz has been removed from the co-main event slot, leaving Michael Bisping to fill the void to take on Chael Sonnen.
Sonnen will attempt to impose his normal game plan, which consists of overwhelming his opponent in the takedown and vicious ground and pound.
It will be extremely difficult for Bisping to defend against this as Sonnen is one of the best grapplers in the UFC. In order for Bisping to remain in this bout and earn a title shot he'll have to avoid the takedown and connect on a series of strikes all three rounds.
Prediction: Sonnen by Round 2 TKO
Rashad Evans vs. Phil Davis
Rashad Evans
Career Record: 16-1-1
UFC Record: 11-1-1
Key Wins: Chuck Liddell, Quinton Jackson
Key Loss: Lyoto Machida
Phil Davis

Career Record: 9-0
UFC Record: 5-0
Key Wins: Antonio Nogueira, Alexander Gustafsson
Key Loss: N/A
In the main event of the evening at UFC on FOX 2, Rashad Evans will attempt to make another run towards UFC gold when he meets young, 205-pound Phil Davis.
While Evans is certainly the favorite heading into the final bout of the night on Jan. 28, Davis may have the advantage in the wrestling aspect. In fact, Davis has never been taken down in his career, leaving many to believe Evans may choose to remain on his feet.
The question will be whether or not Davis can take Evans to the ground. If he can, he'll have a chance to finish him from there or work his way to a judges' decision.
But, if he can't, he'll be in for a long evening of exchanges.
Prediction: Evans by Round 4 TKO
For additional information, follow Garrett Derr on Twitter.
Keep Reading