2012 NFL Free Agents the Houston Texans Should Consider Signing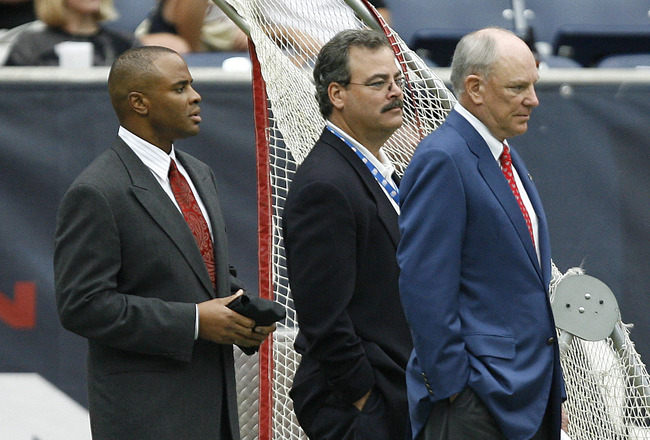 Bob Levey/Getty Images
Ah, it's that time of year where fans get to act like it's the night before Christmas and believe that their team has no salary cap, and they can add whatever free agent player available to their roster.
Unfortunately, it doesn't quite work like that. Given that the Texans' accountants were able to move money around and restructure with other players so the team could bring in Johnathan Joseph and Danieal Manning, I've learned to let them and other "capologists" learn how that all works.
Last year was a certain home run in free agency with the addition of those two aforementioned guys. To think that Rick Smith can pull off that kind of day at the office again is largely optimistic. But in his defense, unless Mario Williams is not a Texan next year, he isn't going to have that kind of money to spend in free agency.
The Texans are finally at a point where they simply need to shore up depth on their roster and have no glaring needs. So let's take a look at ten guys who the Texans could target once NFL free agency opens up, on time this year, in March.
Mario Manningham, WR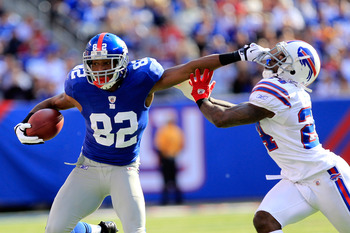 Chris Trotman/Getty Images
If there is actually a need on this team, it is for a legitimate No. 2 option in the receiving game next to Andre Johnson. When Andre was sidelined for most of the 2011 season with hamstring issues, the other options at wide receiver were exposed after becoming nonexistent.
Many are hoping that the team will find a way to find a guy in this year's NFL Draft that not only can be a No. 2 now, but the No. 1 guy when Johnson decides to call it a career. He's on the wrong side of 30 now and is proving himself to be injury prone. He still has many great years ahead of him, but now is the time to start grooming a young guy to eventually take the reins.
Mario Manningham may not be the guy to eventually supplant Andre as the No. 1 guy, but he could be key to the Texans making a Super Bowl run in 2012. New York will likely want him back, but his down season due to a nagging knee injury may make him affordable to the Texans. He's only a year removed from a 944 yard and nine touchdown season. He's only 26 and can certainly be a viable weapon in the Texans passing attack.
Kahlil Bell, RB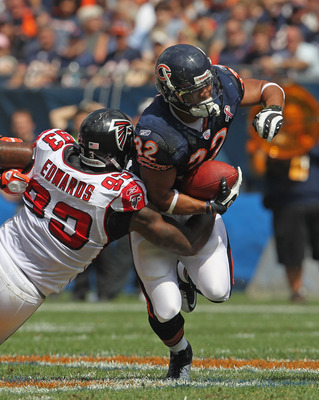 Jonathan Daniel/Getty Images
If Derrick Ward isn't retained, the team could have an opening for a guy like Bell, who could fill in well.
I know that many of you are saying that the Texans don't need another running back, but you always have to remember that the team is one sprained ankle away from having Ben Tate or Arian Foster taking 100 percent of the beating on all running plays. That isn't good for their longevity.
You need to have at least three running backs on your game day roster.
Bell is a one-cut-and-go kind of guy who has been stuck behind Matt Forte in Chicago, but has excelled when given the opportunity. He is terrific at gaining yards after contact and averaged 4.3 yards per carry in a small sample size in 2011.
Bell will likely be looking for an opportunity to go to a team that will allow him to get more carries, but it could never hurt to pick up the phone and give his agent a call.
Anthony Collins, OT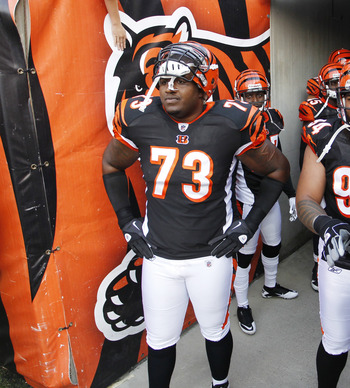 Joe Robbins/Getty Images
The Texans were fortunate last year that their offensive line was able to stay mostly healthy for the entire season, with only Mike Brisiel missing three games at the end of the regular season.
But if they hadn't been so fortunate and either Duane Brown or Eric Winston had gone down, they'd have trotted out late-round rookie Derek Newton.
So the team will certainly be looking to add another tackle to the roster this offseason, and I think a guy like Collins could certainly grab their attention. I realize that offensive line acquisitions are never a sexy signing, but remember how much everyone shrugged at the Wade Smith signing a couple of years ago?
That turned out okay, right?
As for the people that demand hometown guys get recognition, you'll be pleased to know that Collins is from Beaumont, Texas. He was taken in the fourth round by the Bengals out of Kansas, and he has filled in where needed in Cincinnati ever since.
He wouldn't demand that much money and could probably pick up the zone blocking scheme with ease.
Chris Myers, C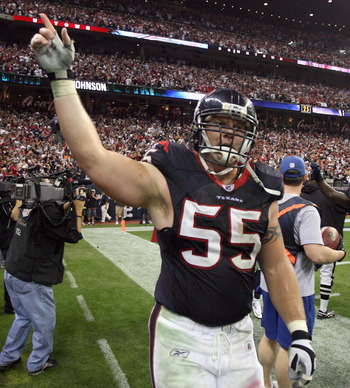 Thomas B. Shea/Getty Images
This one is a no-brainer in my opinion. Not only for the Texans, but for Myers, too.
Sure, at 30-years-old, he is going to want to get that big payday, because he might not have too many left. And I think that the team would give him a good bump in pay compared to the past few years, but he isn't going to get Nick Mangold money—not here nor anywhere else.
Why? He's a perfect fit for this system and wouldn't be that great anywhere else.
He knows it and so does the team.
I think this one gets done within the first 48 hours of the negotiating period and Myers is a Texan for the rest of his playing days.
Kroy Biermann, DE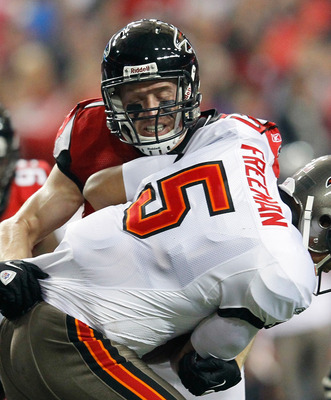 Kevin C. Cox/Getty Images
For being a fifth-round pick, Biermann has had a pretty decent NFL career. He's never going to be that 10-sack guy that's going to demand serious dollars, but he's that kind of player who can come in when really needed and make that big play in the back field.
After getting a chance to start in 2010 and not quite showing that he was ready for that number of snaps, he took the bench when the Falcons signed Ray Edwards in free agency. Still, he was solid in going back to his depth role off the bench and received plenty of snaps in 2011.
A change of scenery could really help Biermann, and with the Falcons making so many changes to personnel this offseason, he could be available for reasonable money. He seems like the kind of guy that could excel in Wade Phillips' scheme and also the type of player that Wade loves to have. His motor is always running.
Brodrick Bunkley, DT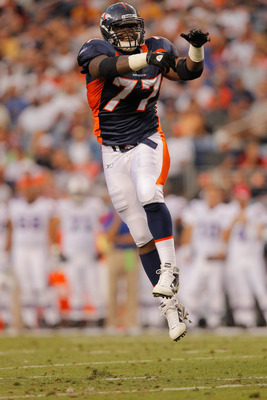 Justin Edmonds/Getty Images
Bunkley might not be the 350-pound space-eater that Texans fans have been clamoring for over the past five or six years, but he fits the prototype for a defensive tackle and nose tackle that the team likes to employ.
Brodrick is an excellent run stopper and a surefire tackler in close or open space. He's not a very good pass rusher, but Wade Phillips seems to bring that out of a lot of guys who have never shown that ability before.
He was a first rounder from the now-legendary 2006 NFL draft, and I could see Bunkley eventually supplanting Shaun Cody by the end of preseason were he added.
Chris Chamberlain, LB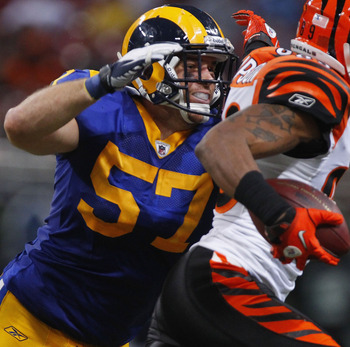 Whitney Curtis/Getty Images
Linebacker is another position that I constantly hear Texans fans say that Houston has no need for. But ask the coaching staff if you can ever have enough linebackers in a 3-4 scheme.
Chamberlain, who finally became the full-time starter in 2011, excelled once given the role. He recorded 58 tackles, two sacks and even pulled down an interception. His biggest weakness has been dropping into coverage, where he usually seems lost. He is best at going all out for the ball.
Houston does have Darryl Sharpton coming back from injury, and they hope to re-sign free agent Tim Dobbins. But if not I could see the team giving Chamberlain a look come March.
Tracy Porter, CB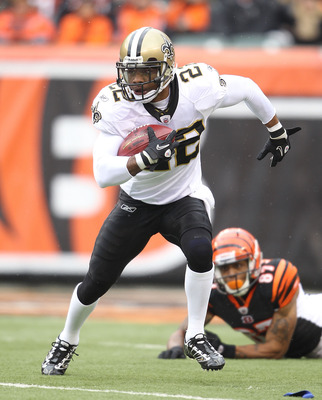 Andy Lyons/Getty Images
People usually think of two things when they are asked about Tracy Porter; his game-sealing interception return for a touchdown in Super Bowl XLIV or getting burned repeatedly for big plays.
Porter is the epitome of a risk-taker as a corner, and those are the types of guys who can be the hero and the goat all within the same game. He is an above-average corner that will never be confused with a lockdown guy, but Porter could be great with a team with a consistent pass rush such as Houston has.
Only one interception on a below average Saints defense in 2011 should make his market value lower than originally expected, and, if Jason Allen walks, Houston should be one of the teams inquiring about his services.
Eric Weems WR/KR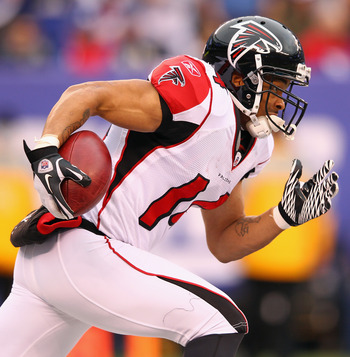 Al Bello/Getty Images
This move would be contingent on the fact that Jacoby Jones' days as a Houston Texan are well over. Like Jones, Weems is never going to be big receiving the ball, but he is a game-changer returning punts and kicks.
With Kevin Walter and Jacoby Jones both possibly being on the chopping block for their contract and poor performance, respectively, the team is likely going to look for more than one wide receiver in the offseason.
Weems would make Texans' fans feel more comfortable for keeping a guy on the roster solely to return punts. He would likely replace Danieal Manning at doing kickoff returns as well, which is a win-win that keeps Manning out of injury danger.
He didn't have as good of a year returning as he did in 2010, but his numbers were still among the tops in the league for returning kicks and punts.
Mario Williams, OLB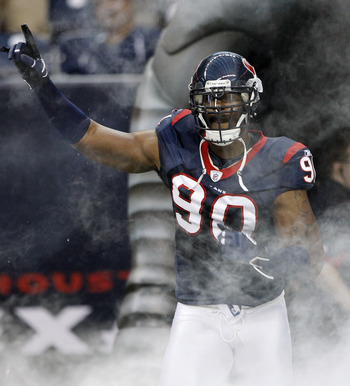 Bob Levey/Getty Images
Yes, as much as I've beat the drum this season about letting Mario walk and using that money to fill other holes in the team, you just can't let this guy get away for nothing.
The franchise tag is a big no, in my opinion, as the Texans don't even have enough cap space to do that. But with the rules changing in the next couple of years, I could see Bob McNair wanting all his big re-signings done while signing bonus money doesn't count against the cap.
Arian Foster, Connor Barwin, Duane Brown and Matt Schaub are all unrestricted free agents in 2013, and that is a huge concern in bringing back Mario at sick money. But like I said in the opening, the guys who handle the money can find a way to make the dollars work, be it through restructuring other deals, cutting dead weight or even back-loading new deals.
There is always a way to get it done.
As far as Mario goes, hopefully the Texans aren't going to ever have another No. 1 overall pick in the draft during my lifetime. They just can't let Mario Williams walk and think they can replace him with someone else.
I know Brooks Reed played well in Mario's absence, but to say that you don't need Mario Williams is a bit of a stretch, and I'm sure Wade Phillips is wanting the big guy back in 2012.
Mike Kerns is a Featured Columnist for the Houston Texans at Bleacher Report. Feel free to follow him on Twitter and catch his latest Texans podcast on iTunes.
Keep Reading

Houston Texans: Like this team?