AFC Championship Predictions: 3 Ravens Who Must Step Up Big Against Patriots
January 22, 2012

Rob Carr/Getty Images
The New England Patriots and Baltimore Ravens will meet on Sunday afternoon to decide which team will go to the Super Bowl and represent the AFC.
New England enters the game as the No. 1 seed in the conference, with Baltimore at No. 2.
These teams have made it to this point with very different styles of play—Baltimore with a defense-oriented running team and New England with a pass-happy offensive style.
If the Ravens are going to knock off the top AFC team, they are going to need big performances from three key players.
Let's take a look at who needs to step up big on Sunday afternoon.
Terrell Suggs, OLB
Everyone knows you have to get pressure on Tom Brady if you are going to beat the Patriots. If he has time in the pocket, he will carve up any defense, no matter how good it may be.
So, Suggs needs to find ways to collapse the pocket and keep Brady uncomfortable. If he can get to the quarterback a couple times early, it'll set the tone for the rest of the game.
But, if he is ineffective, it will be an easy afternoon for the Pats.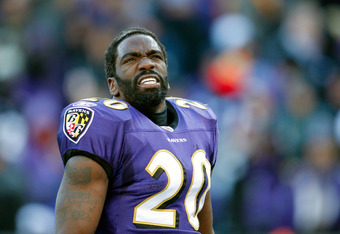 Rob Carr/Getty Images
Ed Reed, S
Reed called out quarterback Joe Flacco during the week, saying that the quarterback needed to play better if the Ravens were going to keep winning.
It was probably the wrong week for Reed to call out an offensive player.
Now, he's going to have to have the game of his life against Tom Brady. Otherwise, critics will tear Reed apart.
He's talked the talk, now he and the defense need to walk the walk and slow down the dynamic duo of Aaron Hernandez and Rob Gronkowski.
That's easier said than done.
Joe Flacco, QB
Even though Reed was wrong to publicly criticize his quarterback, he was absolutely right. Flacco definitely must play better if the Ravens are going to have a chance to pull off the upset. He can't just be a game manager on Sunday; he has to be a playmaker.
If he can put together a good game against a terrible defense on Sunday, the Ravens have a good chance to win.
He'll need something like 300 passing yards, two touchdowns and no interceptions to give his team a chance.