NBA Trade Speculation: Celtics' Big 3 Should Be Broken Up Before Deadline
January 22, 2012

Elsa/Getty Images
Trading pieces from Boston's "Big Three" needs to happen sooner rather than later. With Kevin Garnett and Ray Allen looking at free agency at the end of the season, Celtics GM Danny Ainge has to trade their big-name players before the trade deadline.
Apparently, Ainge is looking deep into trade offers, according to ESPN.
"But those (types of fruitful trades) aren't presenting themselves. In today's day and age with 30 teams in the NBA, 15 teams know they have no chance of winning a championship. They are building with young players. It's a different era that we live in. It's easy to say conceptually, but you have to always weigh what are real opportunities."
Before the season, I wrote about how this needed to be done because of the narrow window of opportunity this season. I never expected that the Celtics would be 5-9 through their first 14 games.
That window is officially closed.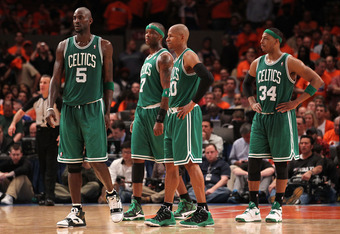 Nick Laham/Getty Images
What's the excuse for their struggles? Is it because of the lengthy offseason and timing issues? Every team has chemistry issues early in the season for that reason, but you would think that the Celtics, who have been together for years now, would be able to handle it better than most teams in the NBA.
That hasn't been the case. They are losing to teams like the Phoenix Suns at home and the 3-13 New Orleans Hornets. It isn't acceptable.
Allen is 36, Garnett is 35 and Paul Pierce is 34 years old. I wouldn't be wary of trading all three players if I had the opportunity. Allen is leading the team in scoring with 15.5 points per contest. Second is Rajon Rondo with 15 points per game, and he's a guy that isn't known for his scoring prowess.
Pierce is averaging 14.6 points and Garnett is averaging 13.2.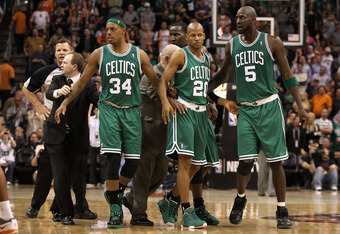 Christian Petersen/Getty Images
Allen hasn't scored this few amount of points per game since his rookie season in 1996-97. The same can be said about Garnett who hasn't scored this few amount of points since 1995-96.
Pierce has never scored this little per game in his entire 13-year career.
If their window was slightly open before the season it is completely shut now. There is no way they can defeat young, athletic teams like the Miami Heat and Chicago Bulls.
Ainge must get rid of the Big Three in order to salvage the seasons ahead. People tend to forget what happened in the mid-2000s when the Celtics stunk up the floor with Al Jefferson, Gerald Green (who never lived up to the hype), Marcus Banks (who fans thought had little promise) and many, many more who couldn't make Boston a contender.
Do the Celtics want to go through that again? Do they want to be considered one of the worst teams in the league? They were 57-107 in 2005-06 and 2006-07.
They need to trade their core to limit the amount of years between successful teams. Obviously, they are having issues competing with their roster currently so that won't change drastically next year if their core is back.
Trading their core would give them quality value in return with possible first-round draft choices in the NBA draft.
Allen, Garnett and Pierce are players that can help winning teams in the NBA; they just can't compete at a championship level as a group anymore.
It was a great run, but all great things have to come to an end at some point.