Ravens vs. Patriots: Live Score, Video, Tweets and Analysis for AFC Championship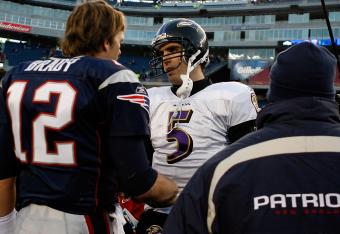 QBs Tom Brady and Joe Flacco shake hands after AFC Wild Card matchup just two years ago.
Elsa/Getty Images
Patriots S Sterling Moore, not QB Tom Brady, saved the team's 2011 season.
Wait, what?
I'll give you a few minutes to digest that, but it's exactly what happened in today's game. Brady was actually quite mediocre, finishing with a QB rating of 57.5 -- his lowest QB rating ever in a postseason game!
And Moore looked like a season veteran with the game on the line and under 30 seconds remaining.
The Ravens had entered the red zone, and were looking to tie or take the lead. Flacco looked for WR Lee Evans in the corner of the end zone, AND FOUND HIM!
But at the last possible moment, Moore made an excellent play on the ball and batted it out of the receiver's hands!
And on the play that followed, Flacco attempted to hit TE Dennis Pitta, but Moore broke the play up, forcing Ravens K Billy Cundiff to attempt a 32-yard field goal.
He shanked it, and the Patriots are the 2011 AFC Champions.
Final score: Patriots 23, Ravens 20
And in case you were wondering why Cundiff didn't want the camera in his face, here's the video of him shanking the potential game-tying 32-yard field goal!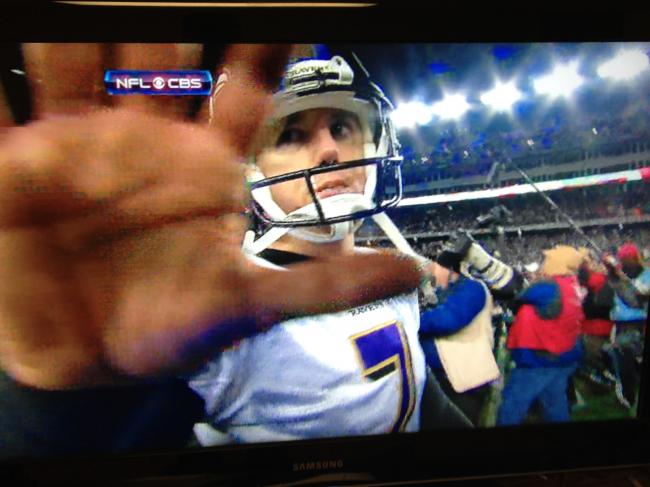 Ravens K Billy Cundiff obviously didn't like the camera in his face, so he put his hand up to gesture the media away from him!
That'll do it from here in Foxborough, want to thank all of you for coming out and enjoying the game.
Feel free to discuss the crazyness in the comments section, I'll have some screen grabs and video highlights for your viewing pleasure up very shortly!
Final score: Patriots 23, Ravens 20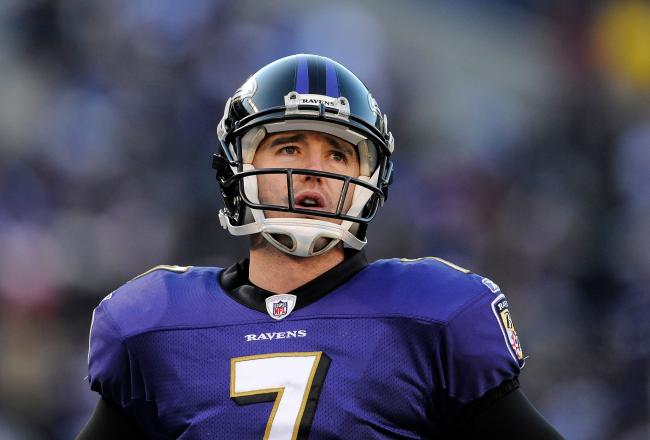 SHANKAPOTAMUS!! BILLY CUNDIFF SHANKS THE GAME-TYING FIELD GOAL!
After drilling the previous attempts, his kick sailed wide left and that'll do it!
Did (Raiders castoff) Sterling Moore save the Patriots season? I think he did!
STERLING MOORE JUST SAVED THE NEW ENGLAND PATRIOTS.
Flacco found Evans in the end zone and the WR had it, but ...
MOORE KNOCKED IT OUT OF HIS HANDS AT THE LAST SECOND, saving a touchdown.
BOLDIN AGAIN! He's down to the 25-yard line on a miscommunication lapse in the secondary.
Nevermind playing for the field goal, the Ravens may WIN THIS GAME!
Big completion to Boldin on third down will move the chains!
Ravens now at their own 40-yard line, 1st-and-10, with about 70 seconds remaining in the game.
Why was Edelman covering Boldin, BTW? Weird zone look from NE.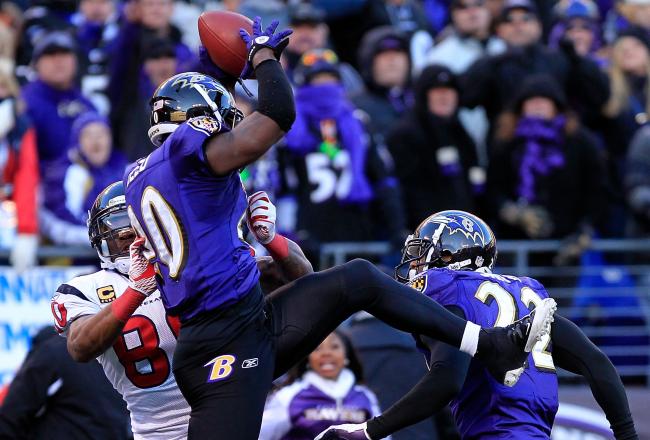 Ed Reed with a spectacular play breaking up a pass intended for Aaron Hernandez! Patriots must punt.

And just like that, the Ravens will get the ball back, with a chance to tie or take the lead.
Get your popcorn ready, ladies and gentlemen, it's going to be a great finish.
Two minute warning and the biggest play of the game thus far coming up!
Patriots are looking at a 3rd-and-4 scenario, with a chance to keep the Ravens defense on the field and close this game out.
If they can't convert, they could see OT or maybe even lose the game, so this is huge.
I think they'll look to Gronkowski or Hernandez to pick up a first down and move the chains.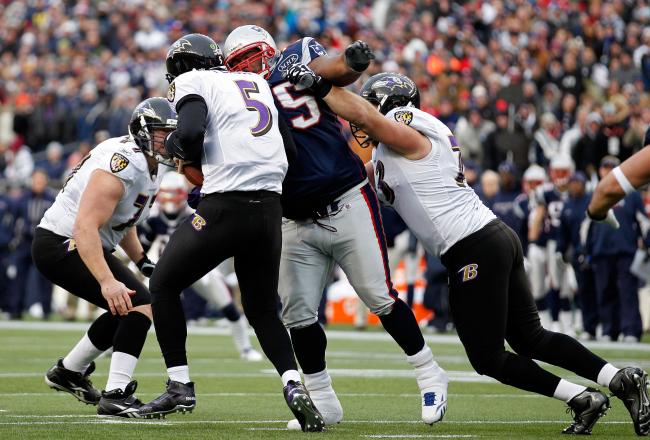 Patriots bring pressure up the middle and Wilfork gets a hold of Flacco's jersey and forces the QB to throw it away!
That was the biggest play of the game thus far, and who would have thought the big stop would come from the PATRIOT'S DEFENSE? Quite ironic, isn't it?
Turnover on downs, and Brady will take over with a chance to move the chains and win the game.
Ravens call a timeout and will think this one over.
It looks like they're going to attempt to go for it on fourth down, due to Cundiff's weak leg.
PATRIOTS STACK BOTH SAFETIES IN THE BOX, AND IT WORKS!
They got penetration upfront and Rice is stuffed for a 3-yard loss!
This makes things very interesting, as Cundiff would now be looking at a 51- yard field goal. Will the Ravens go for it on 4th-and-6?
Rice runs for five yards and that'll bring up 3rd-and-3.
Big play coming here, and the Ravens will likely keep the ball on the ground and attempt to pound the rock for a first down to move the chains.

Flacco finds TE Ed Dickson for a 16-yard gain and a first down to move the chains.
Ravens looking to make Brady pay for his poor decision now.

Brady has to throw that ball away, though.
Late in the game with a 3-point lead, there's no reason to go for the throat there. For someone with great football IQ, that was a very stupid decision.
WOW, and the Ravens answer with an interception of their own!
Brady throws into double coverage and Pollard tips it to CB Jimmy Smith who makes a fingertips catch.
Ravens are right back in the game now, that was a very stupid call.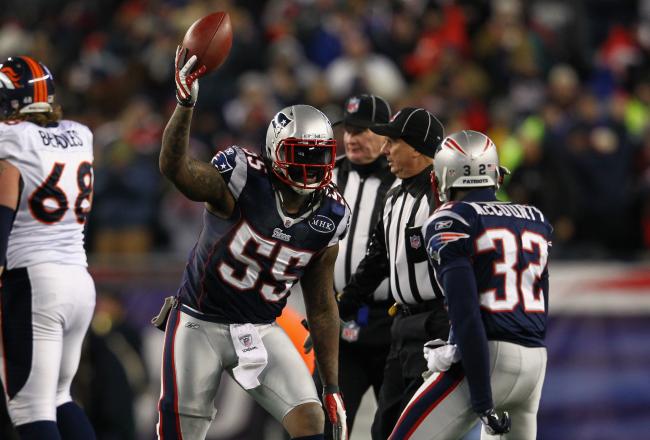 INTERCEPTION! Spikes sits back in coverage, WAITING on the underneath route, and Flacco threw it right to him!
Spikes came up with a huge fumble recovery last week and he comes up with the biggest play of the game thus far today.
Huge, huge, huge play for the Patriots defense. Flacco will make a few errant passes every game, that's what he does. It's all about making him pay, and New England did.
Great call to sit back in coverage and force him to throw. They baited him into that one, and he fell for it, hook, line and sinker!
Ravens looking to a run-heavy gameplan to shorten the game and make Flacco's job easier.
Another run by Rice is good for five yards.

Ravens nearing midfield as Williams runs over two Patriots!
Looks like he's still got it, great piece of running there on a play that should have been a loss.
Nice run by "Smokin" Ricky Williams, that's his first postseason carry since 2008!
Good lead block by Leach opens a big hole and Williams plows through it for a first down.
PATRIOTS ELECT TO GO FOR IT ON FOURTH DOWN, AND BRADY SHOWS WHY HE'S THE BEST QB IN FOOTBALL.
He dives over the pile and breaks the plane, and that, ladies and gentlemen, is football IQ at its finest.
Brady does whatever it takes to win games. That was all him finishing that drive off.
Patriots 23, Ravens 20
CALL IS REVERSED.
Not sure about that call to be honest, and the zebras move the ball to the half-yard line.
If Smith's touchdown stands, which it did, not sure why this one didn't.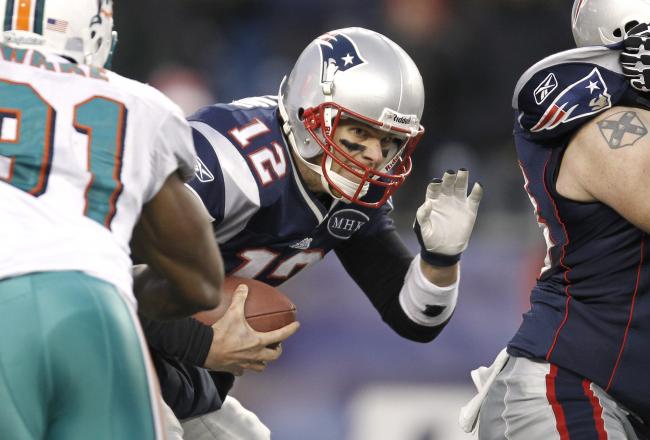 AND TOM BRADY GIVES THE PATRIOTS THE LEAD BACK ON A QB SNEAK FOR THE TOUCHDOWN!
Matt Light sealed the edge, and Brady followed him in for the touchdown.
(Play is being reviewed to see whether or not his knee is down, it's very close.)
Danny Woodhead is one tough SOB!
The elusive RB runs for a first down and New England now has 1st-and-goal from Baltimore's 5-yard line.
Welker AGAIN for a big conversion, this time on third-and-7.
It's a gain of eight and it'll move the chains, as the Patriots enter the red zone for the fifth time today.
Will they finally score a touchdown this trip?
This article is
What is the duplicate article?
Why is this article offensive?
Where is this article plagiarized from?
Why is this article poorly edited?