Pittsburgh Steelers: Potential Salary Cap Casualties in 2012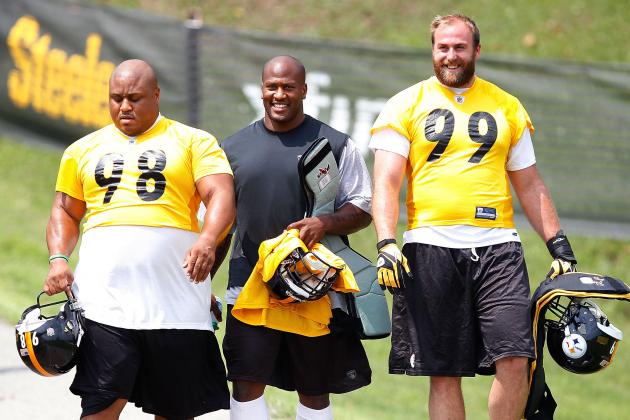 Jared Wickerham/Getty Images

As one season fades into memory and another awaits, every team must go through the motions by making tough decisions to put themselves in the best position to hoist the Lombardi Trophy in February.
The Pittsburgh Steelers will soon have many of those tough decisions to take on this year. Projected to be almost 25 million dollars over the salary cap, with many aging veterans on the roster along with young players who are in the final year of their contracts, expect big changes to be made.
Begin Slideshow

»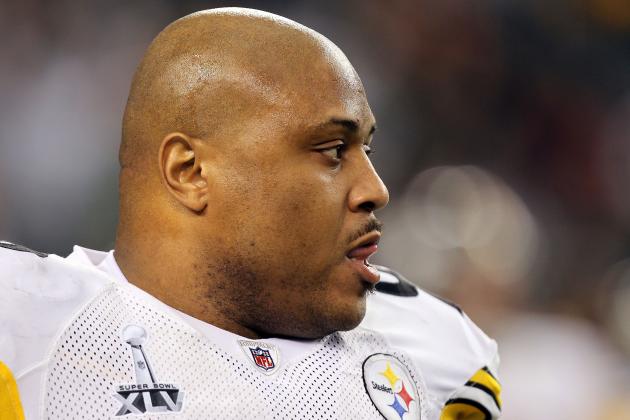 Ronald Martinez/Getty Images

"Big Snack" has been an incredible Pittsburgh Steeler since he was drafted in 2001, serving as the anchor of a stout defensive line, taking on double teams from offensive lineman on almost every play, and clogging up the middle to eliminate running lanes for the opposition.
Hampton took a huge step back in 2011, no longer being able to take on double teams, as well as being exploited by a questionable cut blocking scheme used by the Baltimore Ravens.
Decline in production is not the only cause for concern with Hampton. He will be coming off a major ACL injury next season, which may hamper his production even further.
Casey Hampton is set to have an $8 million cap hit this upcoming season, and there is no chance that the Steelers will keep him at that number. However, with such little depth at nose tackle after the retirement of Chris Hoke, Hampton will in all likelihood restructure and take a substantial pay cut to remain with the team for what will probably be his last year.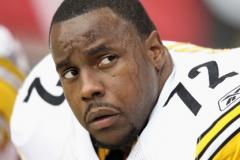 Christian Petersen/Getty Images

The release of Max Starks at the beginning of training camp and handing the starting spot to Johnathan Scott left me perplexed and bothered.
The games against Baltimore and Indianapolis solidified the fact that Johnathan Scott has no business being a starting tackle, or a backup tackle in the NFL. Scott was abused on a constant basis by pass rushers on his side and looked more like a revolving door than an offensive lineman in his time as the starting left tackle.
Having a $2.7 million cap hit in 2012, Scott's time as a Steeler, and in all likelihood as an NFL player, is over.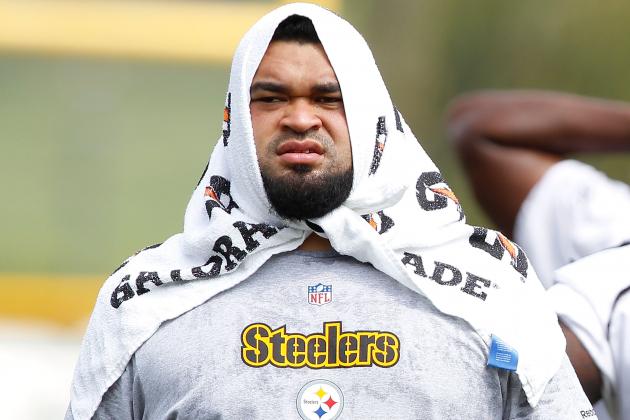 Jared Wickerham/Getty Images

If the NFL was the "National Flag League," Kemoeatu would be a lock for the Hall of Fame. Kemoeatu is known for many boneheaded decisions that have resulted in numerous unnecessary roughness and personal foul penalties, not to mention a good amount of holding penalties which directly result from his ineptitude in pass protection.
Kemoeatu's constant knee problems add to the laundry list of reasons to cut ties with him.
Having upwards of a $5 million cap hit, look for Kemoeatu to be cut before he is due his $250,000 roster bonus in March. If the Steelers ever need him back for depth, he can be re-signed at the veteran minimum.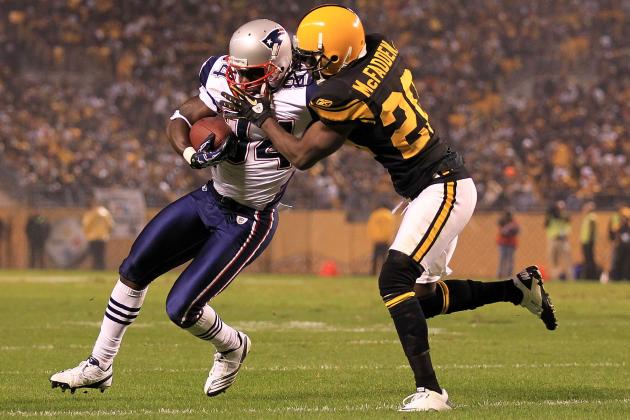 Chris McGrath/Getty Images

McFadden has not exactly excelled at the cornerback position ever since he was brought back from Arizona during the 2010 draft. He had one of the worst burn rates in 2010, and started off the 2011 season by giving up a touchdown to Anquan Boldin in in the 35-7 loss to Baltimore.
The coaching staff eventually got fed up with McFadden's subpar play, and benched him in favor of William Gay, who ended up having a very solid season, and Keenan Lewis, who is finally finding playing time on the defense in the Steelers' nickel and sub packages.
Ever since the opening week loss to Baltimore, McFadden was relegated to a special teams role on the kickoff coverage team, and did not find any playing time on the defensive unit until Cortez Allen went down with a shoulder injury against Cleveland in Week 17.
The Steelers will not take on a $2.7 million cap hit for a player who can only cover kick. The unemployment line is imminent for Bryant McFadden.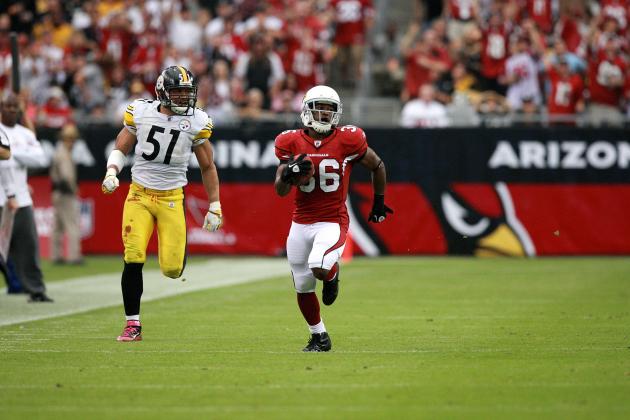 Karl Walter/Getty Images

The 37 year old inside linebacker's best days as an NFL player are behind him as his amazing run with the Pittsburgh Steelers may soon be coming to a close.
Farrior has served as the heart of the Steelers defense for the past decade, much like what Ray Lewis is with the Baltimore Ravens. Unfortunately, opposing teams have started to exploit Farrior's deteriorating coverage abilities, and he has given up some big plays because of that. Dick LeBeau tried to compensate this year by sending Farrior in as a blitzer in passing situations, but he has been neutralized in that regard, accumulating only two sacks this year, his worst total since 2005.
Farrior's only value to the team now is his veteran leadership and ability to call the defense and make pre-snap adjustments, and with a $3.8 million cap hit this year, the Steelers will most likely say a final goodbye to James Farrior.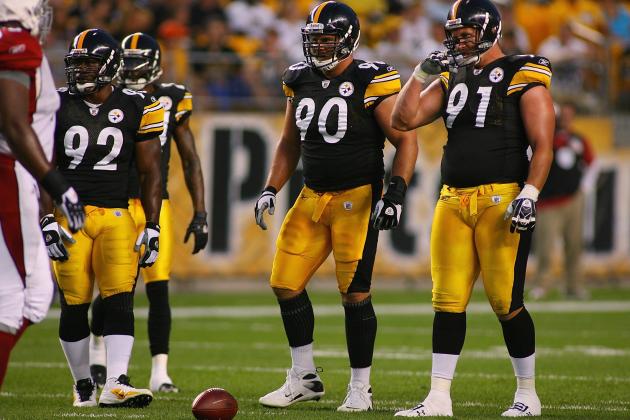 Rick Stewart/Getty Images

To most people outside of Pittsburgh, Aaron Smith is just No. 91 on the defensive line, nobody special. After all, he has only one Pro Bowl appearance in 12 years. But to the Steelers and their fans, he is a star, an unsung hero, as are his two partners in crime, Casey Hampton and Brett Keisel.
Aaron Smith has locked up the left side of the defense for almost a decade, and is a huge reason why the Steelers have not once fallen below the top ten in run defense since the new millennium.
Injuries have gotten the best of Aaron Smith in recent years, as he has only played 20 games in the past three seasons. After returning in 2011 from a triceps injury the previous year, Smith never looked like the same player he was for the past decade, simply getting overpowered by the opposition while being driven out of many plays by one offensive lineman.
Aaron Smith carries almost a $3 million cap hit, and he will be a cap casualty if he does not retire.