Joe Paterno: Remembering Him for the Good, and Nothing Else
January 2, 2017
Ronald Martinez/Getty Images
Remembering Joe Paterno. In reportedly the vanishing hours of his life ticking down that is what most people find themselves doing, remember the coach that changed the game.
To many it's our favorite sports he changed, to some people it's their team that he was a legend for, and for a gracious few he was a family man for them. Unfortunately as we all know Joe Pa is living the final days of his life not as head coach of his beloved Penn State Nittany Lions. What's even more unfortunate is the reason why he isn't still on Penn State's payroll anymore.
We all know why he isn't, though, but what's a shame is that people to this day, in a time of grief and sadness, bring up subtle and deliberate reminders of his downfall. It is borderline pathetic how people opt to bring out the worst in an icons brilliant 45-year coaching career in a time of ailing. Guess what people, it's not the time to bring up the scandal.
As grade-school as this sounds, how would you feel if someone treated you like this? Imagine yourself on your death bed, scrapping for every last breathe of life you have, and people are bringing up and remembering you for the biggest mistake of your life rather than the multiple achievements. It's just not fair to any human, especially if that human is Joe Paterno.
Now was it right firing this walking monument? It may have been. Was it a terrible situation he found himself in? You bet it was. Is it worth making a legacy of blame and guilt out of? No, not at this time.
Watching a man live the final moments of his life from a hospital bed sick with family and friends saying their final goodbyes is the perfect time to reflect on what's good about him. What he did to people is unparalleled to what many coaches could say.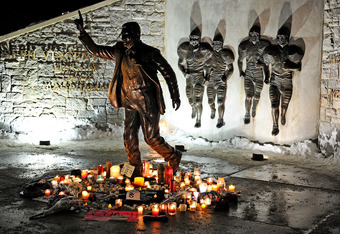 Patrick Smith/Getty Images
He gave players, both former and present, a friend, a mentor and even a father figure in their life. Now many coaches can say that, but can any coach say they have done that for four decades worth of players? Negative.
He gave Nittany Lion fans arguably the most memorable four decades in college football history. Some schools are lucky if they get a decade of football mediocrity. Now of course a man's life isn't judged on wins and losses, but think of the number of people he made smile after one of his 409 wins.
He gave college football one of their biggest icons in the sport's history. He displayed leadership, perseverance and wisdom in Happy Valley since Lyndon B. Johnson was in office.
He gave Penn State a library, the Paterno Fellows Program and a reason to join such a wonderful school with tradition. If you can't find anything positive from the last four paragraphs to honor and respect this man then shame on you.
If you want to bring up a scandal that he faltered on and rip on him for it, find Doc Brown, hop in his Delorian, and go back to November. This is the wrong time to dwell on the negatives a man who brought dozens upon dozens of positives in to people's lives.
It's a shame that Joe Paterno looks like he is leaving the world at such an unfortunate time. He lived for Penn State, the players and his family, but now it looks like he will depart with a broken heart.
Prayers and thoughts to him and his family are still needed, because no one should be giving up on him or keep thinking of the negatives right now. It's funny how that works, because Joe Pa would never give up or bring up the negatives to his team in the final two minutes of the fourth quarter.