Kyle Lowry, Ryan Anderson and the All-NBA Most Improved Team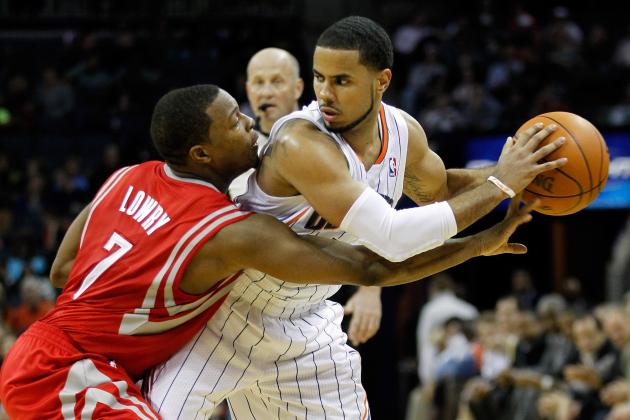 Streeter Lecka/Getty Images
Kyle Lowry and D.J. Augustin
Every year there is a group of distinguished players who exceed expectations. Whether the cause is an increase in minutes, new coach, positive attitude or a newfound maturity in their game, the new NBA season ushers in the next batch of breakout stars.
Last year, Kevin Love became the breakout athlete of the year, as he was awarded not only his first All-Star appearance but also the NBA Most Improved Player Award. Sure, this year's candidates aren't nearly as talented as Love, but this group of players is nothing to scoff at.
So, without further ado, here is the All-NBA Most Improved squad.
Begin Slideshow

»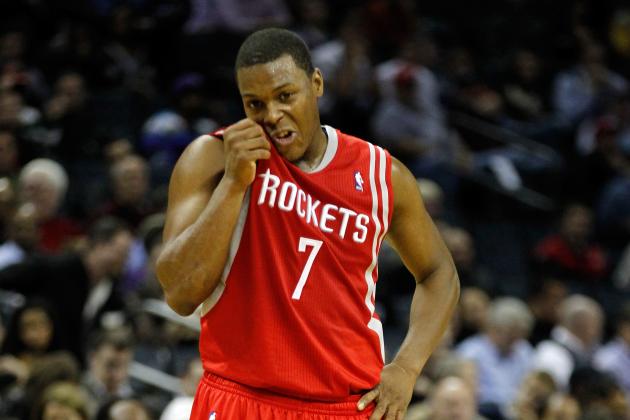 Streeter Lecka/Getty Images
Kyle Lowry
Last Season: 13.5 PPG, 6.7 APG, 4.1 RPG
This Season: 16.7 PPG, 8.6 APG, 6.7 RPG
Since becoming the Rockets' new floor general last season, Kyle Lowry has excelled and reduced the misery felt in Houston from Yao Ming's retirement.
Not only is the former Villanova star a perfect fit in Rockets coach Kevin McHale's offense but Lowry has also led a mediocre Houston team to a 9-7 start.
The biggest improvement in Lowry's play is his precision in executing the pick-and-roll, a play heavily utilized in Houston's system, and a newfound knack for rebounding the ball.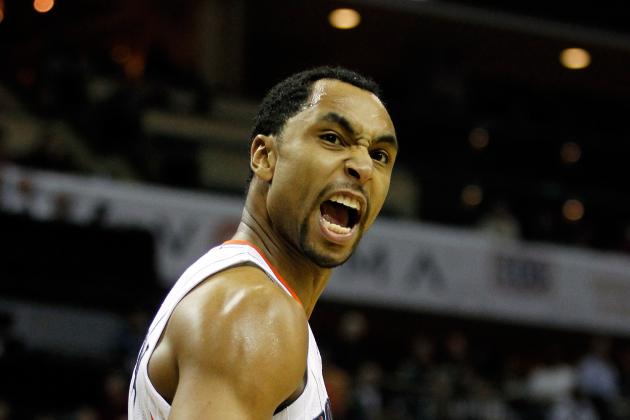 Streeter Lecka/Getty Images
Gerald Henderson
Last Season: 9.6 PPG, 3.0 RPG, 1.5 APG
This Season: 15.1 PPG, 4.7 RPG, 2.0 APG
It has been rumored that Michael Jordan has taken a personal interest in the development of young guard Gerald Henderson.
So far this season, it seems as if this "interest" has sparked a fire under the former Duke star; he is averaging career-highs in points, rebounds and assists.
Hopefully Henderson's stellar play continues since the city of Charlotte doesn't have much to be excited about when it comes to their basketball team.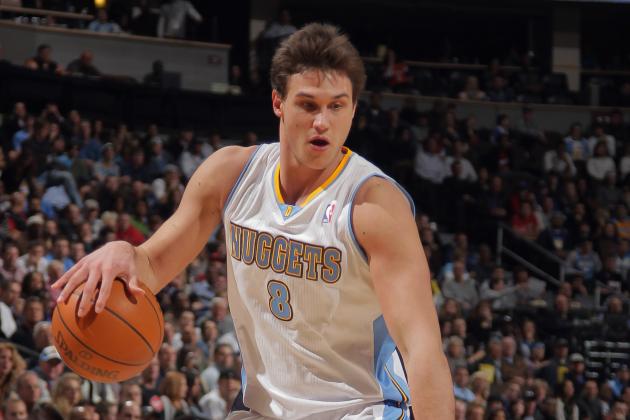 Doug Pensinger/Getty Images
Danilo Gallinari
Last Season (with Denver): 14.7 PPG, 5.4 RPG, 1.6 APG
This Season: 16.2 PPG, 4.8 RPG, 2.9 APG
Danilo Gallinari has become an absolute stud for the Denver Nuggets. After years of wondering whether or not the 6'10" small forward would ever tap into his vast potential, it seems as if this promising talent will be a franchise cornerstone, along with point guard Ty Lawson.
This season, this versatile wing is leading the extremely deep and talented Nuggets to a blazing 12-5 start—not bad for a team that just lost their star player in Carmelo Anthony.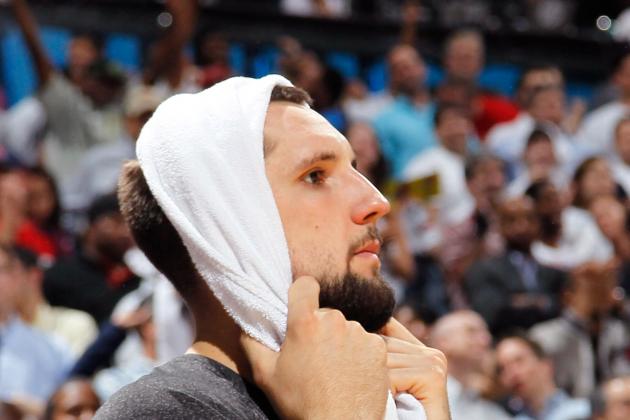 Kevin C. Cox/Getty Images
Ryan Anderson
Last Season: 10.6 PPG, 5.5 RPG, .8 APG
This Season: 17.5 PPG, 7.2 RPG, .7 APG
After years of being buried on the bench behind former Orlando Magic starter Rashard Lewis, Ryan Anderson has finally received the opportunity to start.
Needless to say, the former University of California star has excelled alongside Dwight Howard with the increase in minutes. When Superman is doubled in the paint, he has the luxury to kick the ball out to one of the premier three-point shooters in Anderson.
Anderson is a strong candidate to take home the NBA Most Improved Player Award come the end of the year.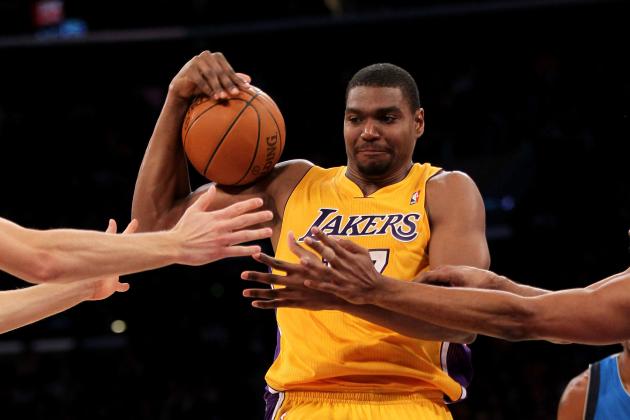 Stephen Dunn/Getty Images
Andrew Bynum
Last Season: 11.3 PPG, 9.4 RPG, 2.0 BPG
This Season: 15.8 PPG, 13.6 RPG, 1.9 BPG
Besides the fantastic play of Kobe Bryant, the lone bright spot in the Los Angeles Lakers' start to the season is the emergence of Andrew Bynum as a dominant center.
Not only is the Lakers center averaging career-highs across the board but he finally looks fully healthy as well.
Bynum's play has even inspired many to wonder if he—and not Dwight Howard—is the best center in the NBA.
In my opinion, Howard is the more dominant big by far, but NBA legend Shaquille O'Neal thinks otherwise.
"He's the best big man in the game right now," O'Neal exclaimed. "He's the only big man in the league that's playing like a true big man."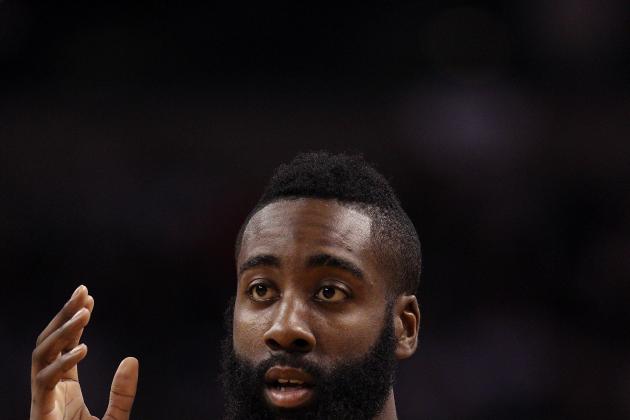 Elsa/Getty Images
James Harden
Last Season: 12.2 PPG, 3.1 RPG, 2.1 APG
This Season: 16.3 PPG, 3.9 RPG, 3.1 APG
In my opinion, the Oklahoma City Thunder are the best team in the league; the small-market team is currently in possession of a fantastic 13-3 record.
One of the reasons for their rise to dominance is the stellar play of their sixth man, James Harden.
Harden has discovered a newfound maturity in his game—a valuable asset to the young Thunder. Plus, he has hit the three-ball with consistency and has become the team's best playmaker.
The sky is the limit for this young man.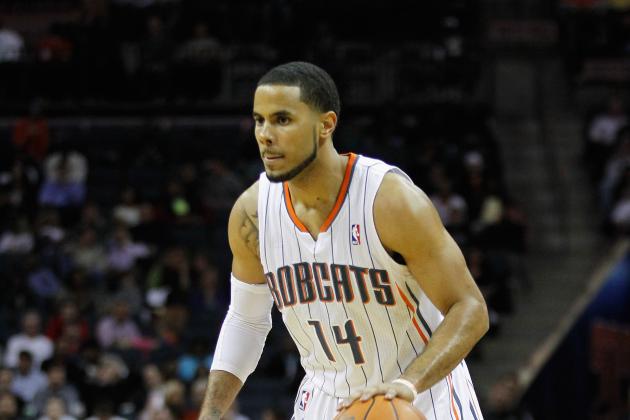 Streeter Lecka/Getty Images
D.J. Augustin
Last Season: 14.4 PPG, 6.1 APG, 2.8 RPG
This Season: 15.3 PPG, 7.2 APG, 3.5 RPG
With the departure of Raymond Felton last season, D.J. Augustin made huge leaps in his level of play as the Charlotte Bobcats' new starting point guard.
This season has been no different.
The former Texas Longhorn has become a more effective and efficient facilitator, as he has considerably increased his assists per game.
Plus, Augustin is averaging a career-high in points per night.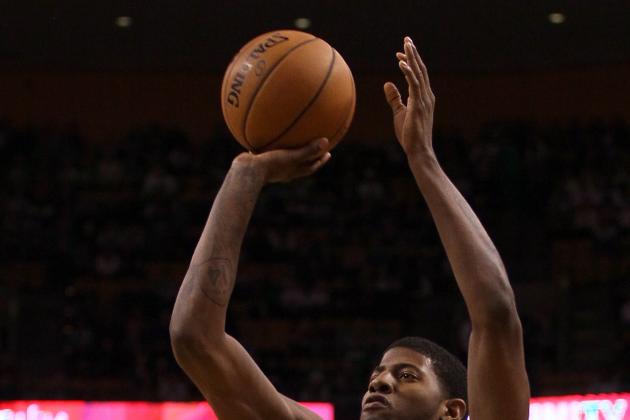 Elsa/Getty Images
Paul George
Last Season: 7.8 PPG, 3.7 RPG, 1.1 APG
This Season: 10.9 PPG, 5.2 RPG, 2.4 APG
Paul George was a pleasant surprise for the Indiana Pacers last season.
The former Fresno State star shined with his ridiculous athleticism, efficient three-point shooting and ability to defend a plethora of positions.
This season, George has taken the next step toward stardom. He is averaging double-digits in points and is nailing 45 percent of his shots from beyond the arc.
The Pacers' future looks bright with this 21-year-old at the helm.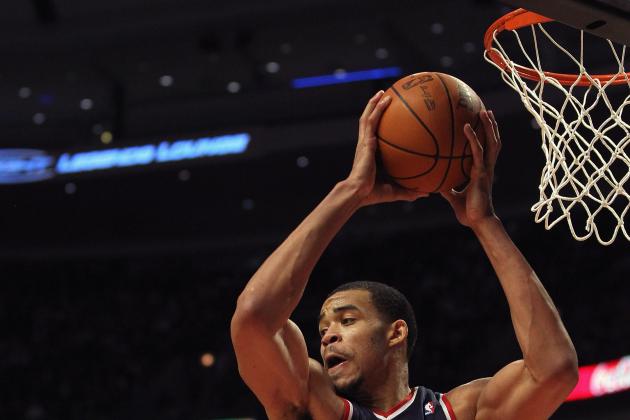 Jonathan Daniel/Getty Images
JaVale McGee
Last Season: 10.1 PPG, 8.0 RPG, 2.4 BPG
This Season: 11.7 PPG, 10.0 RPG, 3.0 BPG
Coming into the season, the Washington Wizards were expected to have a successful campaign with their talented, young group.
However, the team has been downright awful.
Not only does this lazy squad possess a dismal 2-13 record but they seem lackadaisical at times.
Still, their lanky center, JaVale McGee, has actually stepped up his game in the midst of all these defeats. Despite many questioning whether or not the three-year big man is committed to winning, McGee has shown the ability to be a behemoth under the basket.
McGee has the capability to become a top-tier center.