NFL Playoff Predictions 2012: Predicting Players Sure to Fall Flat Today
January 22, 2012

Jed Jacobsohn/Getty Images
Only two teams can play in the Super Bowl—it's just that simple.
As we approach the AFC and the NFC Championships, we have four of the top teams in the NFL—the Baltimore Ravens, New England Patriots, New York Giants and the San Francisco 49ers—but only two can advance.
As two teams win and two teams lose, that means that some players on the losing end will simply fall flat on their faces. 
I have predicted all week that the Patriots and the Giants would advance, so keep that in mind.
Without a further ado, let's take a look at some players that will fall flat today.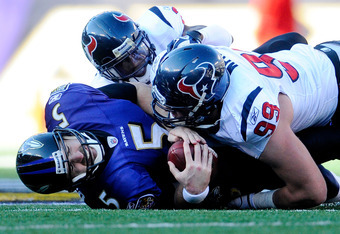 Patrick McDermott/Getty Images
Joe Flacco, QB Baltimore Ravens
Joe Flacco's 2011 was arguably the worst season of his career. The fourth-year player completed just 57.6 percent of his passes and finishing the season with a 80.9 quarterback rating. Granted, those numbers aren't horrendous, but they're not as horrendous as his playoff stats. 
Entering the AFC Championship Game, Flacco has completed just 53.1 percent of his career passes in the postseason while averaging only 153.3 yards per game and tossing six touchdowns compared to seven interceptions.
Taking that into consideration, Flacco will simply not play well against New England.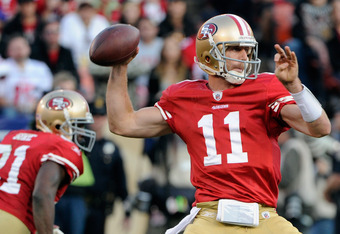 Thearon W. Henderson/Getty Images
Alex Smith, QB San Francisco 49ers
Alex Smith is coming off of his best game of his career as he threw for 299 yards and three touchdowns in San Francisco's win over the New Orleans Saints—but his luck will run out against the Giants. 
Let's put it this way: I believe that Smith's magical 2011 season will just run out of gas Sunday night against New York.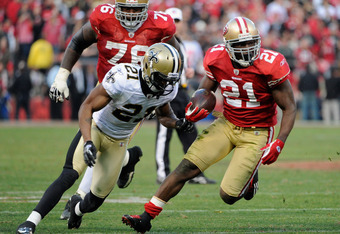 Thearon W. Henderson/Getty Images
Frank Gore, RB San Francisco 49ers
The New York Giants may have a mediocre run defense, but they will likely not be needed against the 49ers as I'm predicting that they'll build an early lead and force Alex Smith to throw the ball.
With that being said, I believe that Frank Gore will be a non-factor in the NFC Championship Game.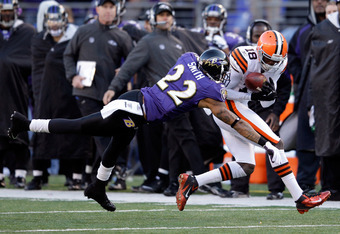 Rob Carr/Getty Images
Jimmy Smith, CB Baltimore Ravens
Jimmy Smith is going to be thrown into an odd situation for a rookie against the New England Patriots.
The rookie out of Colorado has been used as Baltimore's nickelback all season long, which means he'll have to cover guys like Wes Welker and Aaron Hernandez—I just don't see him faring too well against two of the NFL's most dangerous receivers. 
Be sure to check out Tony Santorsa's blog: PatriotsPlus