New Jersey Nets: Scenarios That Could Shape the Team for Coming Years
January 22, 2012

Warren Little/Getty Images
It's no doubt that up until the March 15th trade deadline—and perhaps beyond that into free agency, Dwight Howard will be the buzz of NBA trade talk.
Among Howard's potential suitors are most notably the soon-to-be Brooklyn Nets. There are a few different scenarios that could land the All-Star center in New Jersey. I will explore the numerous ways that could make or break the Nets' future.
Weeks ago, it was believed that Howard was on his way to New Jersey for Brook Lopez and two first-round picks. However, since then, not only did the trade fall through, but Lopez was forced to miss six to eight weeks due to a stress fracture in the right foot.
Nets fans are hopeful that the combination of young talent and a move to Brooklyn will be enough to entice Dwight team up with All-Star Deron Williams. It's known that the two want to play alongside each other, and even with the Nets. But if Dwight is traded elsewhere, the chances of the Nets retaining Deron Williams fall drastically.
While the Lopez injury killed all trade possibilities of happening in the near future, a bright spot for the Nets may have re-ignited trade interest. Rookie MarShon Brooks has impressed everyone with his play thus far. The 25th overall pick of the 2011 NBA draft is second among rookies in scoring with 15.1 points per game.
But it's his veteran-like decision making and smooth offensive game that has gotten people talking. Due to his outstanding play, any deal involving Howard will most likely have to send Brooks to Orlando. And though Nets' fans are reluctant to lose him because of his seemingly bright future, any trade the courts Howard to New Jersey has to be made—at all costs—but Williams of course.
Though the Nets find themselves at the bottom of the Eastern Conference, there's reason to be optimistic. Young talent such as Lopez, Brooks, sharp-shooter Anthony Morrow and Damion James are very attractive trade pieces should Orlando decide that they want to deal him.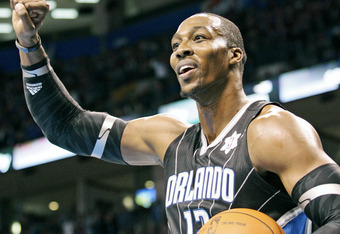 Brett Deering/Getty Images
Scenario 1
Nets trade MarShon Brooks, Brook Lopez, Damion James, two 2012 1st round picks (1 from Nets, 1 from Houston - lottery protected). Magic trade Dwight Howard and Hedo Turkoglu.
Scenario 2
Magic hold on to Dwight in hopes of re-signing him. He walks and signs with Nets, leaving them stockpiled with talent and Deron Williams resigning. Nets have core of Williams, Brooks, Howard, Morrow. Not to mention the first-round picks that would both most likely be top 15. So with that group, throw in a player like Harrison Barnes, Perry Jones III, Anthony Davis, Jared Sullinger or Andre Drummond. This team makes the Nets instant contenders loaded with young talent.
Scenario 3
The one no one wants to imagine. Dwight gets traded somewhere, stays in Orlando or signs somewhere else in free agency. With this, Deron Williams will most likely leave via free agency. But this does not cripple the Nets for the future. Two first-round picks and the players they currently have will be enough to put together a nice young squad heading into Brooklyn. Of course D-Will and Howard look much sexier—the worst case scenario is not all that bad.
The trade deadline will be very exciting, as Nets fans salivate over the possibility of acquiring Dwight.
Prediction: Lopez returns from injury and plays well. Nets then proceed to trade Lopez, Brooks/Morrow, James and two first-round picks for Dwight Howard and Hedo Turkoglu. Howard and Williams both re-sign with the Nets.
Welcome to Brooklyn.