Australian Open 2012: 10 Most Memorable Story Lines from Week 1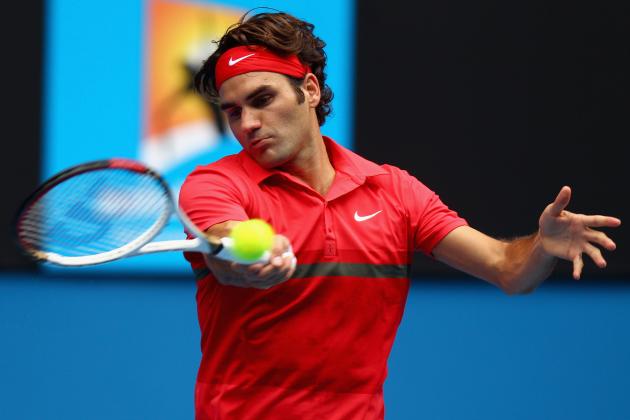 Mark Dadswell/Getty Images

Week one is in the books at the Australian Open and not much has changed in the men's game. The top four seeds look as untouchable as ever with everyone hoping to pull off a shocking upset. Is anyone up to the challenge? Hometown hero and teen sensation Bernard Tomic looked like the most worthy opponent before being swept aside in straight sets by Roger Federer in the Round of 16.
A dominant top four, however, does not mean that the rest of the tournament has been a ho-hum ordinary affair. As fans await more sparkling tennis, here are the best moments and story lines from the men's side during week one Down Under.
Begin Slideshow

»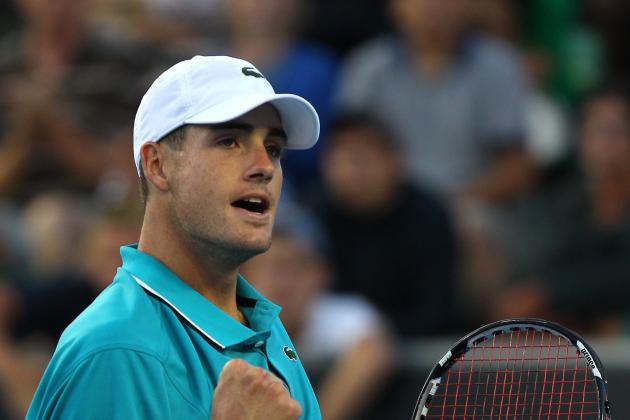 Mark Dadswell/Getty Images

Compared to his epic marathon in his three-day, 11-hour Wimbledon battle, John Isner's latest five-set endeavor must have seemed like a warmup.
During the four-hour, 41-minute match, Isner blasted an astounding 43 aces compared to just two double faults in what will likely go down as the most impressive serving performance of the year.
For his part, Argentine David Nalbandian, no stranger to long, grinding five-setters himself, kept the match close, giving away just 33 unforced errors in what was a extraordinarily clean, efficient and dramatic slugfest that kept viewers glued to their TVs.
Ultimately John Isner prevailed thanks to his continuous clutch serving, but the match didn't end without a bit of controversy.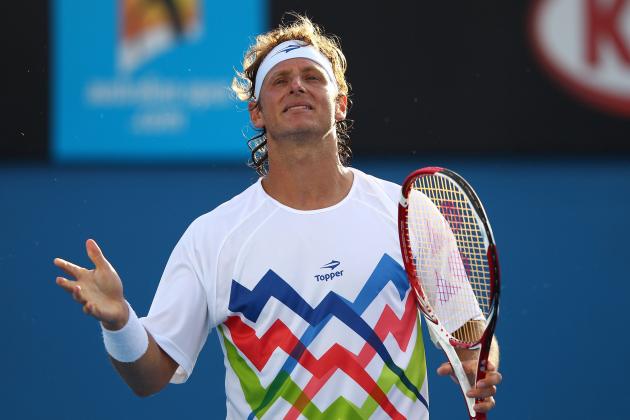 Mark Dadswell/Getty Images

I am not sure what was more memorable: the on-the-court controversy (that caused Nalbandian to lose his focus and ultimately the match), the off-the-court controversy (which was just bizarre), or Nalbandian's colorful attire.
At 8-8 in his second round match with the big American, the veteran Nalbandian was denied the chance to challenge an Isner ace on break point at eight-all in the deciding fifth set.
According to Nalbandian, he was unaware that the serve had been overruled by chair umpire Kader Nouni and thus didn't challenge the call immediately. After approaching the chair, Nouni informed Nalbandian that he could no longer challenge the ruling as his time limit had expired.
In fairness to Nalbandian, Nouni botched the whole situation and cast a negative pall over what was a fantastic match and likely could have affected the outcome, something no umpire or official should ever do.
Afterwards, in what was definitely an odd, head-scratching press release, the ATP Tour claims Nalbandian took his frustrations out on a doping control agent by splashing him with water.
Nalbandian took to twitter and emphatically denied the accusation but was still fined $8,000 by the tour.
Incident aside, I still vote his canvas of color shirt as the most memorable part of Nalbandian's short stay in the draw.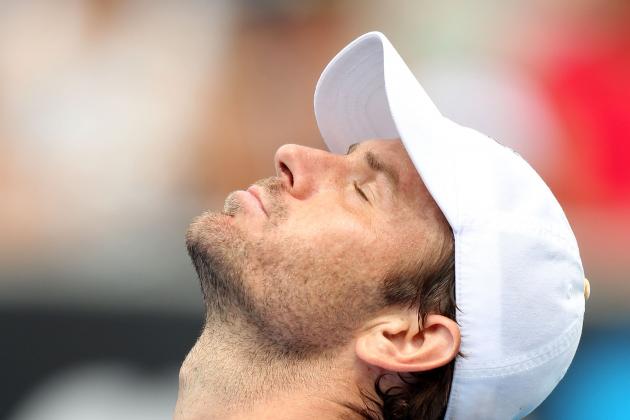 Scott Barbour/Getty Images

John Isner's admirable effort aside, the 2012 Australian Open was another disaster for American tennis.
Eighth seed Mardy Fish shouldn't have even bothered showing up, losing in straight sets to Colombian journeyman Alejandro Falla in the second round, while Andy Roddick, the lone American on tour with a major trophy, was forced to retire in his own second-round match after coming up lame with a pulled hamstring.
Outside of Isner, the only other Americans left in the second round were Ryan Sweeting, who fought bravely in a tough five-set battle against fifth seed David Ferrer, Sam Querrey, who faced a white hot Bernard Tomic, and Donald Young, who squandered a golden opportunity to advance by getting steamrolled by qualifier Lukas Lacko.
Overall the Americans went an embarrassing 6-10 overall with not a single male entrant advancing past the second round.
Not only has America lost its title as the world's most dominant tennis power, a title it held as recently as five years or so ago, but you could make a case that America wouldn't be in the top 10.
Scott Barbour/Getty Images

In a few years we might either look back at the 2012 Australian Open as the coming out party for Mikhail Kukushkin or have no idea who he is.
The Kazaki national breezed by his first-round opponent, Garcia-Lopez, in straight sets before upsetting 19th seed Viktor Troicki and 14th seed Gael Monfils in back-to-back matches.
Next up, Andy Murray. While Kukushkin's dream run will almost assuredly end in a fourth-round defeat, this year's first major has already been a memorable one for the 92nd-ranked 24-year-old.
Expect to see and hear a lot more of the hard-hitting yet wily Kazak.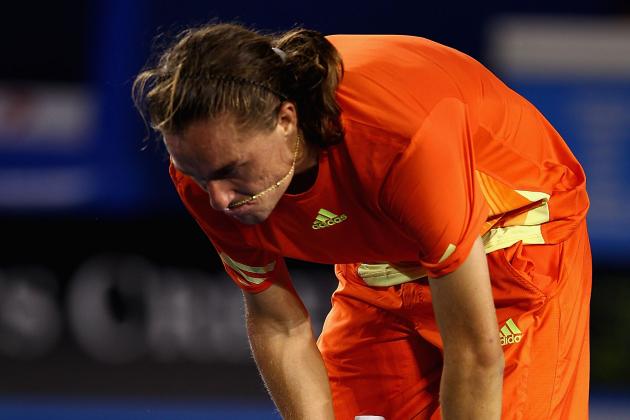 Clive Brunskill/Getty Images

Alexandr Dolgopolov deserves a lot of credit for his tenacity, determination and refusal to quit. While he eventually succumbed to Bernard Tomic, nobody fought harder in the first week than the 13th-seeded Ukrainian who played three consecutive grueling five-set matches.
Each round was a battle, yet for the first two Dolgopolov persevered, beating Australia's Greg Jones and Germany's Tobias Kamke in stunning fashion. Against Jones Dolgopolov rallied from two sets down and against Kamke he eeked out an 8-6 fifth set win.
By the time Dolgopolov reached his third-round showdown with Bernard Tomic, he'd already played five hours of tennis. Add another three hours after the first four sets, and going into the final set it was clear that the Ukrainian was completely gassed.
He wasn't the only one though who'd gone the distance. Overall there were 24 matches that went five sets during the first week, which was part of the reason this year's opening rounds were so fun and unpredictable.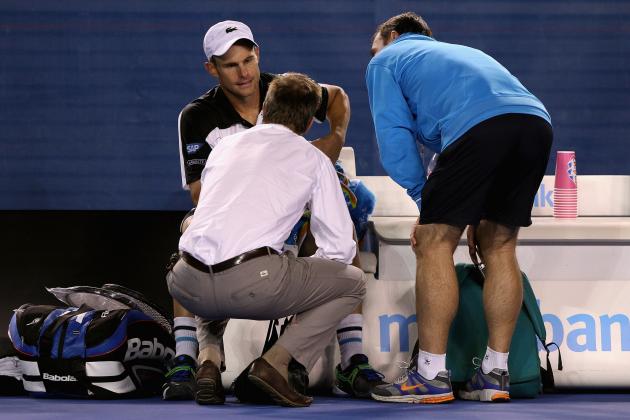 Quinn Rooney/Getty Images

The biggest question going into the Australian Open was, how will Federer and Nadal hold up? Would they be at 100 percent or would they be hampered by lingering injuries that had plagued them earlier? While so far neither seems worse for the wear, others haven't been as lucky.
Six players have retired mid-match, including most notably Andy Roddick, while Roger Federer was the beneficiary of a walkover.
Injuries are always part of the game, but with some players talking and threatening to strike due to the increasing physical nature of the sport, the grueling schedule and the price their bodies are paying, people are going to and should focus on the toll injuries are taking.
The ATP knows that more injuries decrease the quality of play. It is time they listen to some of the game's best including the likes of Nadal, Roddick and Djokovic.
Cameron Spencer/Getty Images

The men's game has never been deeper nor as exciting to watch.
Spectacular talents, including the likes of Richard Gasquet, Juan Martin Del Potro, Jo Wilfried Tsonga, Tomas Berdych and even Bernard Tomic, all have sensational games and would be worthy of a top-five ranking in the world if Federer, Djokovic, Nadal and Murray weren't around. Current world No. 5, David Ferrer didn't disappoint either, comfortably reaching the Round of 16 with a date set against 17th-ranked Gasquet.
All in all, nine of the top 16 players in the world (and eight of the top 10) advance to the Round of 16. Helping add to the drama and and cover for the upsets are the two Australians Bernard Tomic and Lleyton Hewitt.
With the world's top players at their best and two Australian wild cards hoping to delight their countrymen, the home crowd is in for a real treat after what was already a fantastic first week of tennis.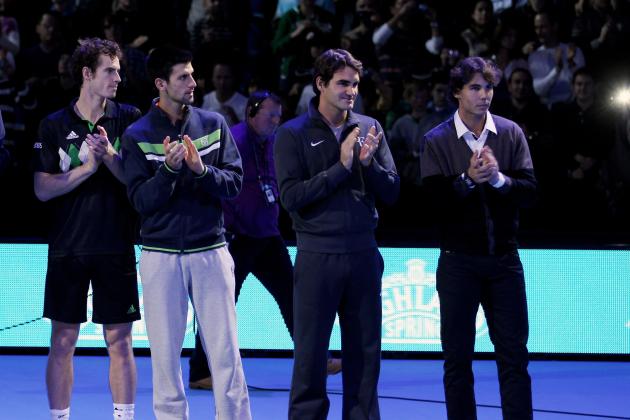 Clive Brunskill/Getty Images

In 11 matches (Federer received a second-round walkover) only Murray has dropped a set so far. That's 33 sets between the four of them to one for their combined opponents.
The absolute sheer dominance of the top four in the men's game is unparalleled. Not only are they the strongest four players to play at once, but they have also dominated a men's game that is deeper than ever before.
Watching any four of these guys is a joy to behold and while none of them played particularly memorable matches (although Murray's first-round encounter with Ryan Harrison was entertaining), the chance to watch all four in action at the tops of their respective games is something tennis fans won't forget.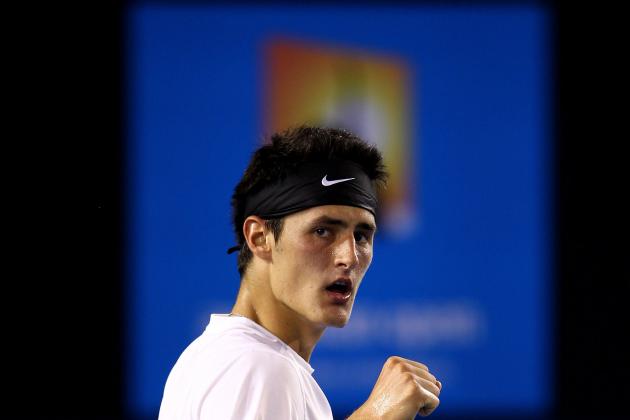 Clive Brunskill/Getty Images

You can't help but love this year's feel-good story, Bernard Tomic. The talk of the town, the 19-year-old Tomic is Australia's best hope for a Grand Slam title since the days of Patrick Rafter.
Having played way beyond his years with upsets over 22nd-ranked Fernando Verdasco and 13th-ranked Alexandr Dolgopolov (both in five sets), Tomic is riding the wave of hometown euphoria.
His determined fighting spirit and unconventional yet electrifying game make him hard not to like.
Meanwhile, fellow countryman and elder statesmen Lleyton Hewitt continues his surprising run as well. After benefiting from Roddick's injury, the Australian Grand Slam champion pulled off a surprising upset of his own, beating young, up-and-coming 23rd seed Milos Raonic in four inspired sets.
With Federer having ended Tomic's run, the hopes of his countrymen fall to Hewitt, who set to square off against Djokovic.
Without Tomic, Australian hopes for continued success next week are low, yet with Tomic nowhere near his peak and only 19 years of age, spirits are as high as ever in what looks like a bright future for Australian tennis.
Not much needs to be said about this video.
Hang on...
Yeah, the video speaks for itself.
In what was an awesome display of anger and sheer disregard for his rather expensive (although he doesn't pay for them) gear, Marcos Baghdatis broke not one, not two, not three, but four racquets in an on-court tirade during his second-round loss to ranked Swiss opponent Stanislas Wawrinka.
A week ago, I predicted Baghdatis would be a dark horse we'd love to see. I promise I had no idea this was coming, but his explosion was far better than we could have ever imagined.
A one-time runner-up in Australia, Baghdatis will forever be remembered more for this video than for his on-the-court accomplishments. But hey, if you are going to go down, you might as when do it in style.