Each Baltimore Orioles Pitcher's Odds of Making the Starting Rotation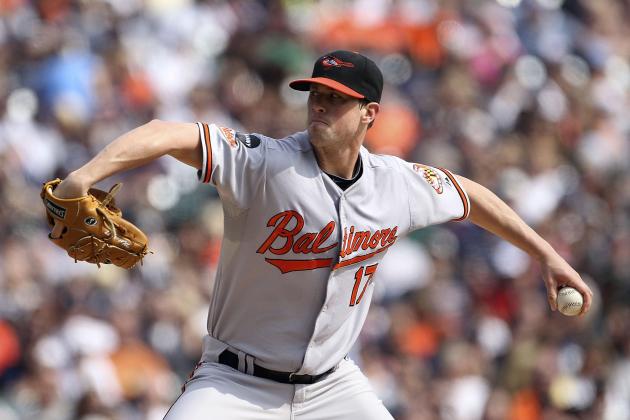 Leon Halip/Getty Images

The Orioles face a very difficult decision this spring in regards to their starting rotation. Buck Showalter said it best at this year's FanFest, saying, "Last year, we had six or seven guys competing and this year we have 11 of 12."
It's been well known that the Orioles' rotation has been a letdown for the past few seasons. The staff had the worst ERA in the majors in 2011, and Jeremy Guthrie was once again the only pitcher to reach 200 innings. Dan Duquette has made it clear that he expects more innings from the starters in 2012.
The rotation will likely see a few new faces, since Duquette has added three new starters via free agency and trade. Tsuyoshi Wada, Wei-Yin Chen and Dana Eveland will have to face off against a young core that includes Brian Matusz and Jake Arrieta, as well as veterans like Guthrie and potentially Armando Galarraga.
Here are the odds for each of the starting-pitching candidates on the 40-man roster to make the 2012 rotation.
Begin Slideshow

»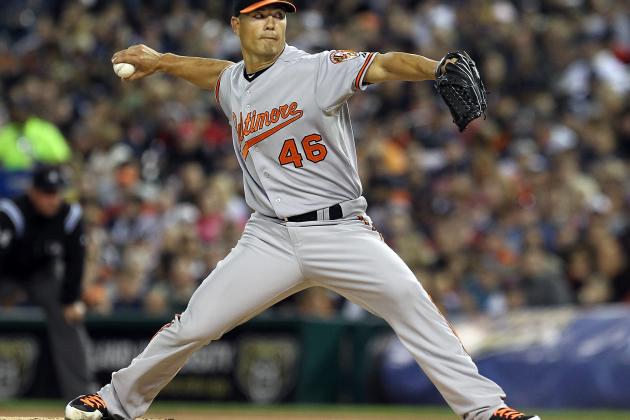 Dave Reginek/Getty Images

Odds: 95 percent

It's pretty much a forgone conclusion that Jeremy Guthrie will not only make the rotation, but start on Opening Day against the Minnesota Twins.
Guthrie, who has started three of the last four season openers, has been the team's workhorse for the last three seasons. He has pitched 200-plus innings in each of those seasons, the only Orioles pitcher to reach the 200-inning plateau in that span.
The only way that Guthrie doesn't make the rotation in 2012 is if he is traded. Guthrie is entering his final year before free agency and will likely be traded before the season ends. If the Orioles feel like they have five other pitchers who can be legitimate starters, Guthrie could get traded in spring training.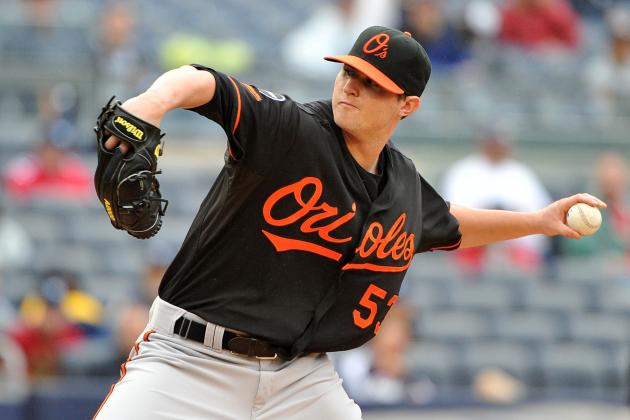 Christopher Pasatieri/Getty Images

Odds: 75 percent

Zach Britton started 2011 as one of the most dominant rookies in the majors but hit a wall in the middle of the season. He was forced to return to the minors for a stretch but came back to the majors and finished the year in mediocre fashion.
Britton showed that he can handle the majors, leading the team with 11 wins. He may have the highest ceiling of all of the young Orioles starters, thanks to his incredible sinker, which plays well in hitter-friendly Camden Yards.
Despite his successes in the majors, Britton is not a lock to make the team. He has minor league options left, which could end up hurting his cause because some of the other candidates do not. I would expect him to make the rotation, though.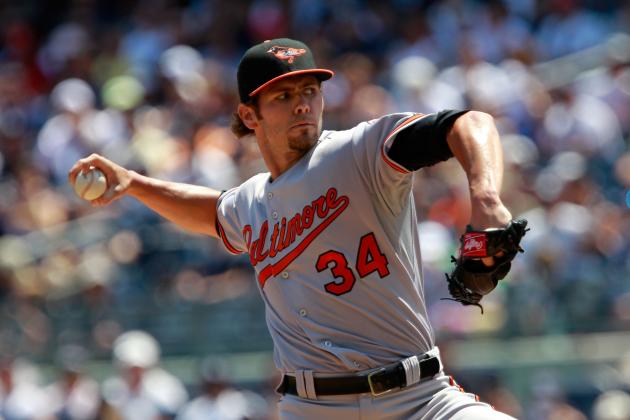 Chris Trotman/Getty Images

Odds: 55 percent

Jake Arrieta's year ended in July because of a bone spur in his elbow, but he wasn't doing too well, anyway. Arrieta was winning games because of great run support but struggled with his command and was allowing way too many home runs.
Currently, Arrieta is expected to make the rotation, but his recovery may hinder that. Reports so far have been good on his rehab and he is expected to be ready for spring training, but any sort of setback could leave him off the Opening Day roster. He could also be sent to the minors to get more experience adjusting to his surgically repaired elbow.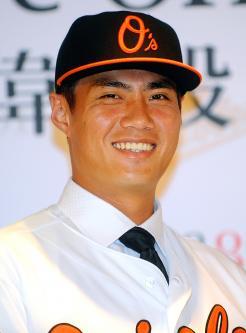 via taipeitimes.com
Odds: 85 percent

The Orioles took a big risk by signing Wei-Yin Chen to a three-year contract, but he has the chance to reward their commitment.
Chen, a 26-year-old lefty from Taiwan, went 36-30 in his career in Japan with a 2.48 ERA. He had a ridiculous 1.54 ERA in 2009 for the Chunichi Dragons.
One concern with Chen could be the workload as he comes to America. Nippon League pitchers only pitch once a week, while MLB pitchers are expected to pitch every fifth day. The leap may prove too much for Chen, although I doubt it.
If Chen doesn't make the rotation, he will surely make the bullpen, but he is almost a lock for the rotation.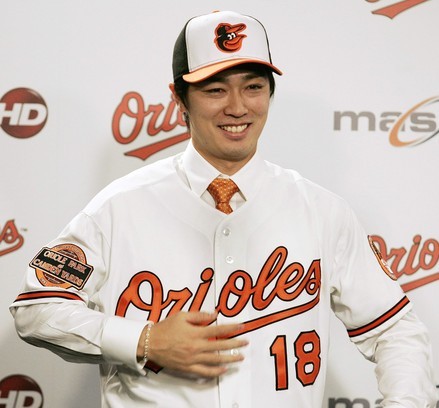 via daylife.com
Odds: 35 percent

When the Orioles signed Tsuyoshi Wada, Dan Duquette praised him for pitching deep into games and pitching over 200 innings between the regular season and postseason in Japan. This could help the Orioles in 2012, but now that Wei-Yin Chen is in the mix it seems that Wada is destined for the bullpen.
Wada, whose pitching style has been compared to Jamie Moyer, is known for being a control pitcher. He led the Nippon League in ERA in 2011 with a miniscule 1.51 and finished the year 16-5.
Wada beats hitters through trickery, and it's unclear how that style will translate when he comes to America. He has had success in the past in international play, but his performance in the Beijing Olympics was a little worrisome. Wada allowed six runs in two starts and was a large factor in Japan not winning any medals for baseball.
I would expect Wada to be a middle reliever and lefty specialist in 2012 for the Orioles.
Jonathan Daniel/Getty Images

Odds: 60 percent

This may seem like a bit of a bold prediction, considering Matusz's record-breaking failure of a season in 2011. Matusz finished the year with a 10.69 ERA, going 1-9 in the process.
From what Brady Anderson has said about Matusz's offseason changes, I think Matusz has the chance to break out in 2012 and become the ace he was expected to become.
Matusz's difficulty in 2011 stems from a combination of not being in good shape at the start of the year and an injury late in spring training that sidelined him for most of the beginning of the year. Better condition and a healthy start could allow Matusz to make the Orioles' rotation a legitimate threat.
Ed Zurga/Getty Images

Odds: 20 percent

Brad Bergesen was one of the first of the cavalcade of young pitchers who debuted in 2009 and he made a strong case for rookie of the year before Billy Butler lined a ball off Bergesen's shin, ending his season.
Since then, Bergesen has had some great games, but a lot more bad ones. After 47 starts in his first two seasons, Bergesen spent 2011 between the rotation and the bullpen and never really took to either role.
Bergesen now figures to return to the bullpen, although he is preparing for the season as if he is a starter. It looks like he will be coming out of the bullpen for long relief in 2012.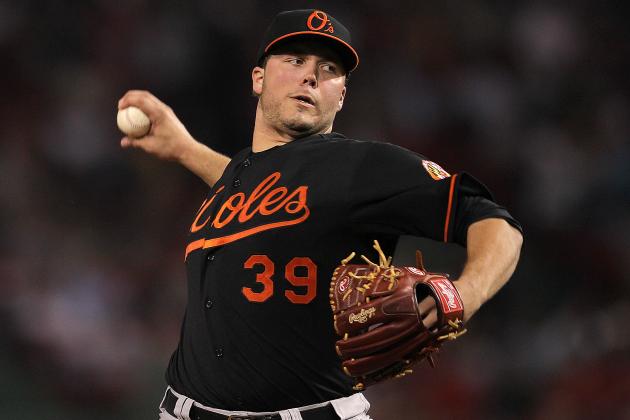 Jim Rogash/Getty Images

Odds: 35 percent

Tommy Hunter joined the Orioles at last year's trade deadline as Koji Uehara was sent to the Texas Rangers. Hunter started 11 games for the Orioles in the second half and was unimpressive, pitching to a 5.06 ERA.
Now, Hunter will go to Sarasota in much better condition, as he has shed a lot of weight. Hunter showed in Texas that when he was in good condition, he can be a great pitcher, and the Orioles hope that he can do it again.
Hunter is the odd man out because he really should be in the rotation, but there isn't a lot of room. He has a better chance than most to get in, but I doubt that he'll beat five other pitchers for a spot. I can't see him in the bullpen, either, but he'll probably have a spot somewhere on the team.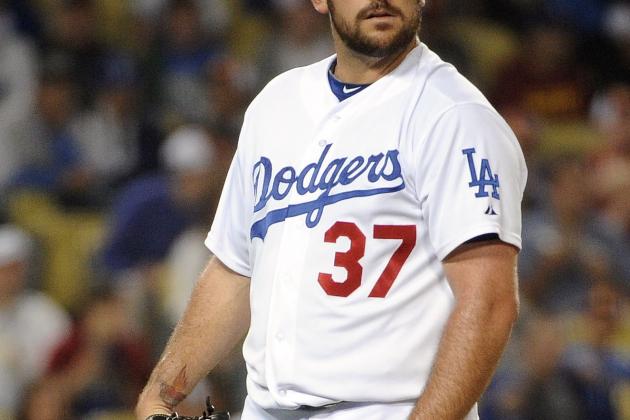 Harry How/Getty Images

Odds: 20 percent

The only big move that the Orioles made at the winter meetings was acquiring Dana Eveland on the last day. Dan Duquette viewed him as a great candidate to add depth to the rotation, but I can't see him being anything more than depth.
Eveland has a pretty weak track record but benefits from being out of options, so the Orioles will need to find a spot for him on the active roster or risk losing him. I don't think he'll make the team.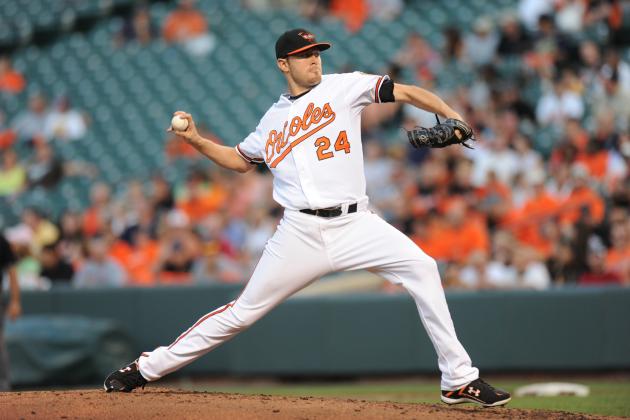 Mitchell Layton/Getty Images

Odds: 15 percent

Chris Tillman has been an enigma for most Orioles fans. The young righty was the Orioles' top pitching prospect just a couple years ago but has been crippled by command issues.
Tillman's biggest issue has been staying deep into games. He has struggled to miss bats in the past, causing his pitch count to get dangerously high in the fifth inning of most games.
The only way Tillman has a shot of making the rotation in 2012 is to go to Sarasota with much better control over his pitches. He has the stuff to compete at the major league level, but needs to manage his pitch count.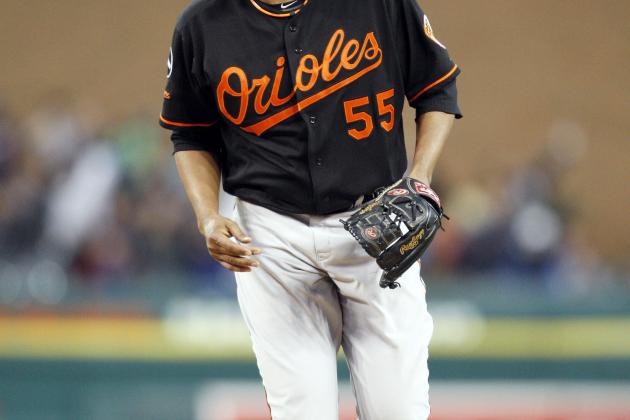 Jorge Lemus/Getty Images

Odds: 5 percent

Alfredo Simon played a big role in the starting rotation down the stretch last season and did a respectable job, but it won't be enough to keep him in the rotation in 2012.
In his four-year career with the Orioles, Simon has started 19 games (16 in 2011), but he has never locked down the job as a starter. He has had a lot of obstacles, including Tommy John surgery and being accused of murder in the Dominican Republic, so he has had to battle adversity before, but he just isn't as good as his competition for the rotation.
Unfortunately for Simon, I don't think that he fits in the Orioles' long-term plans. He'll have a tough time just making the team, let alone the rotation.