Detroit Pistons: The Draft Is the First Step Towards Respectability
March 30, 2012

Mike Ehrmann/Getty Images
The Pistons are not very good this year. I know, I know, understatement of the year. However, there are some silver linings to this season, and the Pistons might not be as far away from respectability as their record indicates.
They have been competitive in a fair number of games this year, and have even pulled off some impressive wins. There is still a fair amount of work to go, they've almost played themselves into NBA limbo by being mediocre. The draft holds the key for the Pistons, they need a bit of luck or they'll need to be aggressive and willing to make a trade to get a player who can push them from mediocre to contender. 
The positive.
Greg Monroe is getting better every game, he rebounds well, and is slowly becoming a better defender. Monroe isn't going to get anymore athletic, so hoping he will suddenly start dunking like Blake Griffin is a pipe dream. Also, Monroe is probably better suited to playing at the four rather than playing center, so the Pistons need to find a player to compliment Monroe inside.
Brandon Knight has had a solid rookie campaign. He is currently third in the league in rookie scoring (12.6), fourth in assists (3.7) and is shooting nearly 37 percent from three-point range. Knight is still developing as a point guard and early on he seemed to struggle with the multi-guard rotation coach Lawrence Frank was using.
Of late, he has looked much more comfortable on the floor and has played some of his best basketball with Rodney Stuckey on the floor as well. Knight needs to continue to improve, but the Pistons have a very good guard going forward.
Rodney Stuckey entered the season as a major question mark. There were many who questioned why Joe Dumars resigned him. So far, Stuckey has answered the doubters. He's been solid, averaging over 16 points and handing out a team leading 4.1 assists per game.
The key for Stuckey is being aggressive attacking the basket. When he does, he opens the floor for his teammates and gets himself to the line.
The negative.
Ben Gordon has not been the player the Pistons hoped he would be when they signed him to a five-year 55 million dollar contract (I know another understatement). This season, he is averaging 12.3 points per game and his shooting numbers are close to what they were when he was a 20-point per game scorer ('06-'07 to '08-'09).
What gives?
The Pistons and Gordon don't seem to know and until they figure it out he'll continue to be a player that teases and frustrates.
Charlie Villanueva was the other big signing back in the summer of 2009. He was signed as a player who could score and rebound. He's done little of either since he's been here.
This year he's been held back by a foot injury, and has only played in four games, barely worth mentioning. He has a big contract and is even more likely than Gordon to be cut via amnesty if the Pistons are able to find a better player during free agency.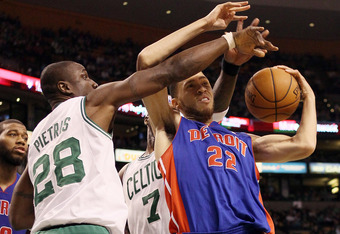 Elsa/Getty Images
Austin Daye was supposed to take a big step forward this year. He has not. He hasn't defended, rebounded, or shot well. Other players say Daye is probably the best shooter on the team, but can't seem to translate from practice to the floor.
Daye also seems to spend too much time thinking on the court and too much time dwelling on mistakes. His time with Detroit isn't over yet, but he needs to have a big jump in production if he wants to continue his NBA career.
The in between.
Tayshaun Prince signed a deal to stay in Detroit despite wide speculation he would sign with a contender. Prince has been average, but that was more or less what was expected. His 12.8-points per game average is in line with his career average (12.9), and while his defense has slipped, from all accounts, he's been the positive role model and leader the Pistons expected him to be.
Jonas Jerebko started the season on a tear, but tailed off. He has been a solid contributor on most nights, averaging nine points and five rebounds and providing the hustle every team needs. Jerebko is not a starter, but will be a valuable bench player with his effort and ability to play both the three and four.
Jason Maxiell hasn't been a big contributor, but has played much better this season than anticipated. He may only be averaging 6.1 points and 5.2 rebounds, but he has played better as the season has progressed. Maxiell is a player who relies on athleticism to be effective and it seems he's gotten his weight down enough for some of the old explosiveness to return. Maxiell can be a valuable bench contributor going forward.
The draft.
This is where the Pistons need to a major stroke of luck. Currently they are slated to draft eighth if the ping pong balls go by the percentages. Which would take them out of the running for the four players who could help turn this team around. The Pistons currently have a 2.8 percent chance of winning the lottery and selecting Anthony Davis. They have a slightly better chance to get the second or third pick.
There are three players not named Anthony Davis the Pistons should consider if they are fortunate enough to land in the top three of the draft. (Players in the order I rank them).
Thomas Robinson.
Mr. Robinson has been a fierce player all year for the Jayhawks. He's a great rebounder, aggressive scorer around the basket and a great leaper. He has improved his offensive game dramatically and shows the willingness to put in the time off the court.
One area that has been a nice surprise has been Thomas' ability to handle the ball, especially against the press. Robinson would pair nicely with Greg Monroe and has the ability to step out and hit the mid-range jump shot. Robinson will have to play power forward in the NBA, although, depending on matchups, could guard some small forwards.
Andre Drummond.
There is no doubt Drummond has the body and athleticism of an NBA player. The question is whether he has the work ethic and desire to achieve his potential. Drummond, by all accounts, has a very high basketball IQ and is a very good passer and great defender and rebounder when the effort is there.
He is capable of hitting jump shots, but too often settles for perimeter shots rather than dominating inside. He is a great fit for Detroit because he can start at center right away, allowing Monroe to shift to power forward.
Michael Kidd-Gilchrist.
MKG said he is returning, then, people "close" to him said he wants to announce he is going pro after Kentucky wins the NCAA title. If he goes pro and the Pistons are in position, they will need to take a long look at Kidd-Gilchrist.
Offensively, MKG is still very raw, although he does possess a very nice jump shot (not consistent) and an ability to get to the rim. His ability to defend, rebound and hustle are the calling cards that make him an attractive pick.
MKG plays small forward, a position the Pistons currently have an abundance of mediocre players at. MKG would give them a lock-down perimeter defender and a player who is able to play above the rim and could develop into a star quality player.
Thomas Robinson and Michael Kidd-Gilchrist have motors that never seem to stop, while Andre Drummond has size. Hopefully the Pistons will be in a position to have to pick between these young men. Whomever they select will determine whether or not the Pistons will return to respectability any time soon.