WWE Comparison: Known Faces in Sports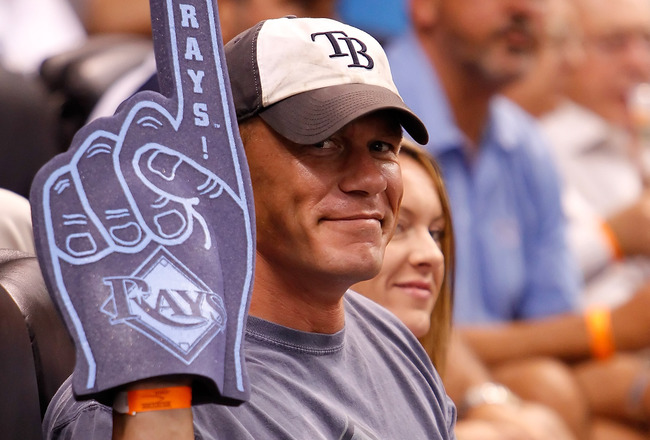 J. Meric/Getty Images
Thanks to the success of a recent article I wrote, many of you asked me to write an article comparing known faces in the WWE to athletes.
A face is the "good guy" in wrestling. A face is someone that all the fans love to see wrestle and perform. The face usually faces a heel (the bad guy) and the fans are usually behind the face, thank you John Cena for making me have to write usually.
There are plenty of faces in sports and here I will touch base with the most popular ones in football, basketball and baseball. Faces in sports are just guys that are not selfish and not hated by fans because of their off-the-field antics. The heels I spoke of the in this article are athletes who are hated because of what they do off the field or from the way they act on the field.
With all that being said, here are faces in sports and their WWE counterparts.
Shaquille O'Neal: The Big Show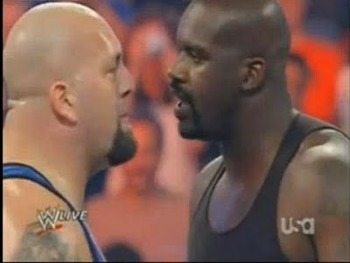 The Big Show has flip-flopped his whole career between being a heel and a face. Earlier in his career the Big Show was just large, dominant and very athletic. Big Show used to be a heel then but is now currently a face. Big Show was always known as the most dominant wrestler in the WWE and he was very tough to stop. The Big Show could not co-exist with his tag team partners, The Miz and then Chris Jericho.
Shaquille O'Neal started his career as a huge fan favorite but when he went to the Lakers in free agency he turned on the fans in Orlando. Shaq is more of a face than a heel because his partner in crime, Kobe Bryant, got most of the heat from their split. Shaq was not able to co-exist with Kobe. Once Shaq was traded to the Heat they won a championship and he and Dwyane Wade split after they were not able to succeed anymore. Shaq has had a similar career to the Big Show and both of them are adored by the fans.
The best part about this comparison is that based on rumors the fans might see this matchup occur at Wrestle Mania 28.
Dennis Rodman: Mick Foley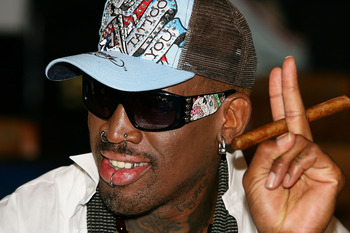 Matt King/Getty Images
What do Dennis Rodman and Mick Foley have in common? They are both very weird—yet they are both adored by the fans.
Dennis Rodman has seen success as a five-time NBA champion. Rodman was never the best player in the NBA. Rodman was always changing his personality on and off the court. Let's not forget that when he got married he wore a wedding dress to his reception. Dennis Rodman was very odd. Somehow the fans in the NBA always loved to hear about Rodman and see Rodman play.
Mick Foley has seen success as a multiple-time champion for plenty of different belts. Although Foley was the heavyweight champion from time to time—it was not what he was known for. Foley was known for the hardcore championship belt and his hardcore style. Mick Foley as a weird character. Foley wrestled as Mankind, a sick and demented man who wore a mask and used a sock to choke out his opponents. Foley also wrestled as Cactus Jack and Dude Love, two really fun personas. Foley was very weird but he was always loved by the fans.
Rodman is definitely more odd than Foley and that is something Foley thought he would never hear from someone.
Eli Manning: Randy Orton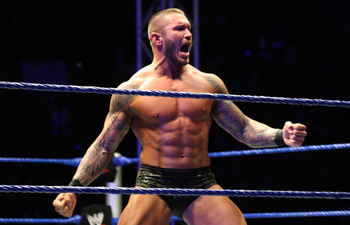 Gallo Images/Getty Images
Eli Manning and Randy Orton were both exposed to their respective sport when they were younger because of their fathers, and in Eli's case, his brother as well.
Eli Manning was drafted by the San Diego Chargers but then demanded a trade to a "big city team." Eli had the help of his father, Archie, in getting the word out and making sure that he went to a "big city team." Eli was eventually traded to the New York Giants and started off his career as a heel. Eli then became one of the youngest Super Bowl champions in NFL history and has since become a face. Eli has passed his father's success in the NFL and when it is all said and done Eli will be known as a better quarterback than his father—the jury is still out on whether Eli will ever surpass his older brother, Peyton.
Randy Orton came into the WWE and worked with HHH, Ric Flair and Batista. Orton got pushes early in his career because of his father, Bob Orton. Randy was given the WWE title early in his career and is the youngest superstar to ever win a WWE championship. Orton, like Eli, started his career as a heel and has been going back and forth. Now it seems like Orton is a full-fledged baby face, like Eli. Randy has passed his father's success and is already known as a better wrestler and performer than his father.
Do you think Eli would have joined the Legacy if he was a WWE superstar? Of course he would, but I don't think Eli has voices in his head.
Muhammad Ali: Stone Cold Steve Austin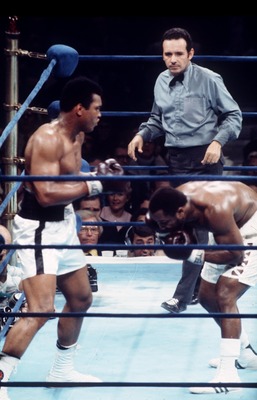 Getty Images/Getty Images
Float like a butterfly sting like a bee while opening a can of whoop a**.
Stone Cold Steve Austin and Muhammad Ali are similar in almost every single way.
Muhammad Ali is the icon for the sport of boxing. Ali was always over with the fans. Muhammad Ali was a little bit more popular and successful over his arch nemesis at the time, Joe Frazier. Ali always talked smack to his opponents before matches, and most of the time, he delivered. Ali was cocky and arrogant but the fans loved him so much.
Stone Cold Steve Austin is the icon for the WWF/E. Even when the WWE turned Stone cold into a heel he was always over with the fans. Stone Cold was more successful against his arch nemesis at the time, The Rock. Stone Cold used to talk smack like no other man in wrestling. Stone Cold even beat up his boss, Vince McMahon, on plenty of occasions. Stone Cold was loved by the fans and his presence is still missed.
Who would win a street fight between the two? Probably Ali but I'm sure if Austin had a couple of Budweiser's he might get rowdy and pull off an upset.
Josh Hamilton: CM Punk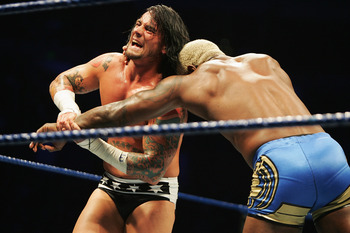 Gaye Gerard/Getty Images
Hamilton and CM punk have a couple things in common, both of them love body ink, both of them are very popular in their respective sports and both are straight edge.
It took Josh Hamilton years of struggles with drugs and alcohol to finally realize that he has potential as an amazing baseball player. Once Hamilton became straightedge he was signed to the Rangers and he shocked the world. Hamilton has gone from a degenerate drug addict to one of the best hitters in the MLB.
CM Punk was always straight edge. Punk's body is full of tattoos representing his straight edge lifestyle, unlike Hamilton whose body is inked up from his time with drugs. It took Punk a couple of years to become successful. Punk, like Hamilton, was seen as an underdog and now they are both notorious in their respective sport.
Most of this comparison comes from the fact that they are both straight edge. Also, I wanted to appeal to the baseball fans a little bit.
Barry Sanders: The Rock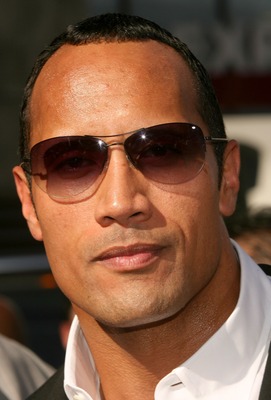 Frederick M. Brown/Getty Images
The most electrifying man in ALLLLL of entertainment. The Rock sure is the most electrifying man in sports entertainment, but Barry Sanders was the most electrifying athlete in NFL history.
Barry Sanders perfected his craft as a running back in the NFL. Sanders was quick, intelligent and entertaining. Sanders had a wonderful career but he decided to call it quits early. When Sanders called it quits many of the fans were upset but they still loved him.
The Rock perfected his craft as a wrestler in the WWE. The Rock's energy in the ring and microphone were unmatched. The Rock was the most entertaining man in the WWE. The Rock, like Barry Sanders, decided to call it quits early in his career, but unlike Sanders, the Rock did it so he can become an actor. Also, unlike Barry Sanders, the Rock has since returned to the WWE and is now headlining WrestleMania.
The Rock and Barry Sanders's amount of electricity would be enough to operate the flux capacitor—1.21 Gigawatts.
Tim Tebow: John Cena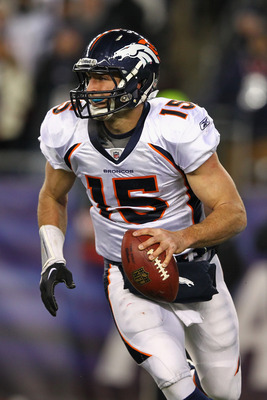 Al Bello/Getty Images
Your Tim Tebow time is up my time is now, you can't see me Tim Tebow time is now!
Are there any other athletes in their sport that are as equally loved and hated like Tebow and Cena? It would be tough to say at this point. Anti-Cena people say he only has five moves and anti-Tebow people say that Tebow only knows five plays in the playbook.
Tim Tebow is the most popular man in the NFL, not because of his skill, but because of his affinity for winning. Tebow is a great guy who frequently flies to other countries to help needy children out—Tebow is currently building a children's hospital in the Philippines. Tebow was loved by a lot and hated by as many. Many people hate Tebow because he gets so much attention when he is not great at what he does. Does that sound familiar? Come on, anyone?
Enter John Cena. Currently the most notorious name in all wrestling. When Cena enters a ring he gets cheered by half of the crowd and gets booed by the other half. Many people hate Cena because he earns title shots and gains notoriety when he is not good at what he does. Cena is great on the microphone and holds his own around his detractors just like Tim Tebow. John Cena, like Tebow, is very involved with the Make-A-Wish foundation and now is very involved with the anti-bullying Be A Star foundation.
Imagine a tag team of Cena and Tebow against Stephen A. Smith and one of the We Hate Cena cult members.
Tom Brady: Shawn Michaels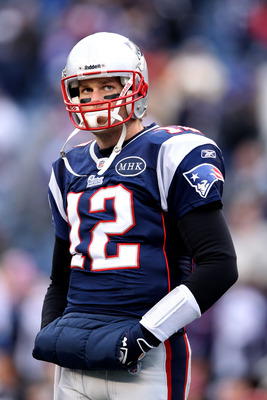 Elsa/Getty Images
Two of the biggest faces in their respective leagues. HBK has been a face most of his career but had a dark time where controversy made a heel out of him. Tom Brady has been a face most of his career, but just like HBK, Brady had a dark time when he was a heel.
Shawn Michaels was one of the best WWE stars of all time. Michaels always put on a great show for the fans. Michaels was a big part of the "Montreal Screw job"—where he beat Bret Hart for the WWE title when Vince McMahon ordered the referee to end the match. HBK had a tough injury and had to miss a lot of time as a wrestler. Once HBK got back he picked up where he left off and became known as the best wrestler of all time—according to a list created by the WWE.
Tom Brady is one of the best quarterbacks in NFL history. Brady always put the fans in their seats and put on a show. Brady, like HBK, had a dark time in his career when he was apart of the "Tuck Rule"—where the Raiders got screwed by the referees by the use of a rule that was not used in years. Brady since became a face to most of the fans—unless you are a Raiders or Colts fan. Brady went down with a very bad knee injury and had to miss a year in the NFL. Brady came back a year later better than ever and is now on his way to winning his fourth Super Bowl Championship.
Another comparison between these two that is obvious is the fact that they are both pretty boys. Shawn Michael is known as HBK, the Heart Break Kid. Brady broke the hearts of many women in America when he married his wife, ex-model, Giselle Bundchen.
Conclusion/Other Quick Comparisons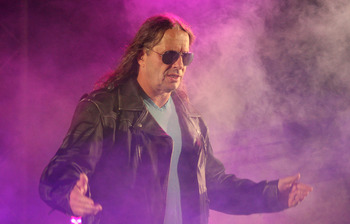 Gallo Images/Getty Images
That's the end of it folks. I want to hear your opinions on which faces in sports are comparable to faces in WWE history.
Here are a couple of others I thought of.
Bret Hart: Wayne Gretzky
Both Canadian and both of them are the "best there is, best there was, and best there ever will be."
Kobe: Triple H
I already wrote about these two in the heel article but both can be easily said for their time as faces. To some people Kobe is now a face anyway.
Martina Navralitova: Trish Stratus
Both of them are the best women in their respective sport and are synonymous with their division in their sport.
Other thoughts? If you disagree or agree please leave your comments below! Also let me know of any others you guys have thought of.
Follow me on Twitter for everything NFL/NBA/WWE @ThaFreakness_BR
E-mail me at: sammysucu@gmail.com
Keep Reading