Heath Bell, Mariano Rivera and Baseball's Best Closers in 2012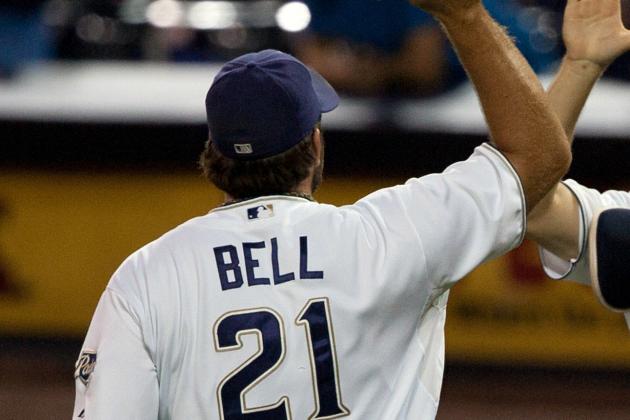 Kent Horner/Getty Images

The closer is one of the most important positions in baseball. His job is to get the last three (or more) batters out in order to end the game. A closer can either be a shutdown man or a shellshock pitcher. Either way, the closer is the difference between a hard-earned win, or a heartbreaking loss.
With the MLB season coming up in three months, we take a look at each closer and rank them from 30 to one.
Without further ado, here are the closer rankings for 2012.
Begin Slideshow

»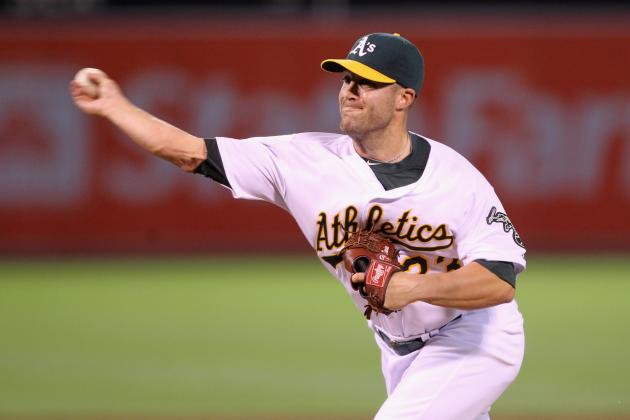 Ezra Shaw/Getty Images

Billy Beane threw away any shot at closer legitimacy when he dealt former AL Rookie of the Year Andrew Bailey to Boston. Needless to say, the team will have to make due with Joey Devine.
Devine, once a hotshot pitcher in Atlanta, is unproven in the closer role, having only one save to his name. His weak supporting cast also makes him the de-facto closer too.
It doesn't look like Beane has anybody waiting in the wings, especially in terms of prospects. Tom Milone might be considered, however, he pitched as a starter at the end of the 2011 season. Nonetheless, Devine has much to prove in order to nail down the closing job in Oakland.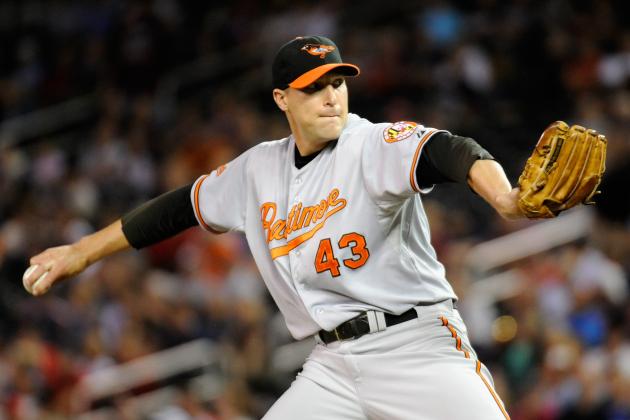 Hannah Foslien/Getty Images

Jim Johnson is low on this list not because of inexperience, rather, because of his supporting cast. Having taken the job from Kevin Gregg, he pitched reasonably well, earning nine saves in limited work.
Johnson comes into the 2012 season as the top candidate for closer, but given the team's offensive struggles, coupled with an inept pitching staff, expect him to lose his job by mid July.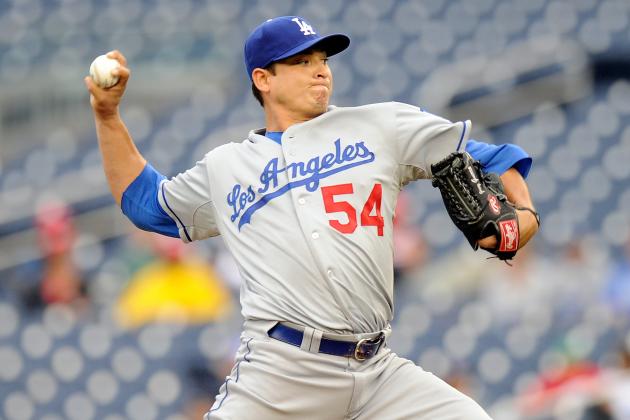 Greg Fiume/Getty Images

Javy Guerra is ranked at 28th on this list for one reason and one reason only: inexperience. Having only taken the job because Jonathan Broxton was hurt, then later signed by Kansas City, Guerra turned in a decent performance, notching 21 saves with a 2.32 ERA.
Guerra has the chance to move up on this list if he continues to impress, but as of now, he is slated for 28th for good reason.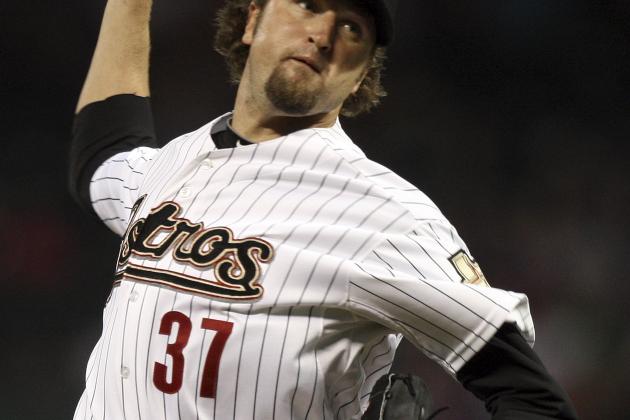 Bob Levey/Getty Images

Brandon Lyon is another case of the team falling down around him, and playing for a team that only won 56 games last year does knock you down a few notches.
Lyon is one of the more experienced low-ranking closers, having earned his closer role back in 2005 in Arizona. Since becoming a closer, he's enjoyed some up-and-down success, pitching reasonably well in the desert, then hiccuping in Detroit.
The fact that the Astros were gutted of their offensive talent at the trading deadline and their lack of experienced prospects to rebuild around will hurt Lyon's chances of moving up on the list.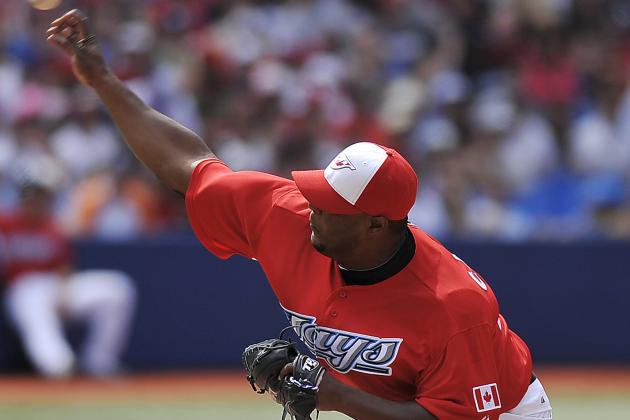 Brad White/Getty Images

Frank Francisco has closing experience, there's no doubt about that, what he doesn't have is consistency.
In Texas, he was repeatedly shellshocked, and had to pitch in Oklahoma City at least once a year.
When he reached Toronto, he started off hurt, but then came back and showed he had what it took to be a closer, notching 17 saves in shared work with Jon Rauch.
Francisco has every opportunity to prove he was worth his contract, but if he can't, there's Ramon Ramirez and Rauch to consider.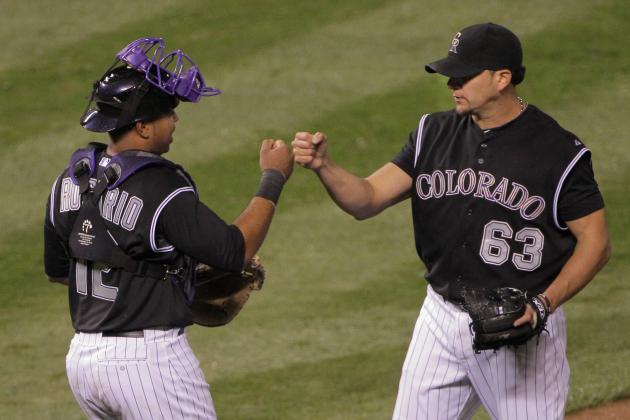 Doug Pensinger/Getty Images

Rafael Betancourt is another case of a closer taking over for another closer. In this case, it's Huston Street, who signed with the Padres.
Betancourt does have eight saves to his credit from last year, a career high. He's a regular reliever, though, and needs work if he wants to prove himself.
One thing he won't have to worry about is protection. With a lineup that includes sluggers like Carlos Gonzalez, Troy Tulowitski and Todd Helton, not to mention a quality pitching staff that has up and coming arms like Drew Pomeranz, Betancourt may find that the only problem he has to deal with is Denver's thin air.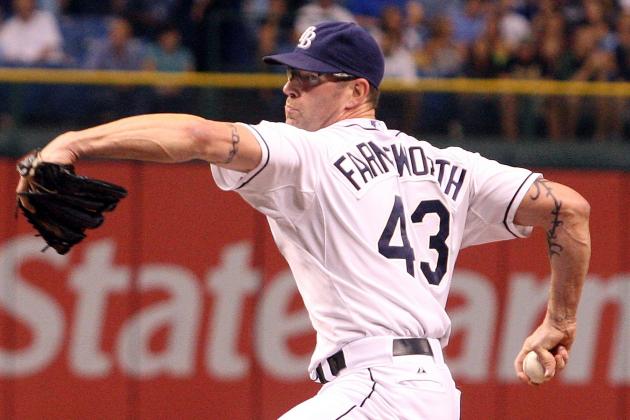 Charles Sonnenblick/Getty Images

You don't normally say anybody with more than 10 years of major league service has an experience problem, but in the case of Kyle Farnsworth, the words never rang truer.
Farnsworth has only one full season of closing experience under his belt, and that was last year, when he notched 25 saves for a surprisingly effective Rays team.
If Farnsworth can prove 2011 wasn't a fluke and he's still good after 12 years, he will go higher on this list. Until then, he still has a lot to prove.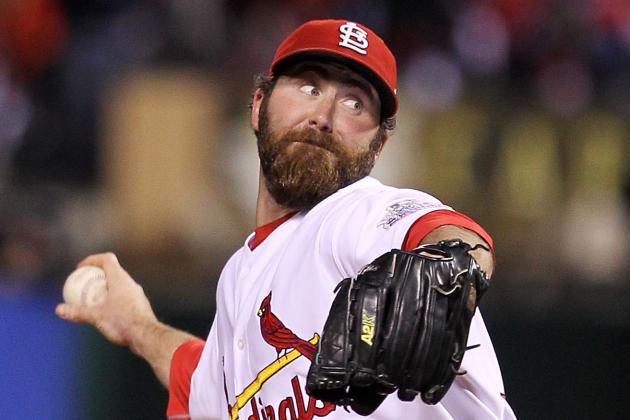 Ezra Shaw/Getty Images

Since Jason Isringhausen left, St. Louis has not named a true closer. With Tony La Russa gone and Mike Matheny in the dugout, that could change.
The only reason why Motte is on this list is not because of inexperience or a poor supporting cast (though with the subtraction of Albert Pujols, that could be a possibility) is because of the uncertainty over who will be the closer come opening day.
Motte, however, turned in a decent season and postseason, notching 14 combined saves, five of which came in the playoffs.
If Motte is named the closer before opening day and the Cardinals don't go into post-Pujols shock, he'll be ranked higher.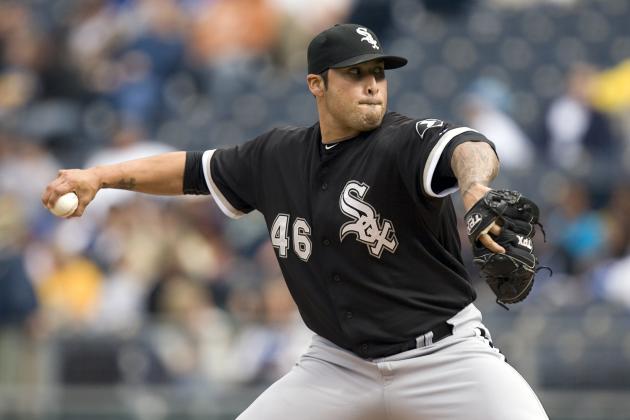 Ed Zurga/Getty Images

I'm not saying Sergio Santos is a bad closer, in fact, I applaud him for making the successful transition from shortstop to closer, what I am concerned about is how he'll perform in Toronto.
Santos notched 30 saves as Chicago's closer, and added a respectable 3.55 ERA, all while pitching in Chicago. In Toronto, things may get tougher.
Should Santos fail, the Jays have insurance with Jason Frasor, who was their closer before being traded.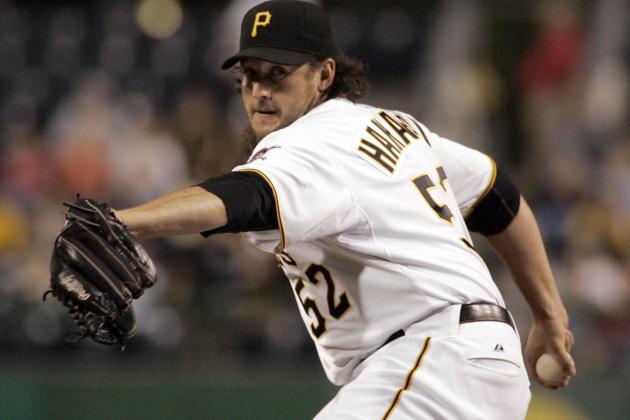 Justin K. Aller/Getty Images

It's unfair that Joel Hanrahan is ranked so low on this list, it really is. Unfortunately, considering the Pirates are still losing like it's going out of style, he takes 21st place.
If the Pirates had to only rely on their closer to win, then Hanrahan would be higher. After all, 40 saves and a 1.83 ERA is nothing to laugh at.
Heck, if he was the closer for a contender, he'd probably rank in the top 10, maybe even break 55 saves. Unfortunately, you're only as good as the team you play on.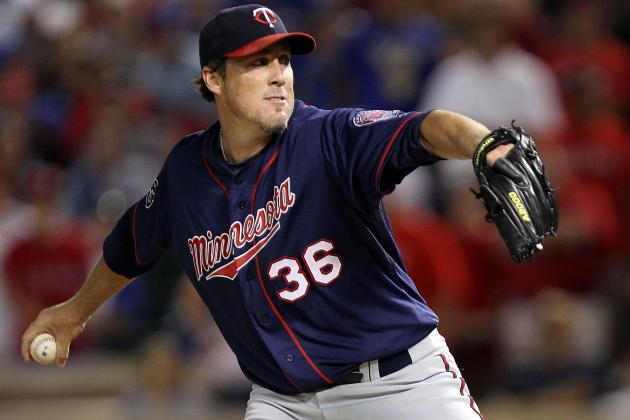 Ronald Martinez/Getty Images

Joe Nathan is not a bad pitcher at all, in fact, before 2010, he was considered one of the best closers in baseball. Unfortunately, we all grow old eventually.
Nathan lost his job at the beginning of the year to Matt Capps, then had a good stretch, and reclaimed the role in July. He notched 14 saves on the year, but owned a 4.84 ERA.
Nathan takes the place of former closer and Rookie of the Year Neftali Feliz, who moves to the starting rotation.
Should Nathan prove to be reliable, he may jump a few spots.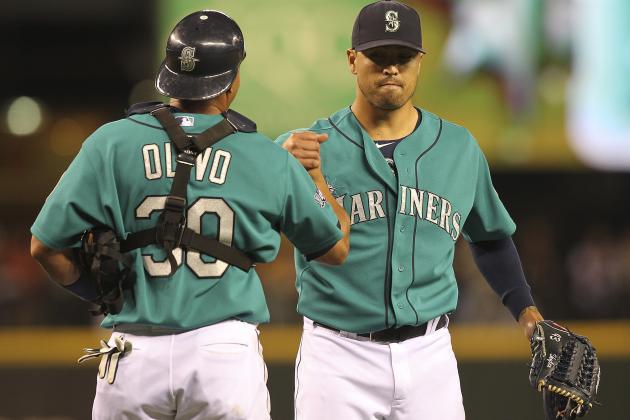 Otto Greule Jr/Getty Images

Another case of a good closer on a bad team. League could be a better closer, at least statistically, if the Mariners weren't so offensively inept.
Last year, League notched 37 saves and had a 2.79 ERA for a Mariners team that finished dead last in the AL West. Had the Mariners been a better team, League would have had more saves.
The Mariners have a good team in the wings, what with Dustin Ackley, Danny Hultzen, James Paxton, and others rising in the ranks. When they make the club, it'll be all up to League to prove himself.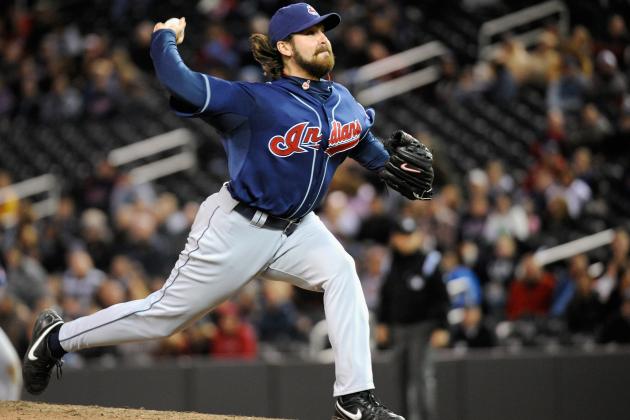 Hannah Foslien/Getty Images

Give credit to Perez for holding down the fort in Cleveland, after all, it's a tough job.
Perez had 36 saves last year for a cursed Indians team that looked like a contender, but played like a pretender. In fact, he was one of the team's brightest players, even with the addition of Ubaldo Jimenez.
If Cleveland can play like its pre-collapse form, expect Perez to have a great year, and a boost in his ranking.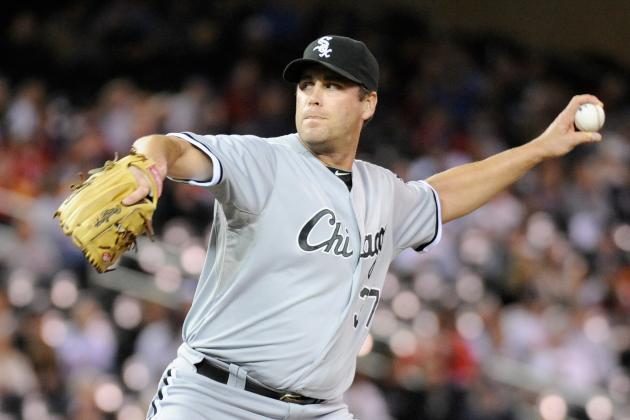 Hannah Foslien/Getty Images

Losing Sergio Santos to the Blue Jays obviously hurts, but fortunately, the team has three viable options at closer.
Matt Thornton will likely start the season at closer, and because he's a great reliever, he'll be pressured to perform well. Playing exclusively as a setup man last year, he notched three saves, but in for his White Sox career, he's notched 20 saves, which isn't bad at all, even if they've been over the course of six years.
Next in line is Chris Sale, who notched eight saves Sale is still young, and could outperform Thornton.
In the wings is Addison Reed, who as a prospect has turned in some impressive performances in Charlotte. Reed will likely be groomed for the closer role in the future, but for the time being, it's all up to Thornton.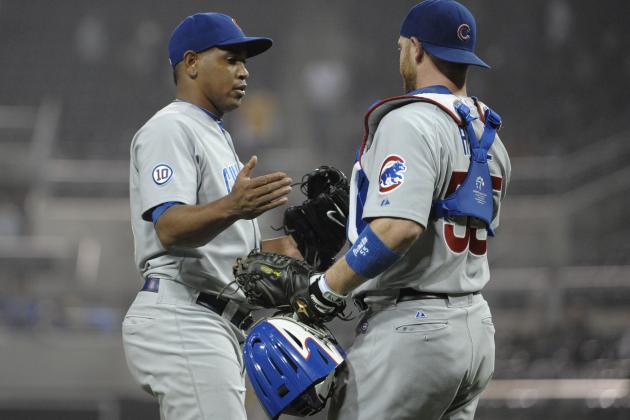 Denis Poroy/Getty Images

Carlos Marmol is another case of bad team impacts performance, however, he's been a consistent closer since he started in 2009 as the team's closer.
Last year, Marmol saved 34 games amid a horrific Cubs team. Although his ERA ballooned to 4.00, his highest since his rookie year, Marmol still was respectable. Expect him to toil through another bad Cubs season in 2012.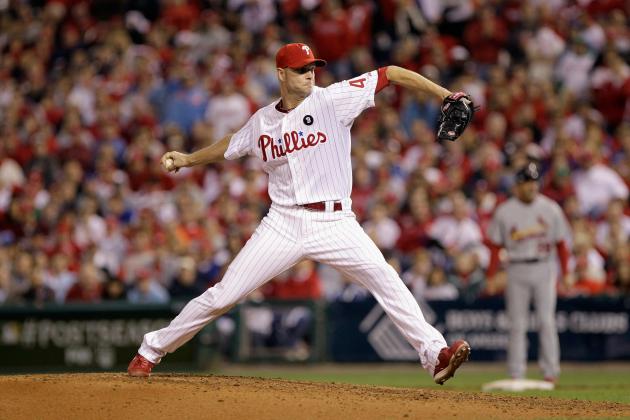 Rob Carr/Getty Images

The Reds brought in Ryan Madson to replace Francisco Cordero, their established but aging closer. Madson comes from Philadelphia, where he saved 32 games as a replacement for Brad Lidge.
Madson has a chance to go higher on the list, provided the Reds don't free fall like they did last year. Chances are he'll have 30-35 saves in his first season as a Red.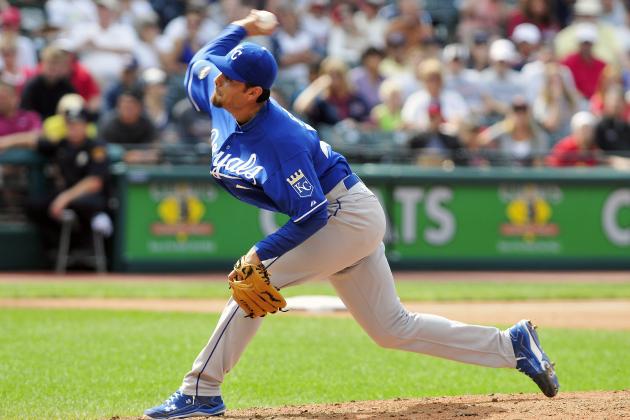 Jason Miller/Getty Images

2011 was a tough year for Joakim Soria, as he blew five saves to start the year. Ned Yost pulled him, and Aaron Crow got some time in.
After Crow took over, Soria had a turnaround, and started to pitch like his old self, earning him his job back. He finished the year with 28 saves, and a reasonable 4.03 ERA.
Soria knows that in order to stay closer in KC, he'll have to be careful. With Crow breathing down his neck, he has to prove that the start of the 2011 season was a fluke.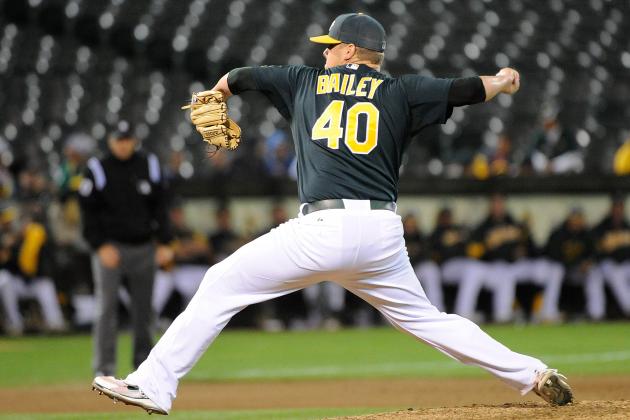 Thearon W. Henderson/Getty Images

Andrew Bailey was acquired by Boston in order to replace Jon Papelbon, who in turn left for Philadelphia.
Last year, Bailey finished with 24 saves and a 3.42 ERA. Not bad for an Athletics pitcher.
Moving to Fenway Park will do the former Rookie of the Year some good, as some say he's at his best in Fenway. In fact, Bailey even said, although it may be for the press to gobble up, that Fenway is the best park in baseball.
Either way, with the offensive protection, all that needs to be done is stabilize a weak rotation and Bailey could be a force this year.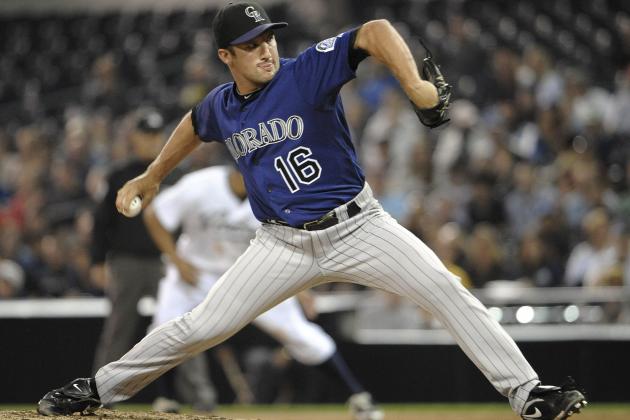 Denis Poroy/Getty Images

Huston Street gets a big break this year, as he'll be moving from one of the best hitters ballparks to one of the best pitchers parks.
Last year's stats aren't a problem for him, It's all a matter over whether he can translate his success from the thin air of Coors Field to the warmth and vastness of Petco Park.
If Street can't cut it in San Diego, he'll be wasting quite an opportunity.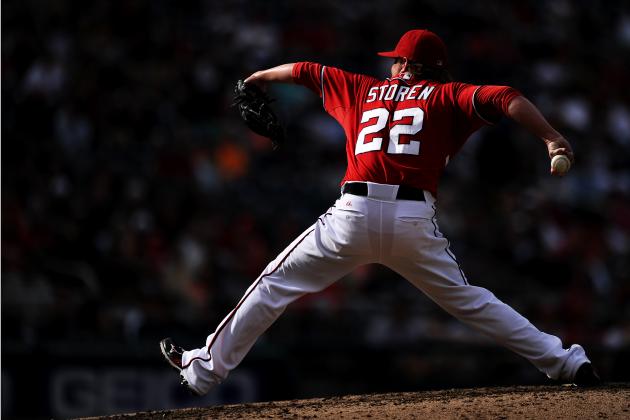 Patrick Smith/Getty Images

Drew Storen was the first of three rookie closers who exceeded expectations last year. As a bright spot for the Nationals, he went out and saved 43 games.
Storen's amazing performance last year has solidified him as the team's closer for 2012. With a rotation that now bolsters Gio Gonzalez and Stephen Strasburg, as well as a lineup that will have Bryce Harper possibly as early as July, things can only get better for the right-hander in 2012.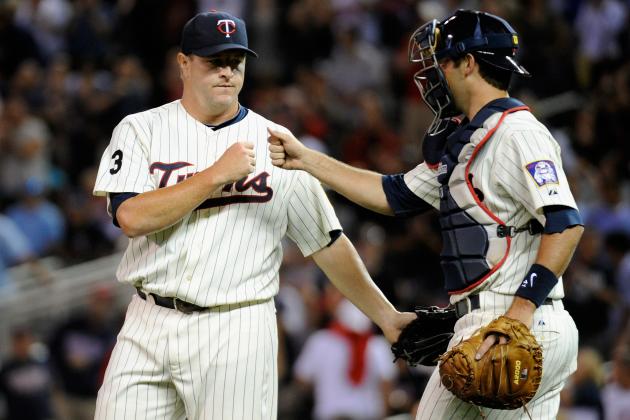 Hannah Foslien/Getty Images

Matt Capps had a down year from his miraculous 2010 season where he tallied 42 saves total, but that doesn't mean that he won't get back on his feet.
After starting out as the team's closer while Joe Nathan worked his way up, Capps gave up the role after a bad loss in mid-July. For the rest of the year, he was stuck setting up Nathan.
With Nathan now in Texas and all of the team's starters presumably healthy, Capps will have the chance to contribute to a team with plenty of potential and help them rebound from a bad season.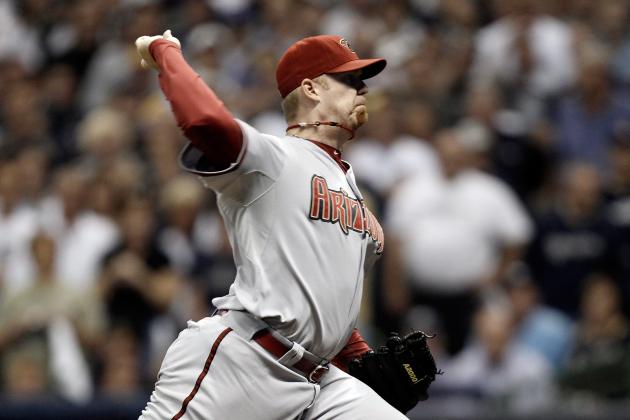 Jared Wickerham/Getty Images

J.J. Putz resurrected his status as an elite closer when he signed with Arizona last offseason, after two years of limbo in New York and Chicago.
Putz earned 45 saves and captained a pitching staff that had had the third worst record in baseball, not to mention the worst ERA.
In addition, he helped the team make the playoffs for the first time in four years, although he couldn't help them as they fell to the mighty Brewers.
Putz should continue to lead the bullpen in 2012 and will hopefully build on his performance from last year.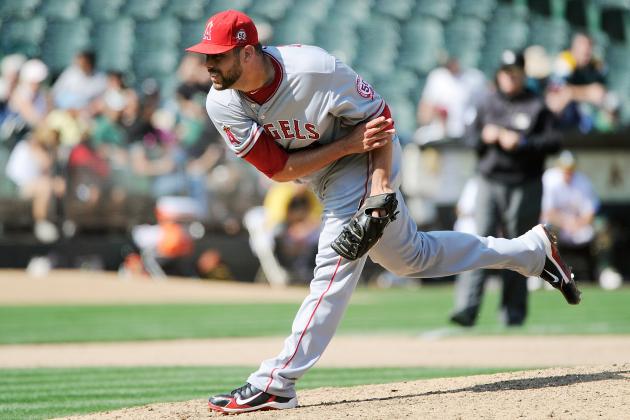 Thearon W. Henderson/Getty Images

Jordan Walden is the second of three rookie closers who pulled in a great year.
In addition to knocking off 32 saves, he was named to the All-Star team, impressive for a rookie closer.
Walden will be playing on a team that made two major signings this offseason, with Albert Pujols and C.J. Wilson joining the team.
If said free agents meet or exceed expectations, Walden could have a great year in the City of Angels.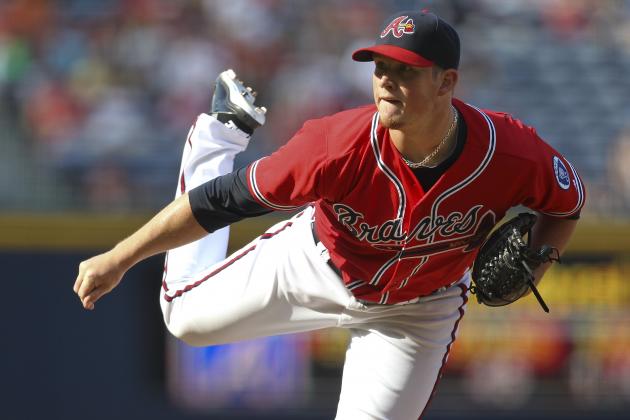 Daniel Shirey/Getty Images

Craig Kimbrel not only was the third rookie to turn in an outstanding performance, he also won Rookie of the Year.
In 2011, he saved 46 games, breaking the rookie record set by Neftali Feliz the year before. Kimbrel was dazzling on a team that just fell short on the final day of the season.
2012 looks to be as good a year for Kimbrel. With the offense totally set and the rotation looking good, it's all a matter of notching those saves for the young phenom.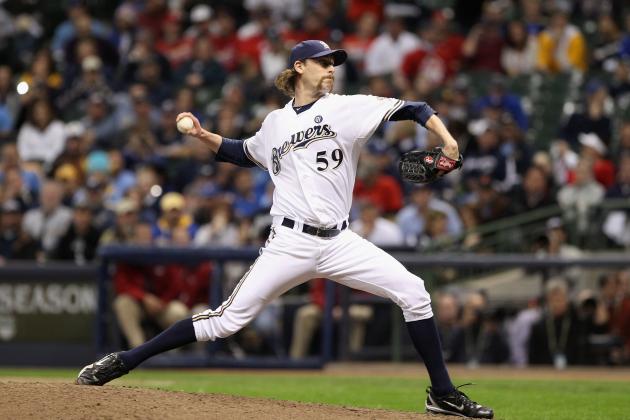 Christian Petersen/Getty Images

Last year had to be the best year of John Axford's life. Not only did he help the team win the NL Central for the first time, he also broke their saves record with 46 saves, didn't blow a save from mid-April to October, finished 17th in the MVP, ninth in the Cy Young, and won the Robert Goulet Memorial Mustached Man Award.
Axford's performance last year may not be replicated this year, as Prince Fielder is still being courted by other teams and Ryan Braun's chances of appealing his suspension for steroid use are slim. Nonetheless, it's all up to the Brewers to make Axford look good.
Len Redkoles/Getty Images

Jon Papelbon made bank this offseason signing with the Philadelphia Phillies. This is all despite a horrible September swoon which effectively knocked the Red Sox out of the postseason.
Despite the swoon, Papelbon had 31 saves, reached the 200 save plateau in fewer appearances than Mariano Rivera, and made himself the top free agent reliever available.
Philadelphia will be a refreshing change of pace for Papelbon, especially with the rotation he will be backing up and the offensive help, sans Ryan Howard, who will be out to start the season.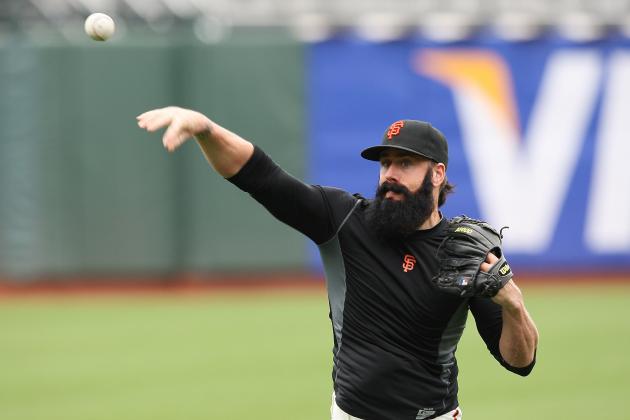 Tony Medina/Getty Images

It was a rough year for the San Francisco Giants. The team was decimated due to injury and they fell out of contention.
It was also rough for Brian Wilson, who experienced a 12-save drop off from his league leading 48 in 2010. Wilson was hurt for part of the year, and wasn't able to perform as well as originally thought.
With the team back together for the 2012 season, expect Wilson to rebound and save 45 or more games. The beard will be back and badder than ever.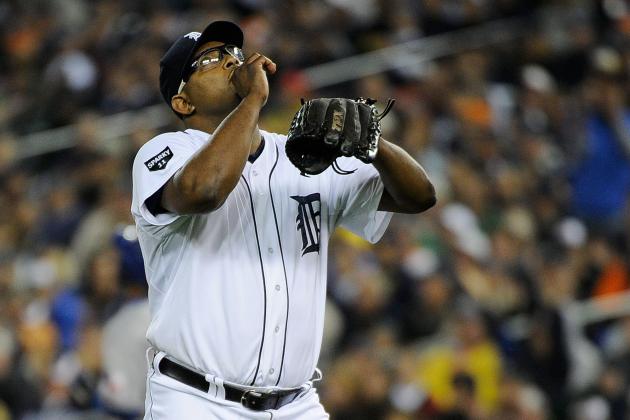 Kevork Djansezian/Getty Images

Jose Valverde turned in an excellent performance in 2011, notching 49 saves and a 2.24 ERA for the division champion Tigers. Valverde not only had the 49 saves, he didn't blow a single opportunity, an impressive feat in and of itself.
Valverde also finished fifth in the Cy Young voting, and won the DHL Delivery Man award.
Come 2012, expect him to drop off a bit, but if the offense should keep going, the chances are he'll have another great season.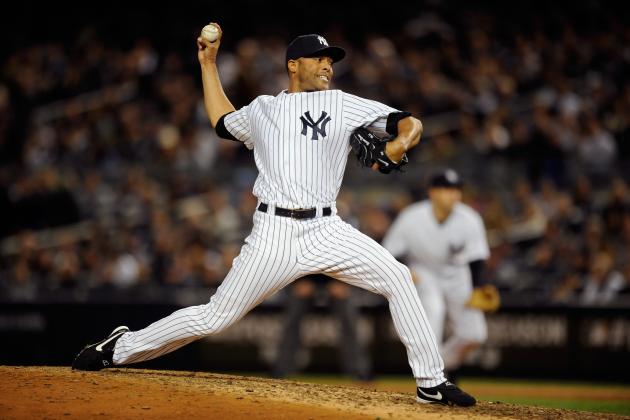 Patrick McDermott/Getty Images

Mariano Rivera is the greatest closer of all time, there's no doubting that. 44 saves and a 1.91 ERA this past year also help, in addition, Rivera is the all-time saves leader.
What Rivera isn't going to be is the best closer of 2012, and for a couple of reasons.
First, the man is 42 years old. That's pretty old for a closer, in fact, he's the oldest closer of the 30.
Second, at 42, Rivera should start slowing down. He's not invincible, and he's eventually going to have to break down, so odds are 2012 starts his descent.
Third, there is the chance he gets hurt this year, by which chance he will be replaced by Rafael Soriano. Although it's not likely to happen, Rivera should start worrying about his health.
I don't harbor any hatred towards Rivera, and I most certainly think he is the greatest closer of all time, however, it's going to take a 45-save season to convince me he's not on the decline.
Nonetheless, Rivera will have a good year. He has an excellent supporting cast behind him, and doesn't have to worry about losing leads. He'll be great, but not the best this year.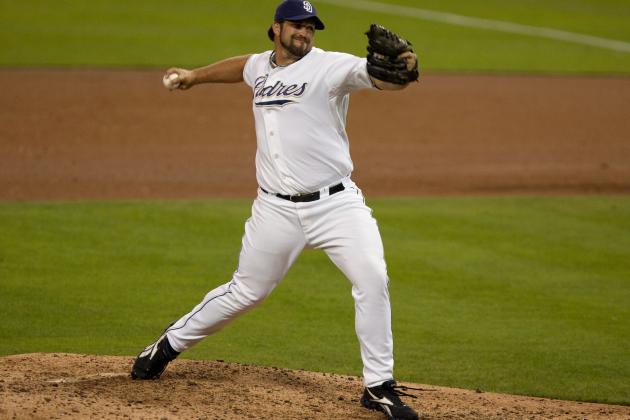 Kent Horner/Getty Images

Heath Bell will be the top closer of 2012.
Forty-three saves and a 2.44 ERA may not say as much as 44 and 1.90, but considering that Bell played on a team that lost the heart of their lineup to Boston, it's amazing that he was able to do that well.
Bell will be part of the new-look Marlins that includes stars like Jose Reyes and Hanley Ramirez, who will win games with their legs, Mark Buehrle and Carlos Zambrano, who are the big faces of the rotation, and support from Juan Carlos Oviedo, last year's closer, provided he gets off the restricted list.
In addition, he will be playing in a state-of-the-art ballpark which seems to be pitcher friendly, instead of the Death Valley known as Sun Life Stadium.
With all these chips in place, Bell is likely to hit 45-50 saves and a 2.00-2.10 ERA. Things are looking up for Bell.