Is Anything More Boring Than a Patriots vs. Ravens Championship Game?
January 21, 2012

Patrick McDermott/Getty Images
There is going to be a family get-together Sunday. This has been in the works for several weeks now, and most of the usual suspects will be there.
The cousins will be there, sitting around and talking about everything and everyone and pretending that they know what they are talking about. Other family members will listen because, regardless of how much truth there is in the conversations, the gossip and opinion is still fun to listen to.
Most of the crowd will just be taking up space and listening. This happens every year. The same people get together and talk. The same people watch and listen.
However, one guest is coming this year that no one has seen for a while, but that everyone likes to have around. This family member is young, funny and always ready with a comment that makes the whole crowd laugh out loud.
They don't show up very often, but maybe that is why they are so welcome. The fresh air that they bring never gets old because they only come around every few years.
Another "guest" is coming again this year. You know who it is, the boring uncle that takes up way too much space and bores the hell out of everyone. He doesn't really have anything interesting to say, but he expects everyone to listen.
And we do listen, out of respect I guess, but then when he is not looking we shake our heads and nod to each other because we know that the day would be so much more fun if he would just stay home.
In truth, I am not really writing about my last family outing with all the relatives. I am talking about the AFC and the NFC championship games. One is new and fun and I cannot wait to see the game play out. The other is about as exciting as that boring, grumpy, demanding uncle.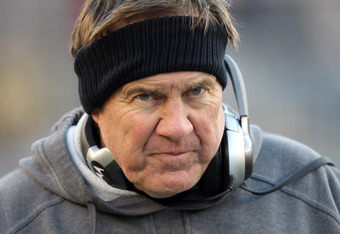 Jim Rogash/Getty Images
I mean no disrespect to the fans of the Patriots or the fans of the Ravens, but this game inspires about as much excitement as knowing the uncle has just pulled up. One of these teams will be headed to the Super Bowl, and who cares. After the game is over, the best thing about it will be that it has ended.
Everyone is sitting there looking at each other as the uncle stands up and says that he needs to get back home. No one says anything, but inside everyone is applauding and waiting for the door to close behind him as he leaves.
Fortunately, the cool cousin comes in the door just as the uncle is driving off. Watching the Giants go out to San Francisco and play makes this year's playoffs worth waiting for. The battle between the young, fiery coach and everyone's favorite old timer makes this game worth watching.
The 49ers came on strong from basically nowhere, and they are playing a Giants team that probably shouldn't be here, but they keep playing better than expected and winning. Watching this game will be a pleasure, because no matter who comes out on top, you will feel good about it.
And the best thing about all of this? Picking up the phone once everyone has gone back home and hearing that the cool cousin just knocked off the boring old uncle.
Now that would be an awesome Super Bowl outcome!