Australian Open 2012: Roger Federer Clashes with Up-and-Comer Bernard Tomic
January 21, 2012

Matt King/Getty Images
The Roger Federer versus Bernard Tomic match is by far the most interesting of the Big Four fourth-rounders. 
One can't help but see similarities between this match and the Roger Feder versus Pete Sampras match in Wimbledon's fourth round in 2001. 
Back then, a four-time defending champion and king of Wimbledon took on the potentially next big thing in tennis. Back then, the two of them delivered one heck of a match that the 19-year-old Federer eventually won in five. 
Now, Federer is not the king of Australia to the same extent that Pete was at Wimbledon. Nevertheless, he's won it four times and comes in as the clear favourite. 
But Tomic is no pushover. He's beaten six quality opponents in a row starting in the lead-up exhibition in Kooyong, where he beat Mardy Fish, Gael Monfils and Tomas Berdych in succession. 
At the Australian Open, he's beaten Fernando Verdasco, coming back from two sets to love, Sam Querrey in four after losing the first and latest Alexandr Dolgopolov in yet another five-setter. 
A year ago, Tomic made his breakthrough at this very tournament losing in the third round to Rafael Nadal. Half a year later, he made it to the quarters at Wimbledon and played Novak Djokovic competitively in a tight four-setter. 
Two months later, he lost to Federer in another four-setter in the Davis Cup.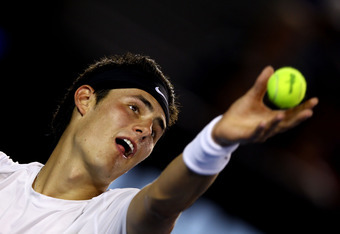 Clive Brunskill/Getty Images
Is he ready for his biggest scalp so far? Can Tomic, whom I expect will be the next big thing in tennis, be the one that breaks Federer's seven-and-a-half year long quarterfinal streak? 
If so, it would be another passing of the torch moments just like Federer-Sampras back in 2001. And as it happened back then, it might take another couple of years before Tomic truly develops his full potential. 
Enough talk, who will win and why? 
It's hard not to point to Federer. While Tomic can do pretty much anything with a ball and plays the type of cat and mouse game that Andy Murray often troubles Federer with, he lacks the great defensive skills of a Murray, Djokovic or Nadal. 
The ability to get back Federer's winners—apart from hitting Federer off the court as a Tsonga or Delpo occasionally can do—is what beats Federer. 
Tomic has a big forehand, a great sliced backhand and a fine two-handed backhand he can drive through. His serve is good, and so is his return. 
But everything Tomic can do, Federer still does better. He has a bigger forehand, an even better slice, a better serve and a better return game. 
What Tomic will have to do is try and frustrate Federer on the backhand side and stay away from his forehand. 
What counts in Tomic's favour is that he's got everything to win and nothing to lose. What further counts in his favour is that he's not afraid of the big stage and he doesn't seem like a kid who get's tight.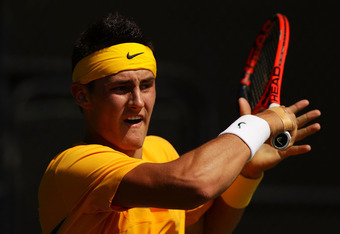 Matt King/Getty Images
A little known fact about Tomic is that he's got an 18-6, or 75 percent, career record in tie-breaks. Then again, Federer is the all-time leader in tiebreaks with a 66,1 winning percentage (I suppose Tomic needs to play more to make the list). 
But at the very least, Federer will have his work cut out if they play tie-breakers.
I do think Tomic has the potential to win this match and stop the streak. But I also have a feeling that his time is not quite here and that Federer is still too good and too hungry for the young crop to usurp him just yet. 
Prediction: Federer in four