Australian Open 2012 TV Schedule: Bold Predictions for Day 7
January 21, 2012
Ryan Pierse/Getty Images
The 2012 Australian Open is as wild of an event as tennis could hold, and this year's event has been full of surprises.
Day 7's action should be more of the same with two extra handfuls of crazy to the recipe. Add in a Rafael Nadal loss and a Kim Clijsters win and the Aussie Open is just as unpredictable as ever.
All of the following are my bold predictions, but don't be mad when the majority comes to fruition. It's just what I do.
Rafael Nadal Will Lose
While Novak Djokovic holds the world's No.1 spot as the best male tennis player, Rafael Nadal is a very close second. That's why his loss on Day 7 against fellow Spaniard Feliciano Lopez will be such a stunner.
Nadal is dealing with off-the-court controversy surrounding his feud with fellow competitor Roger Federer and the tour over recent comments about the workload these athletes have to shoulder.
With some nagging health issues still causing problems and the off-court issues banging at Nadal's door, this will be the end of the road for the tennis great at this year's Aussie Open.
Kim Clijsters Will Upset Li Na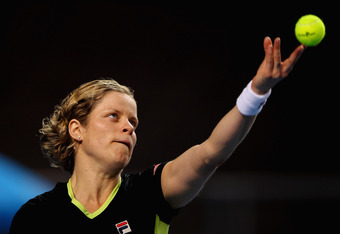 Mark Dadswell/Getty Images
If this fourth-round match seems familiar to you, it's because these are the two players who went head-to-head in the 2011 finals of the very same tournament.
With the Aussie Open finals being reincarnated as a fourth-round rematch, it will be No. 11 Kim Clijsters who upsets No. 5 Li Na and continues her dominance at this event.
While Na is ranked higher, Clijsters has the experience and confidence to beat her. She also has the mental edge over the player she defeated on the grandest of stages just one year ago.
Caroline Wozniacki Will Start to Unravel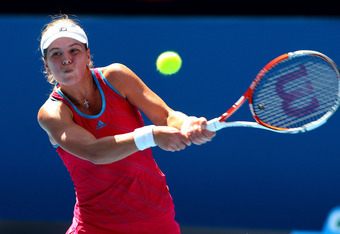 Cameron Spencer/Getty Images
There is much going in the favor of young superstar and world No. 1 Caroline Wozniacki right now, but she has yet to win a major. That will not change at the Australian Open.
With tensions building around Wozniacki's ability to win a Grand Slam, the pressure may be too much and her match against No. 13 Jelena Jankovic could be the ultimate trap match.
While I think Wozniacki will win her match, it will be a hard-fought battle that will show the flaws in the star's game and begin the process of faltering under the bright lights.
Check back for more on Tennis as it comes, and check out Bleacher Report's Tennis Page to get your fill of all things tennis.