Boston Red Sox: Bobby Valentine Is Slowly Starting to Win My Appreciation
January 21, 2012

Elsa/Getty Images
I've called him goofy.  
I've bashed his antics and had a preemptive replacement in mind for him already in Boston.  I've also recently come to terms with him being the manager in Boston and believe that the Red Sox will in fact win a World Series under his watch.
That being said, I've still had some nervous trepidation as to how Bobby V. would fit in this city and in this clubhouse.  Every fear I've had, he has some how been addressing in a bold, brash way that I am finding quite enjoyable.
It all started for me on December 8th, when Valentine publicly declared his hatred for the Yankees: 
"I hate the Yankees," Valentine said while surrounded by a herd of media members at the Winter Meetings. "I don't want to waste this valuable time talking about the Yankees. This is too valuable."
Initially, I took this as a given.  I mean, you can't exactly waltz into Fenway Park and tell the fans that A-Rod is awesome and Mickey Mantle was the greatest to ever play the game.  You'll find civil unrest among Bostonians.  Riots would ensue throughout Kenmore Square.  Things would be ugly.
However, Valentine has done more than just denounce the Yankees. He has been making contact with every member of the team to see where their head is at and preparing himself for the 2012 season.
While I admit, I used to hate some of the quirky things he'd say on ESPN, he's been making some waves that have me smiling at a Sox fan.  Just this past week, he's hooked me in twice.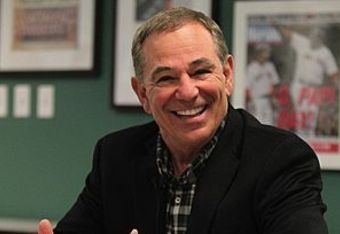 On January 14th, Valentine went on record stating that he can't imagine Jason Varitek or Tim Wakefield competing for jobs this spring.
Now, I've fully appreciated what Tek and Wake have done for this ball club over the years, but I am also on the front lines waging the war to shut the door on their time in Boston.
Surely ,Varitek has something left in his tank as a part-time catcher, but this team already has its every-day catcher in Jarrod Saltalamacchia with two solid backups in Ryan Lavarnway and Kelly Shoppach.  Literally, there is no room for Varitek on this squad.
Wakefield is a different cat.  While the Sox need pitching depth, I'm not inclined to find it in an aging knuckleballer that has been on the decline over the past couple of seasons.  I'm sorry, Wake—I love you and what you've meant to this team, but as the great Kenny Powers would say, "You're (expletive) out."
The other noteworthy bit came out earlier today on WEEI care of Alex Speier where he quotes Valentine responding to a question of beer and chicken in the clubhouse: 
In response to a question about the clubhouse consumption of beer and chicken during games, Valentine initially joked, "We've got to go to draft beer and grilled chicken, I think," before approaching the matter with less levity.

"If that happened it's inexcusable," said Valentine. "I apologize for that. The apologies are out there and it will never happen on my watch."
I like his candor as well as the hard-nosed reply he gave after being slightly witty.  He can have fun with the follies of 2011, but knows that it was unacceptable and shall be corrected moving forward.
I won't lie, I also like that members of the team were unhappy with him being named the manager.  The fact of the matter is, they may not like him, but they're going to have to respect him.
I know I do.  A whole lot more than I did at the beginning of December.  
Twenty-nine more days until pitchers and catchers...