Yu Darvish: The Texas Rangers Knew Exactly Who They Were Getting
January 24, 2012

Ronald Martinez/Getty Images
The Texas Rangers recently signed one of the most sought-after free agents of the MLB offseason.
The Rangers and pitcher Yu Darvish agreed to terms, and Texas was able to reel in a guy that could win them multiple championships.
Darvish was one of the toughest players to grade because many are worried about his ability to play in the majors. The Japanese pitcher has played professionally in Japan since 2005, but some did not think that he could continue that success in MLB.
While playing for the Hokkaido Nippon-Ham Fighters, Darvish won 93 out of his 131 games. He was a two-time Pacific League MVP and won an award for nearly every year that he started.
Darvish was widely regarded as the best pitcher in all of Japanese professional baseball, and he is only 25 years old. It is obvious why this guy was so highly recruited.
The fact is that most teams were easily willing to take a shot on Darvish because the risk was low and the reward was very high. As many as 50 professional teams were looking at Darvish when he was in middle school, and teams such as the Angels, Dodgers and Mets were willing to sign him straight out of high school.
The point is that every team wanted Darvish, but no one knew exactly how good he would be in MLB.
No one except Texas, that is. The Rangers knew exactly what kind of player they were getting when they signed Darvish.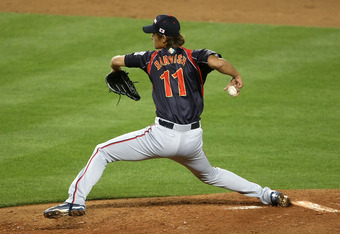 Stephen Dunn/Getty Images
As many other teams had, the Rangers scouted Darvish back in his high school days. However, the difference is that the Rangers never stopped looking at him.
Most teams have international scouting departments whose sole focus is to bring in talented players from other countries. The Rangers are one of these teams, and in 2007 they began to take a hard, close look at Darvish and other players from the far east.
The Rangers decided to do this when they brought in a former Asian scout in Jim Colborn. Colborn had previously worked with the Seattle Mariners and helped them bring in Ichiro Suzuki.
With Colborn at the lead, the Rangers set their sights on Darvish. They knew that the most difficult part of getting Darvish was going to be convincing ownership to dish out the fat paycheck that it would take to get the premiere pitcher to Texas.
This is exactly what they did. The Rangers' international scouting team put together a scouting report on Darvish big enough to convince Nolan Ryan and company to sign the top pitcher.
The fact of the matter is that the Rangers knew that Darvish had the skills and talent to play in the big leagues because they had been looking at him closely for years.
The Rangers knew Darvish as if he were already one of their own players, and that made the signing of him that much easier.