Chael Sonnen: 'Anderson Silva and I Will Never Cross Paths Again'
January 23, 2012

After spending months training for fellow middleweight wrestler Mark Munoz, Chael Sonnen received word that his recent training efforts would now have to be used against Michael Bisping.
Munoz endured an injury during training preparations leading up to his co-main event bout with Sonnen, which could have ultimately earned him the No .1 contender's spot against Anderson Silva at some point in 2012.
Sonnen will now have to get through Bisping in order to earn himself his much-desired rematch with Silva when he takes the center stage at UFC on FOX 2.
UFC on FOX 2 will take place at the United Center in Chicago on Jan. 28 beginning at 5 p.m. PT/8 p.m. ET.
With the last-minute change in opponents, many feel Sonnen may be at a slight disadvantage heading into his bout. However, Sonnen appears to have little concern as his main focus is on retrieving the title that slipped away from him after four dominating rounds at UFC 117.
In a recent UFC media call with Bleacher Report's Garrett Derr, Sonnen discussed his opponent change and his potential rematch with Silva.
"I come from a wrestling background so I never know who's going to show up," Sonnen said. "My dad and I would wake up early on Saturday mornings and we'd jump in the car and drive all over the country for a wrestling tournament."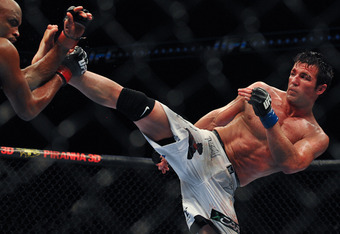 He continued: "Once you got to the tournament you don't know who's going to show up. Once you do find out who's going to show up, you don't know who's going to win. The way the bracket is, you have no idea how its going to be. You win your match and he wins his match, you're fighting him 20 minutes later."
While high school wrestling certainly isn't on the level of mixed martial arts, Sonnen will apply the same principals when he enters the Octagon to take on Bisping in just a few short days.
"As far as a fight goes, this game is simple man. You fight three times a year. That's about the easiest thing. It's about the easiest demand you can put on a guy," Sonnen said. "Mike is a totally different fighter, he's a great fighter.
"As far as opponent changes, who cares. There could still be an opponent change. Something could happen to me, something could happen to Mike. The show must go on."
A win over Bisping would be Sonnen's fifth win in his last six outings and enough to earn himself a rematch against the man he despises of greatly in Silva.
But Sonnen isn't getting his hopes up as he believes the biggest rematch in UFC history may not even occur.
"I can guarantee you Anderson Silva and I will never cross paths again. Our business is done. We will not fight under any circumstances no matter how many rules or fake restraints he puts on it," Sonnen said. "He's not getting in the Octagon with me, ever."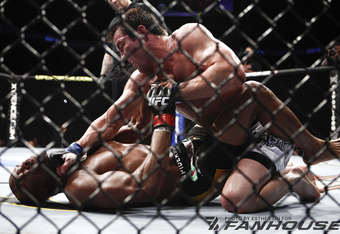 When asked if Silva would retire, Sonnen said, "I don't know if he's going to retire or if they're going to retire him. I think the plan was if I could get past Munoz and Mike was successful against Demian [Maia] then they were going to do an interim championship, between Bisping and I."
Not only is Sonnen certain that Silva will never fight in the UFC again but he thinks the UFC also believes this to be true.
"I know Anderson is not going to fight, the folks at the UFC know he's not going to fight. I'm all for promoting and marketing and all that good stuff," Sonnen said. "I don't want to throw water on a perfectly hot flame but Anderson Silva isn't going to fight anyone."
Stay tuned for the most recent up-to-date news regarding Chael Sonnen and UFC on FOX 2
For additional information, follow Garrett Derr on Twitter.