UFC on FX Results: Matches to Make After Jim Miller vs. Melvin Guillard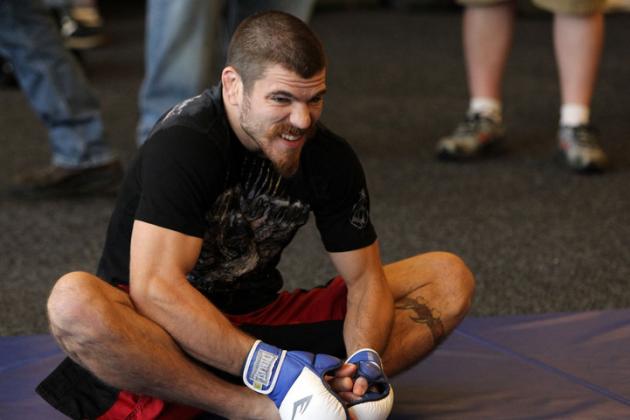 Josh Hedges/Zuffa LLC
An event that flew under the radar, UFC on FX delivered in a big way. Of the 10 fights that appeared on the card, eight were finished before reaching the scorecards. Even the two bouts that went the distance included technical, exciting displays.
In the main event, Jim Miller overcame adversity to defeat Melvin Guillard via submission. The win put Miller back in the hunt for a lightweight title shot, while it marked the second straight loss for Guillard and his ninth loss by submission in 10 career defeats.
Now, it is time for UFC matchmaker Joe Silva to go to the drawing board to determine who will be next for Miller, Guillard and the rest of the UFC on FX competitors. As a result of the fight outcomes at UFC on FX, here are some bouts that could be put together in the near future.
Begin Slideshow

»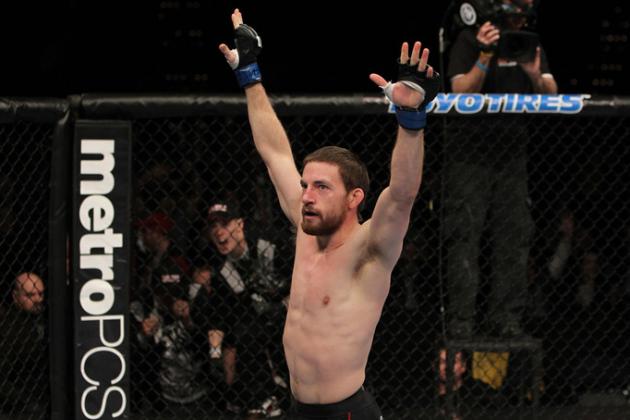 Josh Hedges/Zuffa LLC
Nick Denis opened UFC on FX with a bang by knocking his opponent, Joseph Sandoval, out with standing elbows from the clinch. Had it not been for Edson Barboza and Jose Aldo scoring ridiculous knockouts at UFC 142, Denis' win may have been an early candidate for best knockout of the year.
Still, the win marked an amazing UFC debut for the Canadian. Undefeated at bantamweight, the 28-year-old Denis has a very bright future and should be brought along slowly to ensure his success.
A bout with another up-and-coming bantamweight seems to make the most sense for Denis at this point, so look for him to meet the winner of a UFC on FOX 2 matchup between TUF standout Johny Bedford and Mitch Gagnon.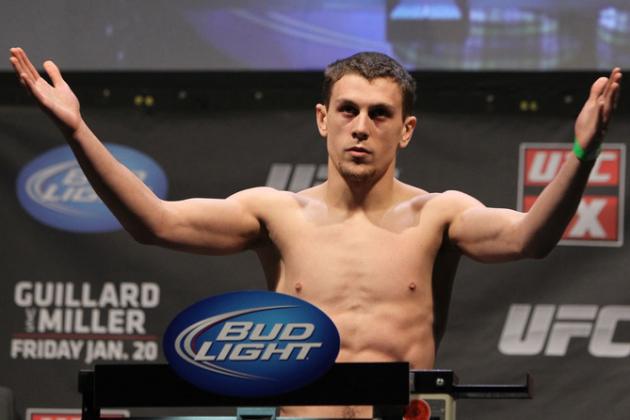 Josh Hedges/Zuffa LLC
Entering his UFC debut as an undefeated 5-0 fighter, 23-year-old Pat Schilling was expected to put on a solid performance in front of the Nashville, Tennessee crowd.
However, the featherweight couldn't stop a Daniel Pineda takedown, and Schilling was in trouble as soon as the fight hit the canvas. Forced to tap less than two minutes into the bout, Schilling will need to look better in his next Octagon appearance if he hopes to keep a spot on the UFC roster.
Schilling's next fight will likely come against another new face to the division who is coming off of a loss. TUF participant Dustin Neace fits that description if the UFC decides to keep him around following a loss to Bryan Caraway in his first official UFC bout.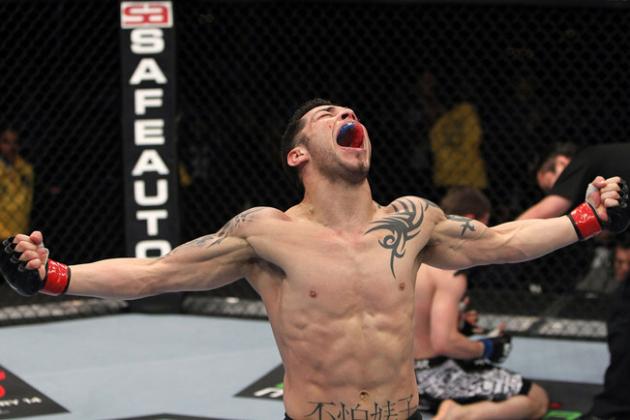 Josh Hedges/Zuffa LLC
With his submission of Pat Schilling, 26-year-old Daniel Pineda picked up a sixth consecutive victory in his UFC debut. A win over a fellow UFC newcomer doesn't exactly throw Pineda into the featherweight title picture, but it is certainly a strong start for a fighter who sported a middling 15-7 record coming into his first Octagon appearance.
An owner of a win over Johny Bedford, Pineda does have some history that suggests he can be successful in the UFC for a long time.
A fight with another fighter who recently picked up his first UFC victory, Felipe Arantes, could be the next step in Pineda's current quest to solidify his spot on the UFC roster.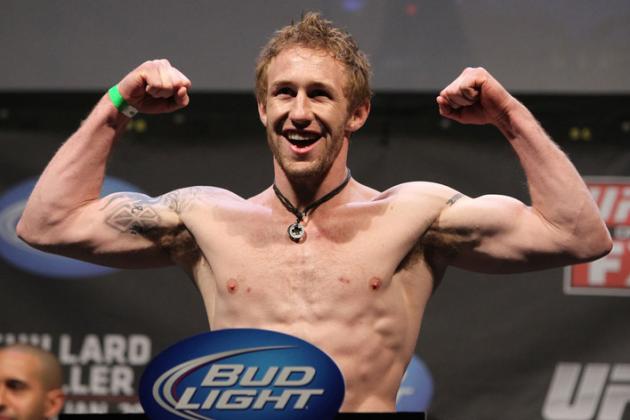 Josh Hedges/Zuffa LLC
Though he got off to a strong start in his UFC on FX fight against Fabricio Camoes, Tommy Hayden was forced to tap once the Brazilian was able to take his back and lock up a rear-naked choke.
The 25-year-old Hayden showed promise, but, with one loss in one UFC appearance, he sits near the bottom of the lightweight totem pole.
Coming off of a loss to Edson Barboza, the UFC will be looking to get Terry Etim back on track in his next fight. Though Hayden would certainly have a chance of beating Etim, the perception going into this potential bout would be that it should result in a bounce-back win for Etim.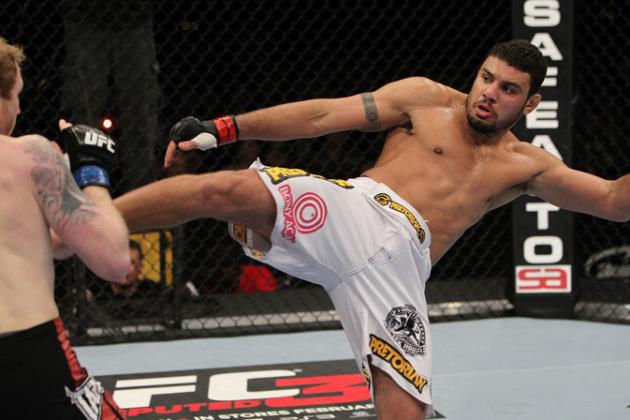 Josh Hedges/Zuffa LLC
Jacob Volkmann has been racking up wins in the lightweight division, but fans have been waiting for the wrestler to deliver a more exciting performance.
Against Fabricio Camoes, who submitted Tommy Hayden at UFC on FX, Volkmann would be forced to take more risks on the ground. A dangerous jiu jitsu black belt, Camoes poses more problems than any fighter Volkmann has faced at 155 pounds.
By beating Camoes, Volkmann would erase any doubt that he is one of the best grapplers in the division. A win in this potential matchup would make it hard for the UFC to deny Volkmann a fight with a lightweight contender any longer.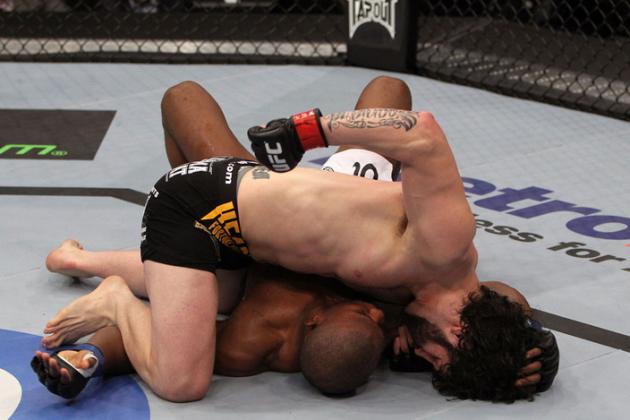 Josh Hedges/Zuffa LLC
Although they are both borderline top 10 welterweights, Charlie Brenneman and Mike Pyle have continued to fly under the radar for the most part.
After both fighters lost their final fight of 2011, Brenneman and Pyle each got back on track with wins in the past two weeks. The competition they bested probably doesn't warrant a fight against a legitimate contender in their next Octagon appearance, but the winner of a potential bout between the two would certainly be ready for a showing on the main card of a pay-per-view event.
Though Brenneman and Pyle possess unique skill sets, they are both very skilled on the ground. By matching the welterweights against one another, the UFC brass would get a better idea of which competitor poses more of a threat to the elite 170-pound fighters.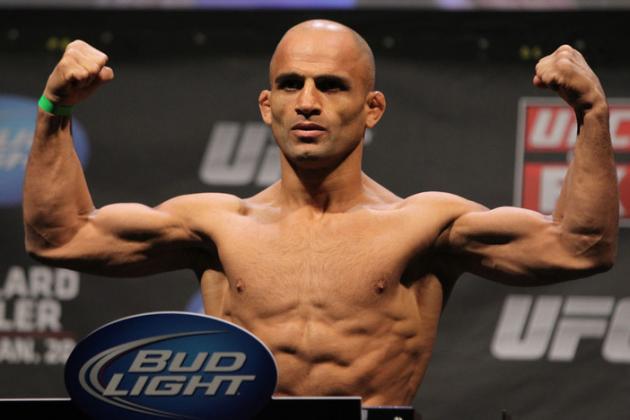 Josh Hedges/Zuffa LLC
Kamal Shalorus' wrestling has always been considered the strongest aspect of his game, yet the Iranian-born fighter was taken down repeatedly by UFC newcomer Khabib Nurmagomedov at UFC on FX.
Despite his strong wrestling background, Shalorus prefers to stand and throw bombs. Since he can take a punch as well, a matchup with Sam Stout could turn into an all-out slugfest.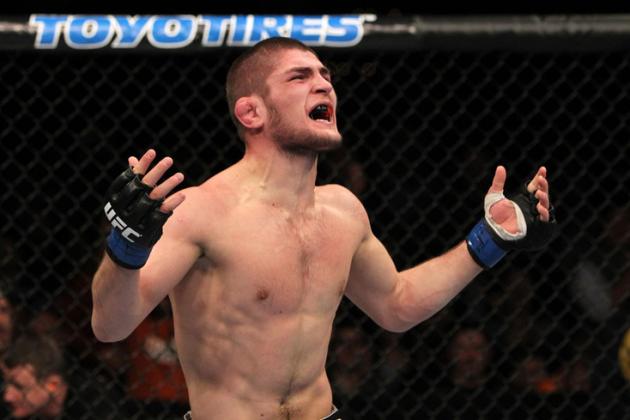 Josh Hedges/Zuffa LLC
Extremely impressive in his UFC debut, 23-year-old Khabib Nurmagomedov has an extremely bright future ahead of him in the UFC. Undefeated in 17 professional fights, Nurmagomedov completely dominated Kamal Shalorus before ending the fight with a submission in the third round.
Thiago Tavares is also coming off of a big win over Sam Stout, but the decision victory was considered controversial by some. Due to the questionable nature of his win, Tavares probably won't get a big jump in competition for his next fight, so the Brazilian could serve as a test to see if Nurmagomedov is already prepared to take on the lightweight division's best.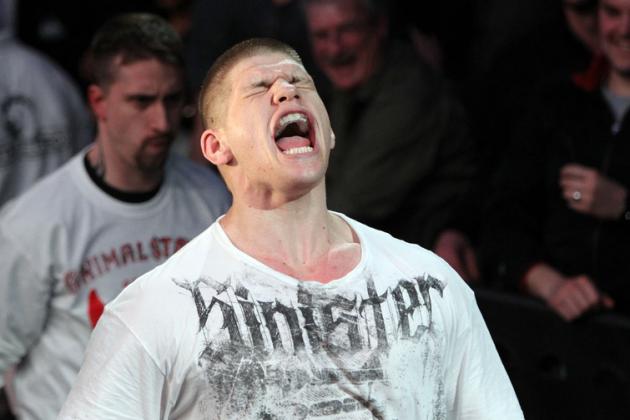 Josh Hedges/Zuffa LLC
Against Pat Barry at UFC on FX, Christian Morecraft suffered his third loss in four UFC appearances. Though he came out on the losing end, the 25-year-old Morecraft has shown potential in his fights inside the Octagon.
Expect Morecraft to get one more shot to prove himself. A bout with Ednaldo Oliveira, who was recently defeated by Gabriel Gonzaga in his UFC debut, would make sense as a win-or-go-home fight for Morecraft.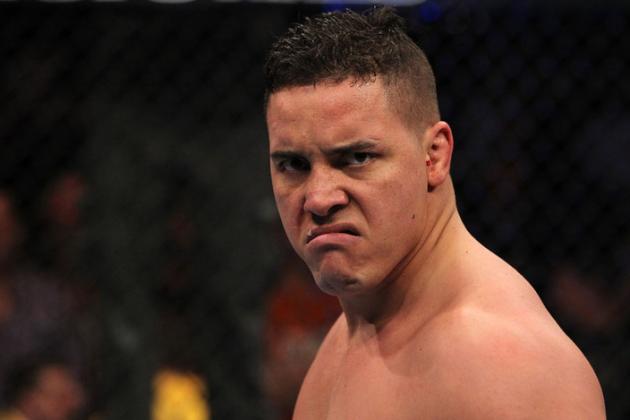 Josh Hedges/Zuffa LLC
Coming into UFC on FX with two straight losses, Pat Barry's MMA career could have been on the line. However, Barry showed much improvement on the ground against Christian Morecraft, which allowed the kickboxer to keep the fight standing long enough to land a knockout blow.
While they are both coming off of important wins, Barry and Gabriel Gonzaga still have plenty of work to do if they want to become contenders in the heavyweight division. That being said, both fighters are well-known and liked by fans, so a potential matchup between the two of them could sell.
Josh Hedges/Zuffa LLC
Making his UFC debut against a very tough opponent in Mike Easton, Jared Papazian performed valiantly. Though he came out on the losing end of a decision, Papazian kept the fight close and even earned a draw on one judge's scorecard.
The showing should ensure Papazian a fight with an opponent who has also put on a strong performance early in their UFC career. While he likely won't face an opponent coming off of a win, Papazian would be tested in a bout with the loser of a UFC 143 fight between Alex Caceres and Edwin Figueroa.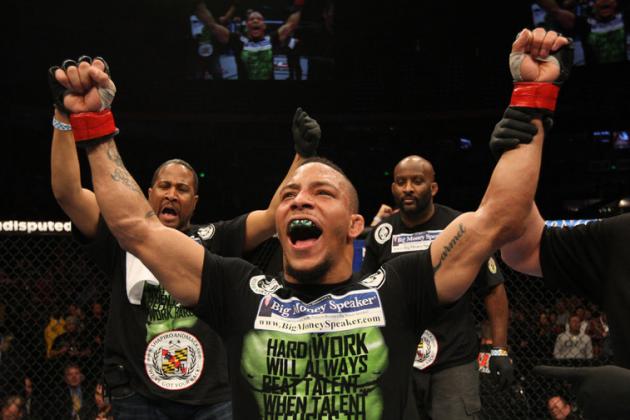 Josh Hedges/Zuffa LLC
It wasn't as easy as most would have anticipated, but Mike Easton did enough to remain undefeated inside the Octagon with a decision win over Jared Papazian at UFC on FX.
The win allows Easton to continue his climb up the bantamweight rankings, but "The Hulk" probably won't be receiving a huge step up in competition after such a narrow victory. A bout against the winner of a UFC on Fuel fight between Ivan Menjivar and John Albert seems most likely for Easton.
Josh Hedges/Zuffa LLC
Duane Ludwig's striking looked as crisp as usual at UFC on FX, but the former kickboxer's ground game also looked par for the course after being taken down by Josh Neer.
Shortly after being taken to the canvas, Ludwig was caught in a deep guillotine choke. Before "Bang" could even tap, he went unconscious and the fight was called to a halt.
Now, it's back to the drawing board for the 33-year-old journeyman. A bout with Sean Pierson could give Ludwig a chance to get back on track with a victory.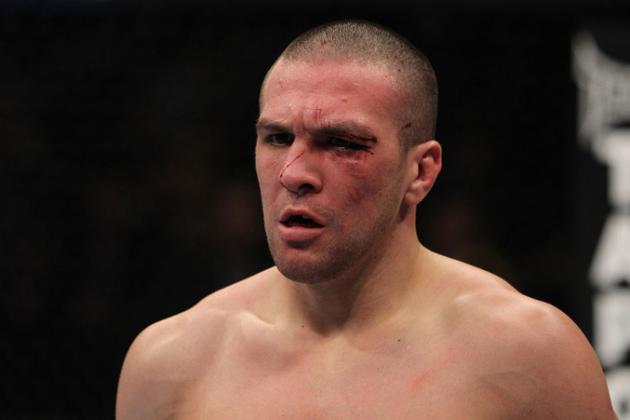 Josh Hedges/Zuffa LLC
Josh Neer has looked much-improved in his return to the UFC, winning his past two fights in decisive fashion. Now it's time to see just how much better Neer really is.
A bout with Dong Hyun Kim, another veteran looking to break through and become a contender in the welterweight division, would be Neer's toughest test in quite some time. In the process, Neer would be able to force Kim into an exciting fight fans have been waiting to see from the Korean for quite awhile.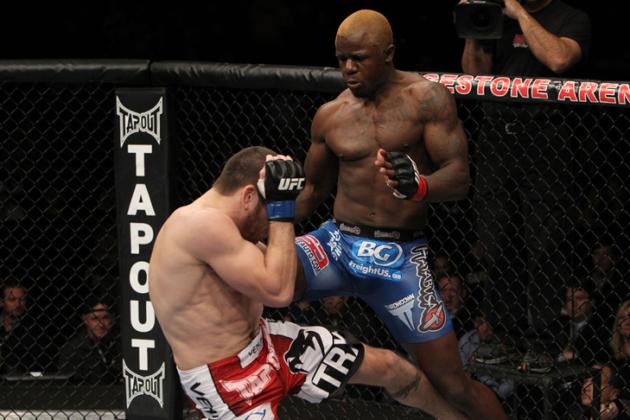 Josh Hedges/Zuffa LLC
Melvin Guillard's submission defense has always been a weak point in his game. With back-to-back submission losses to Joe Lauzon and Jim Miller, Guillard has now suffered nine of his 10 professional defeats via submission.
As much as Guillard would like to think he remains one of the top lightweights in the world, as he stated in the UFC on FX post-fight press conference, he is going to need to put a string of wins together to reclaim that distinction in his critics' minds.
Since he has become one of the bigger names in the 155-pound division, there is a temptation to match Guillard up with another top lightweight. However, "The Young Assassin" needs to take a step back, so a bout with Efrain Escudero could make sense.
Josh Hedges/Zuffa LLC
Rocked early in the fight, Jim Miller overcame adversity to defeat Melvin Guillard and reclaim his position as a contender in the lightweight division in the main event of UFC on FX.
In his past nine fights, Miller's only loss is to current top lightweight contender Benson Henderson. Though he hasn't put together a string of wins yet, Miller is ready to contend for the 155-pound title.
A bout between Miller and Nate Diaz would be extremely entertaining and would produce a worthy contender to the winner of an upcoming lightweight title fight between Henderson and Frankie Edgar.
Sean Smith is a Featured Columnist for Bleacher Report MMA. For the latest insight and updates on everything MMA, you can follow Sean on Twitter @SeanSmithMMA.