College Basketball: Scott Machado Nearly a "Triple-Double", Faces Siena Next
January 23, 2012

There are a few special times in sporting events that see a special player at his best, making plays few others can.  That is how Iona point guard Scott Machado performed on Friday night in the Gaels' 91-71 win over Rider in New Rochelle.
The senior point guard from Queens, NY was one rebound away from a triple-double on the night; 15 assists, 11 points and nine rebounds, eight off the defensive boards.  He had just two turnovers on the night. 
Machado continues to lead the nation in assists per game with 10.6, a full assist per game better than Kendall Marshall of North Carolina. 
Iona's run last year to the finals of the postseason CIT tournament helped showcase Machado's ability to a national audience.  Over the summer, he played in Brazil. On the court this season, he is noticeably more confident in handling the ball and directing the Iona offense. 
One sign that Machado is slowly attracting national attention is his being named on January 17th to the "Midseason Top 25" for the John R. Wooden Award, issued by the Los Angeles Athletic Club.  Machado was one of only six nominees named from non-BCS conferences.  The winner will be announced during the Final Four and presented at a gala dinner on April 6th.
Three plays in the game really highlighted Machado's confidence and play-making ability.
In the first half, with 5:30 left, Machado brought the ball across mid-court, looked left and passed to forward Sean Armand deep in the right corner.  Armand caught it and in the same motion lofted a three that swished through the basket.  That gave Iona a nine-point lead, which ended up becoming a 46-32 difference at the half.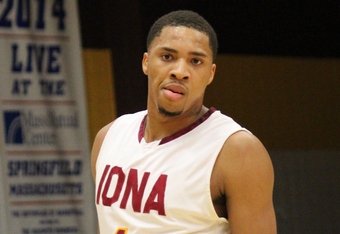 In the second, with three minutes gone, Machado took down a defensive rebound, ran across mid-court to the top of the circle, saw Lamont Jones cutting left down the base line and lined a pass under the basket, which Jones caught and put up as a back-door layup.  Iona went to a 21-point lead at 57-36.
Just a moment later, Machado led another play for the Gaels that signaled this game was over.  Again Machado took down a defensive rebound, dribbled the ball to the top of the key, and just arched an alley-oop pass, grabbed above the basket by Mike Glover, who "Monster" slammed it home. That gave Iona a 25-point lead at 65-40 with 14:38 left—this came was over.    
Overall, Iona showed speed on the offense, turning rebounds into fast-break points.  Lamont Jones looked more fluid in the offense, often playing the opposite side of the court to draw attention away from Machado.  On defense, Iona seemed to make their 2-3 zone work more effectively, making Rider work for shots and baskets.
On the game, Iona shot 55 percent from the field, led by the 21 points and 8-of-9 shooting contributed from Mike Glover, mostly from under the low post.
Lamont Jones had another solid game with 20 points as he gets more and more comfortable playing off Machado and Glover.  "Momo" shot 9-of-15 from the field avoiding forced shots witnessed in past games.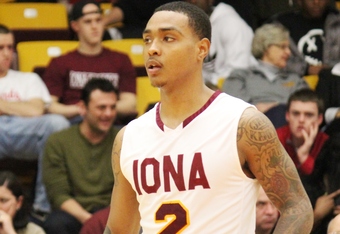 Another productive position for Iona in the lineup is the platoon at small forward between Kyle Smyth and Sean Armand.  In the first half Armand was hot, making 5-of-8 on three-point shots.  Smyth added a pair of threes as the duo contributed 27 points in a combined 39 minutes.  Overall, the Gaels shot 45 percent on three-point shots.
Kyle Smyth has an edge on defense with a willingness and ability to draw charges that gives a slight edge on playing time.  Armand (as he did at Madison Square Garden, scoring 32 against Siena) can get hot and be as consistent a shooter as anyone you will see.
Tommie Dempsey's Rider team challenged the Gaels with a 2-3 zone defense and slowing the game as much as possible, but the Gaels won on turning rebounds into fast break points and making their shots.
Iona head to Albany to face the Siena Saints, who are 8-10 on the year and 3-5 in MAAC play.  The Saints are led by OD Anosike, who averages a double-double, 14.8 points per game and 12.6 rebounds.
Our condolences and prayers to all at Marist College on the tragic loss of two students and a guest in an off campus fire over the weekend.  Simply a terrible tragedy that all in the world of college sports can feel for those involved and their families.
Ken Kraetzer covers Iona basketball and West Point football on WVOX 1460 AM in New Rochelle, NY and Sons of the American Legion Radio.  His Twitter address is @SAL50NYRADIO.