WWE Royal Rumble 2012: 10 Twists & Turns the Royal Rumble Match Could Take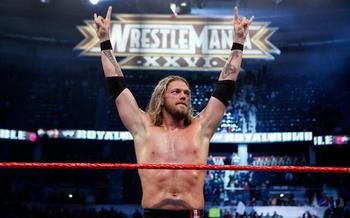 Photo courtesy of wrestlingvalley.org
The Royal Rumble is one of the most highly anticipated matches of the year.
Why? Quite simply, because anything can happen when 30 superstars are involved in one match.
We've seen plenty of shockers before, such as when Edge (2010) and John Cena (2008) returned early from injury to win the 30-Man Royal Rumble match.
And, for all we know, we could see another huge surprise in 2012.
Here are 10 twists and turns the Royal Rumble match could take that would flip the WWE upside down.
10. A Wrestler Is Eliminated by Someone Who Has Already Been Eliminated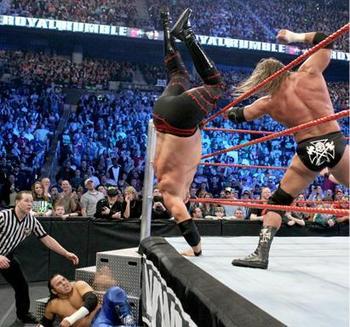 Photo via bleacherreport.com
This is an interesting scenario that could have a ripple effect on the entire WWE.
Let's say that Wade Barrett gets eliminated by Randy Orton, he bumps all of the refs on the outside, goes back into the ring and eliminates Orton while a ref makes it up just in time to see Orton's feet hit the floor.
That would add further fuel to the fire between Orton and Barrett, open up the possibility of Orton working his way back into the World title picture in time for WrestleMania, and just cause some general controversy and chaos in the WWE.
This is also a great way to keep a major babyface looking strong without having them actually win the Royal Rumble match and to put some major heat on an up-and-coming heel.
The fans would absolutely despise someone like Barrett, Cody Rhodes or Dolph Ziggler if they eliminated their rival in such a cheap manner, and it could officially kick off their WrestleMania feud.
We last saw something like this happen in 2011 when The Miz, who was not a participant in the Rumble, eliminated John Cena.
9. A Loser of Another Royal Rumble Match Wins It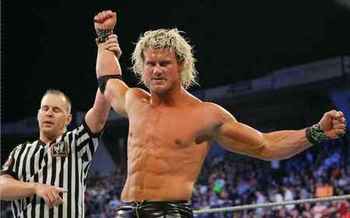 Photo courtesy of WWE.com
WWE.com revealed a couple of weeks ago that the losers of the other matches on the Royal Rumble card will still be allowed to participate in the 30-Man Royal Rumble match.
I could definitely see that coming in to play here.
Maybe John Laurinaitis is unable to screw CM Punk out of the WWE Championship during his match with Dolph Ziggler, so Ziggler enters the Rumble at No. 30 and Laurinaitis makes sure he wins it.
Or maybe Daniel Bryan beats The Big Show and Mark Henry in cheap fashion, and then either Henry or Show goes on to win the Rumble.
There are a number of scenarios that could play out here, and if booked correctly, they might actually make sense.
8. An Entrant Refuses to Enter at the Number He Is Given and Delays His Entry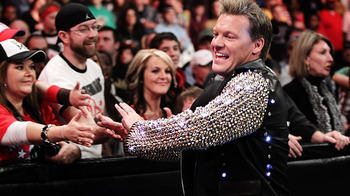 Photo courtesy of WWE.com
What if an entrant refuses to enter at the number he is given and delays his entry as a result?
It would be perfect for someone like Chris Jericho.
You could have Jericho draw the dreaded No. 1 spot, do his ridiculously long ring entrance where he slaps hands with everyone at ring side and then either refuse to go in the ring or make his entrance go on for so long that a number of other superstars are already in the match before he finally gets in the ring.
This could happen in a number of different ways and, of course, doesn't have to be relegated to Jericho.
I'd personally just love to see a heel use similar types of shenanigans to delay his entry and give him a better shot at winning the match, though.
7. An Injured or Absent Star Returns and Wins It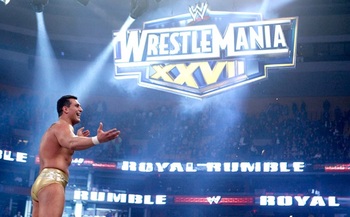 Photo courtesy of wrestlingvalley.org
I doubt many of us would be all that surprised if this happens.
There is a ton of WWE stars who are on hiatus right now, whether because of injury or some other reason, and any one of them could return during the Royal Rumble match and win it.
The Undertaker and Triple H are seemingly fully healthy and might be in line for a return, while Christian, Alberto Del Rio, Randy Orton and even Rey Mysterio are out nursing injuries and could be poised for a return as well.
The WWE doesn't want to, and likely won't, overbook this match by bringing back too many missing WWE stars, but two or three seems about right.
And if that happens, we'll all be wondering if one of these returning stars can go the distance and win the whole thing.
If anyone does that, though, I think it'll be Orton.
6. John Laurinaitis Enters Last and Wins It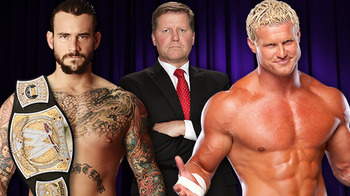 Photo courtesy of fanpop.com
I would absolutely freak out (and not in a good way) if John Laurinaitis entered the Royal Rumble match and won it.
As unlikely as it may seem, though, I actually wouldn't completely dismiss it as a possibility.
The feud between Laurinaitis and CM Punk is undoubtedly taking top priority over Punk's WWE Championship feud with Dolph Ziggler, and it seems like the creative team is hellbent on making Punk vs. Laurinaitis today's version of Vince McMahon vs. Steve Austin.
So, let's not forget that during the peak of the Austin/McMahon feud, Vinny Mac went on to win the Royal Rumble match in 1999 by eliminating "Stone Cold."
Maybe Laurinaitis fails at screwing Punk out of the WWE title during his match, so instead, he puts himself as the last Rumble entrant, wins it and then goes on to face Punk at WrestleMania.
Wow. That would be ridiculous.
5. A Superstar Wins It but Has His Victory Revoked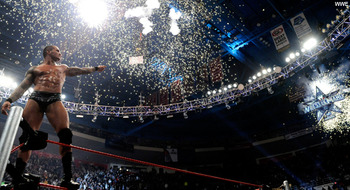 Photo courtesy of randyortonworld.com
In this scenario, a superstar would win the Royal Rumble match, only to find out that he actually didn't.
It could go down like this: Maybe someone like Randy Orton tosses Chris Jericho over the top rope, and the refs declare him the winner.
But John Laurinaitis comes storming down to the ring, says that only one foot hit the floor and demands that the referees reverse the decision.
It wouldn't matter if Laurinaitis was telling the truth here. Perhaps the cameras don't get a good shot of the "elimination," and then Laurinaitis declares that Orton is not the winner of the Royal Rumble.
Then, Orton starts arguing with Laurinaitis, while Jericho weasels his way back in the ring to eliminate Orton and win the match.
You could certainly change all the parties involved here, but you get the picture.
The idea is to have a "false finish" at the end of the Royal Rumble match, preferably one that really pisses off the fans and gets a ton of heat on a major heel.
4. Entrant No. 1 Goes the Distance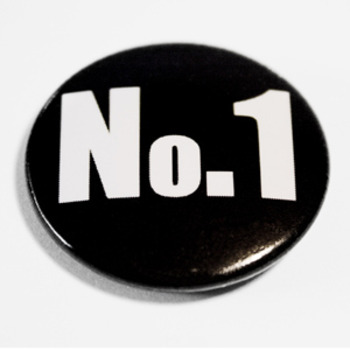 Photo courtesy of sitepoint.com
Only two wrestlers in WWE history have entered the Royal Rumble match at No. 1 and gone on to win it.
Shawn Michaels did it way back in 1995, and Chris Benoit did it in 2004.
Maybe it's time for another superstar to go the distance.
Needless to say, it puts over a WWE star in a huge way to start at the beginning of the match, compete for more than an hour, outlast 29 other competitors and than go to win the guaranteed title shot at WrestleMania.
This would be a career-defining moment for an up-and-coming baby face, but would even work for an established veteran like Randy Orton.
3. Someone Not Currently on the WWE Roster Returns to Win It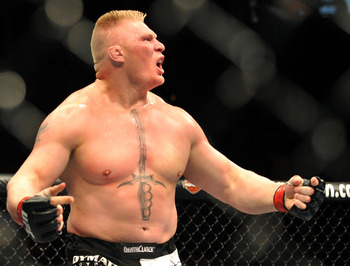 Jon Kopaloff/Getty Images
If an injured WWE star is set to return during the Royal Rumble match, then company officials are going to try their best to keep it secret.
If someone not currently on the WWE roster or under WWE contract (as far as we know) is going to do the same, then company officials are going to treat it like a top-secret government operation.
So, realistically, we can't exactly be sure who we will see this Sunday.
That being said, it would be a major shocker if someone like Brock Lesnar or Batista showed up during the Royal Rumble match and then eventually won it.
It would probably piss off a lot of people backstage, but there's no doubt that it would be good for business.
2. The Final Two Competitors Are Eliminated at the Same Time
The 1994 Royal Rumble match was the first and only Rumble in history to have two winners.
Bret Hart and Lex Luger were both declared victorious when they went over the top rope and both of their feet hit the floor at the same time.
I'm not sure I like the decision to have two Royal Rumble winners, but I guess it could make things a bit easier for the creative team.
If you have one guy from Smackdown (let's say Randy Orton) and one guy from Raw (let's say Chris Jericho) mimic Hart and Luger, then you have your two World title matches at WrestleMania set up right then and there.
I could easily see this happening if the creative team can't decide which star it wants to win the match.
1. No. 30 Wins by Default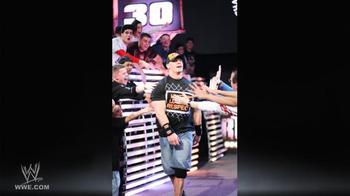 Photo courtesy of WWE.com
I wish I could take credit for this very unique (and awesome) idea, but I can't.
All credit goes to Arda Ocal of TheScore.com. Check it out:
Here's is my idea on how I would love to see the 2012 Royal Rumble match end.

#29 enters the Rumble. What happens next doesn't matter, just the result. Everyone who is in the ring is eliminated… EVERYONE. The last two find a way to eliminate each other. The ring is completely empty for a period of time until the countdown begins for #30.

Lights go out, we see the blinking jacket, and there is Chris Jericho, who, smiling, steps foot in the squared circle and the bell rings, signaling the end of the Rumble. Cue the over-pandering to the crowd, the cheers, the running around slapping hands.

How audacious would it be for Chris Jericho to win the 2012 Royal Rumble without lifting a single finger to do it?
Maybe it's just me, but I think that would be nothing short of phenomenal.
Jericho winning the Royal Rumble without breaking a sweat after 29 guys busted their butts to try to do the same would be a great way to get a ton of heat on him and instantly turn him into the WWE's top heel.
This scenario would work best for Jericho, but I think it would be almost as fantastic for someone like Cody Rhodes or Wade Barrett, too.
Keep Reading