Joe Philbin Dolphins: Packers OC Reportedly Set to Become Miami's New Head Coach
January 20, 2012

Handout/Getty Images
Green Bay Packers offensive coordinator Joe Philbin will be the next head coach of the Miami Dolphins, according to ESPN's Adam Schefter. 
The Dolphins were courting former Tennessee Titans head coach Jeff Fisher, but he ultimately chose to accept the St. Louis Rams' head coach opening. 
Miami fired Tony Sparano in December. They welcomed Philbin to the team via the team's official Twitter account: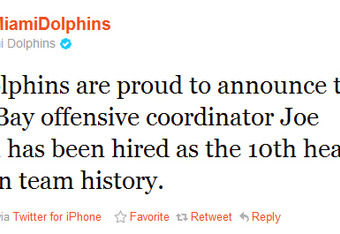 What Does It Mean?
The Dolphins are getting one of the very best assistant coaches in the NFL. After taking over as the team's OC in 2007, Philbin turned the Packers into an offensive powerhouse, with things culminating in a big way in 2011. The Packers led the NFL in scoring with an average of 35 points per game, and they also averaged over 400 total yards per game.
Of course, it is also worth noting that Philbin had a big hand in developing Aaron Rodgers, arguably the best quarterback in the NFL.
The argument could easily be made that Philbin is a better fit for the Dolphins than Fisher. Philbin has the kind of offensive mind the Dolphins need right now, and Dolphins fans can be excited about the fact Philbin is coming from a winning organization.
What Happens Next?
Once Philbin's signature is on paper, it becomes a matter of filling out his coaching staff and shaping the team on the field to the direction he wants.
To this end, it will be very interesting to see what kind of moves the Dolphins make in free agency, and they'll certainly be a team worth watching in the draft. 
Philbin won't be calling all the shots, of course. Judging from comments Dolphins owner Stephen Ross made to the Miami Herald, part of the reason the Dolphins didn't get Fisher is because he wanted to have more power than general manager Jeff Ireland. In Philbin, the Dolphins have a coach who will work with Ireland, not above him.
Exactly how this partnership will work out remains to be seen.