A's vs. Yankees: 4 Facts of an American League Rivalry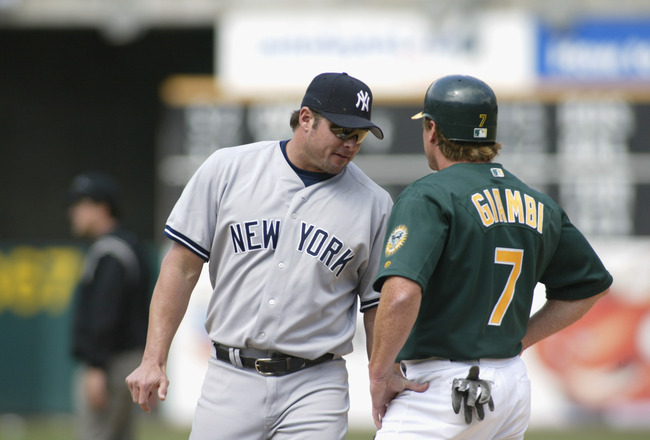 Jed Jacobsohn/Getty Images
Whenever you hear the words "Yankees" and "rivalry" you usually think of the team in Queens or the Boston crew. Maybe you're nostalgic about the 90s and picture the Atlanta Braves.
If you bleed Green and Gold, chances are good that you'll think of your own club and its relationship with the Bronx Bombers.
Here are four interesting facts about the history of the Oakland Athletics-New York Yankees rivalry.
1. Most Championships by AL Franchises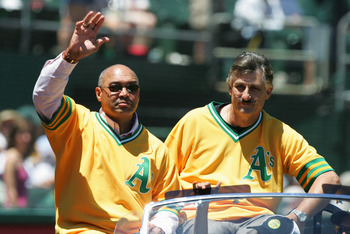 Jed Jacobsohn/Getty Images
That's right, no other team in the AL has won more World Series than the A's besides the Yankees.
Oakland's nine (9) titles have transcended time and space; they won five as the Philadelphia Athletics and four in Oakland, where they've set up camp in 1968.
New York's 27 championships are an all-time record, a far cry from St. Louis' 11 wins, good for second overall.
Since 1972, only the Yankees have more titles than Oakland (7 to 4). In that decade (the 70s), the two clubs combined to be world champs half of the time.
Not too shabby.
2. Only "Three-Peats" in Baseball History
Chris Hondros/Getty Images
New York and Oakland are the only baseball franchises to ever win three consecutive World Series titles: the Yanks did so most recently from 1998-2000, as well as '36-'39 and '49-'53, and the A's did it across the '72, '73, and '74 seasons.
The A's also played in three straight World Series from '88 to '90, sandwiching their '89 victory over San Francisco with losses to the Dodgers and Reds, respectively.
The Yankees narrowly missed a chance for a four-peat in 2001 when Arizona won in seven games.
Exclusive company, to say the least.
3. Countless Trades & Transactions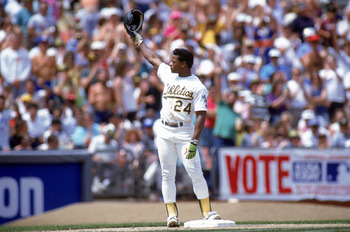 Otto Greule Jr/Getty Images
A running joke in the 50s and early 60s went something like this: "The Kansas City Athletics are basically a farm team for the Yankees." Roger Maris, Billy Martin, and Ralph Terry (twice) were some of the most notable names to go eastward.
Just a few years into the next decade, a newly-christened Oakland A's franchise turned the tables on New York as they dominated the Major Leagues. Of course, two of Oakland's biggest stars from those early 70s teams, Catfish Hunter and Reggie Jackson, would sign with New York as free agents.
Rickey Henderson, a Hall of Famer, stolen base champion, and Oakland native, was traded by the A's to the Yankees in 1984. He was eventually sent back West in June of 1989, just in time to help Oakland en route to its World Series victory over the cross-bay Giants.
Worse yet for the A's faithful, the '01 club blew a 2-0 series lead to New York in a heartbreaking ALDS collapse. It was the second consecutive postseason elimination at the Yankees' hands, and was just the beginning, as Jason Giambi's free agent exodus to the Bronx capped off a long but not-long-enough season.
Then again, there would've been no Moneyball without such an event.
One of the oddest moves was a proposed 1976 "trade" of Vida Blue by the A's in which New York would have received the star pitcher for cash. It was vetoed by commissioner Bowie Kuhn on grounds that such moves discouraged and impaired competitive balance across the league.
Better than letting him leave for nothing like his old teammates (and replacements) did, though.
4. Eccentric Owners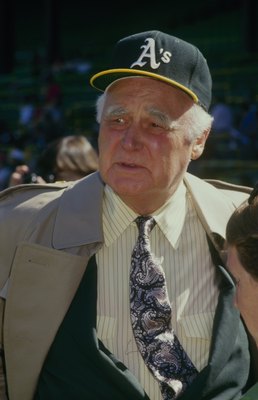 Getty Images/Getty Images
Charlie Finley and George Steinbrenner may have had contrasting ownership styles, but they had one thing in common--they both went against the grain and changed baseball forever.
Finley, who moved the team from Kansas City, was known for his unusual gimmicks used to increase ticket sales, much like the "showman", baseball owner Bill Veeck. He was also an adamant, if crazed, negotiator who helped pioneer the Designated Hitter rule into the American League.
Finley gave the franchise its first live mascot, a mule named "Charlie-O". Easier than an elephant, at least.
Steinbrenner, of course, is still renowned for bringing the Yankees back to prominence after nearly a decade of mediocrity and gradual decline in the late 1960s and early 70s, largely by signing former A's Reggie Jackson and Catfish Hunter.
After being banned and reinstated into baseball multiple times for various incidents, George would facilitate the construction of the New Yankee Stadium, the largest and most expensive privately-owned park in history.
The first DH was one of Steinbrenner's men, former first overall pick Ron Blomberg.
Notoriously tough to work for and even tougher to play for, these two iconic owners left lasting marks on America's Pastime. Maybe it was their Midwestern origins, or penchant for real-estate, but most likely it was a will to win.
Keep Reading

Oakland Athletics: Like this team?