AFC Championship Game 2012: 3 Players Who Must Step Up Big for Patriots
January 20, 2012

Elsa/Getty Images
The New England Patriots and Baltimore Ravens are set to play in the 2012 AFC Championship Game on Sunday afternoon.
This game features two teams with very different approaches to football.
The Ravens rely on running the ball and dominating defensively. The Patriots rely on passing the ball all over the field and hoping they can get enough defensive stops to win.
The Pats are going to have to play their best football of the season if they are going to move the ball on the Ravens defense.
Here are three players who need to have big games for the Pats to win.
The Patriots can't rely solely on Tom Brady and the passing game to win this game against the Ravens.
They also can't count on tight end Aaron Hernandez being the leading rusher again, especially now that the Ravens have film of him.
Green-Ellis is going to have to do a lot better than his 13-carry, 28-yard performance last weekend if the Patriots are going to win.
He doesn't have to have a 100-yard game, he just needs to be good enough to keep the defense honest. That way they won't be able to pin their ears back and rush Brady all game long.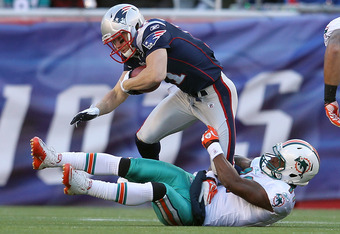 Jim Rogash/Getty Images
Julian Edelman, WR/DB
Edelman has been a busy guy this year, returning punts, being a receiver and even playing cornerback in nickel situations.
He's going to need to be effective in all three aspects of the game against the Ravens.
If Joe Flacco can just pick on Edelman when he's in defensively, the Patriots are going to give up a ton of yards and points.
But, if Edelman can break a big punt return and hold his own defensively, the Pats will be just fine on Sunday afternoon.
Matt Light, LT
With guys like Terrell Suggs and Haloti Ngata rushing Tom Brady all day, Light is going to have to make sure Tom Terrific doesn't get hit from his blind side.
If Suggs or Ngata can force a strip-sack, the Ravens can stay close and put their offense in positions to succeed.
Everyone knows that the key to beating the Pats is to get pressure on Brady. But, the problem for opponents is that Light won't let them get to Brady.
Light, one of the best left tackles in football, is going to have his work cut out for him this weekend.