Every NFL Team's Nightmare Scenario in 2012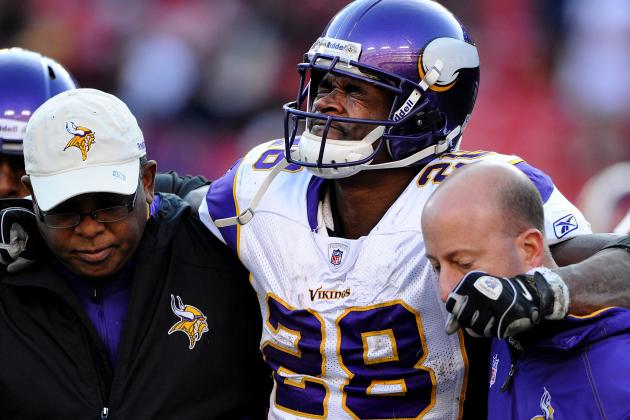 Patrick Smith/Getty Images

Even the eternal optimists have the thought of impending doom lurking in the back of their minds.
No season ever goes perfectly according to plan. In some cases, the year spirals downward with a multitude of unfortunate events.
Each of the NFL's 32 teams will look to 2012 with high goals. Unfortunately, some will get a most unwelcome occurrence. Here is what each franchise fears next year.
Begin Slideshow

»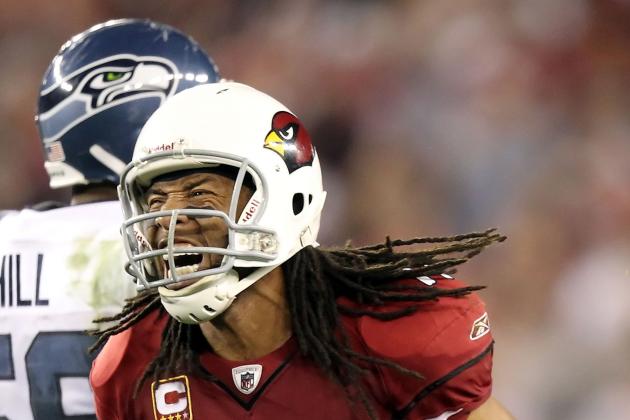 Christian Petersen/Getty Images

Larry Fitzgerald Getting Injured
Each club's worst-case scenario usually involves a key player or a group of players being saddled by injuries.
For the Cardinals, it would be disastrous should their prized wide receiver (who they recently signed to a big contract) were to spend more time on the sidelines than the playing field.
Larry Fitzgerald has been relatively healthy during his pro career. So, this possibility is slightly out there.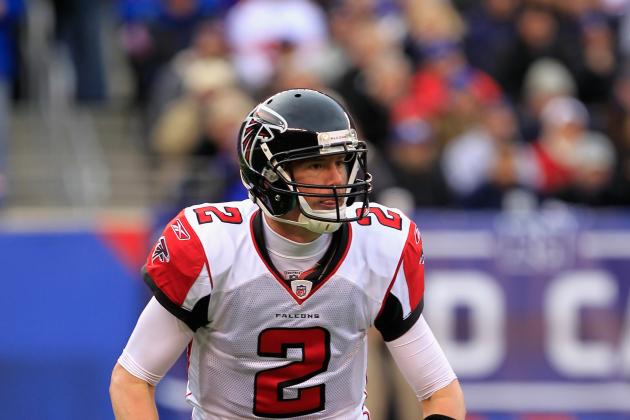 Chris Trotman/Getty Images

Missing the Playoffs Altogether
Atlanta has the capability of either winning its division or capturing a Wild Card spot in the NFC. Winning a game past that is a different story.
Fans won't be satisfied unless the franchise captures a victory in the playoffs. Therefore, not even getting a chance in the postseason would be deemed disastrous for Matt Ryan, Mike Smith and the rest of the Falcons.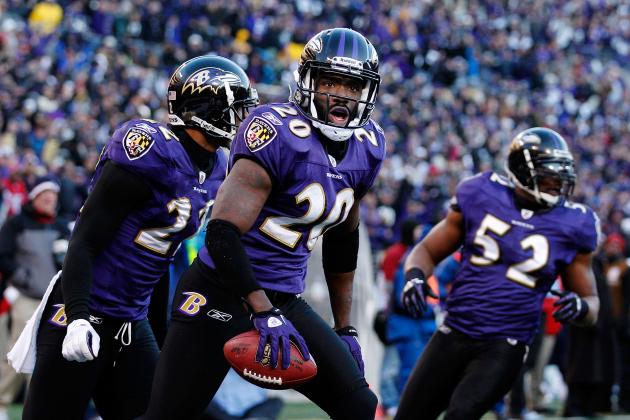 Rob Carr/Getty Images

Key Defensive Players Age Quicker Than Normal
The two most important players on the Ravens' defense are Ray Lewis and Ed Reed.
Unfortunately, they're both well past the age of 30. Their level of play was high in 2011, which should indicate that 2012 should be good as well.
But sooner or later, the Ravens won't be able to rely on them. The drop-off will come one of these days. The Ravens just hope it happens after Joe Flacco becomes more polished as a passer.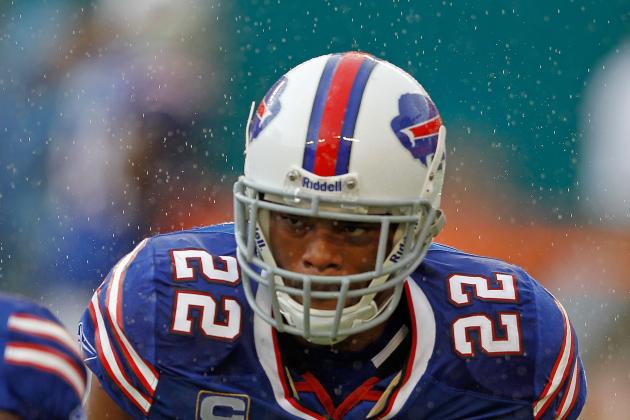 Mike Ehrmann/Getty Images

A Reprise of the 2011 Second Half
Ryan Fitzpatrick is who we thought he was. The initial seven games in which the Harvard product threw for 14 TDs and led Buffalo to a 5-2 mark were simply a mirage.
A healthy Fred Jackson isn't enough to vault the Bills past the New York Jets, much less the front-running New England Patriots. However, Bills fans would like it if he can erase what occurred over the course of last season's final seven contests.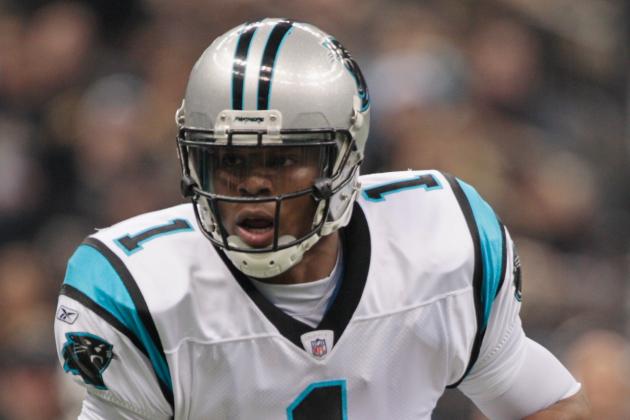 Chris Graythen/Getty Images

Cam Newton Regresses
How could you not be hopeful about what's going on in Carolina?
The Panthers have the brightest young quarterback in the game. Last year's top pick, Cam Newton, proved to be worth the hype...and then some. He broke numerous rookie records and kept his team in contention for victories nearly every week.
A six or seven-win season in 2012 won't be deemed a disappointment. A year in which Newton struggles would.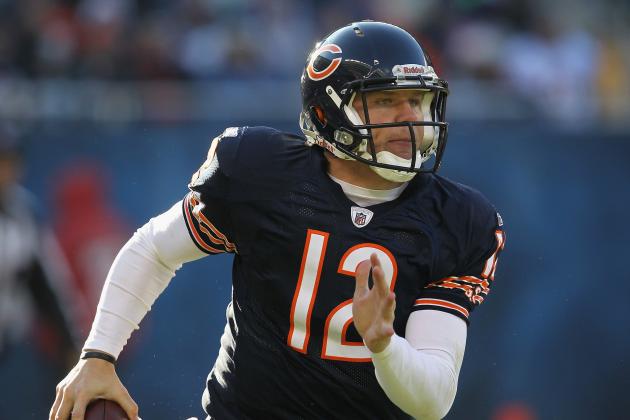 Jonathan Daniel/Getty Images

The Offense is Undermanned Again
Playing with Jay Cutler and Matt Forte, the Bears are legitimate contenders in the NFC. Without them, they are downright anemic on offense.
So, it's safe to say that the health of those two stars is imperative for Chicago's success. For Forte, the Bears simply hope he's on their roster. The Tulane product is now a free agent and hoping for more money.
Take away Cutler and Forte, and the Chicago offense may be banking on Caleb Hanie and Marion Barber.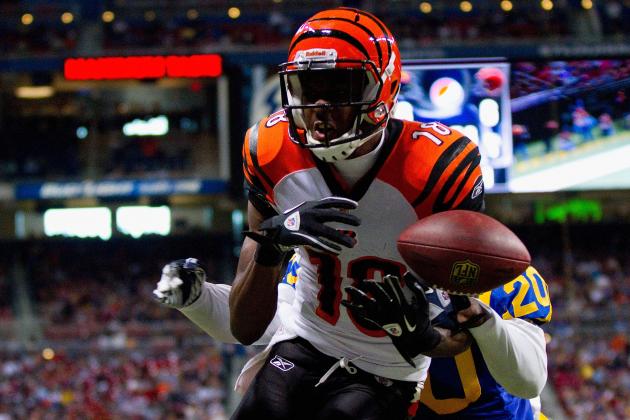 Dilip Vishwanat/Getty Images

A Sophomore Slump
For a team widely expected to be at the cellar, the Cincinnati Bengals were one of the year's most pleasant surprises.
Leading the way for Marvin Lewis' club was a pair of rookies: quarterback Andy Dalton and wide receiver A.J. Green.
So, it's only natural that we could envision more of the same for Cinci in the near future. One can't forget that sometimes, rookies who stunned opponents in year No. 1 are more readily handled in year No. 2.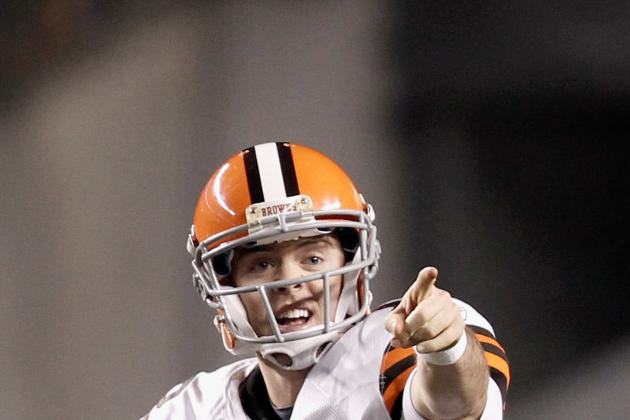 Jared Wickerham/Getty Images

The QB Position Doesn't Develop
Cleveland appeared headed in the right direction prior to 2011. Then came a slight regression.
Colt McCoy's growth was stunted a bit. The second-year quarterback had a lower completion percentage and 11 fumbles. That may entice the Browns to draft a signal-caller...and early too.
Whoever starts behind center must show that this team can be optimistic about the future with him leading the offense.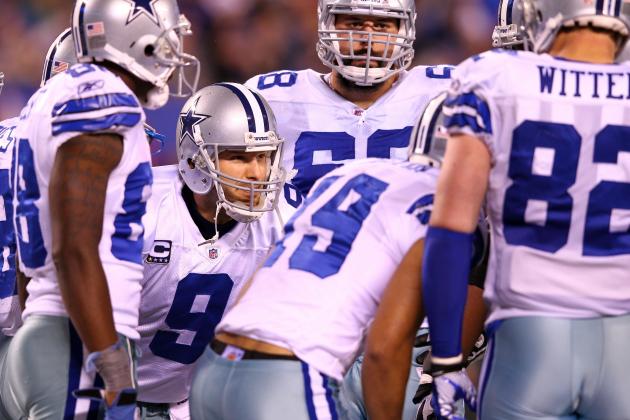 Al Bello/Getty Images

Another December Disintegration
Each season, Dallas is deemed a Super Bowl contender. And each season, Dallas falls flat on its face.
The Cowboys have stability at quarterback and defensive end. They must improve such areas as the secondary and the offensive line for a possible playoff berth.
Faltering again late in the season would cause continued upheaval, including the likely dismissal of Jason Garrett by owner Jerry Jones.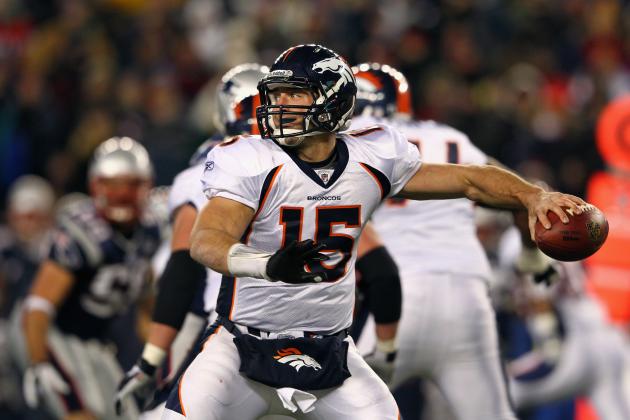 Al Bello/Getty Images

Tim Tebow Struggles to Throw with Accuracy
You can bet John Fox is happy he listened to the Denver fans.
The city pleaded for Tim Tebow to start at quarterback from the start of the season. In Week 5, those calls were answered.
Behind Tebow, the Broncos went on to win the AFC West, and their QB became a national phenomenon.
But that hasn't silenced the doubters, as many expect Tebow to come back to Earth in 2012 thanks to a passing game that is among the worst in the league.
A failure to improve on that area would probably mean Tebow and the Broncos would come back to Earth, because it's likely that defensive coordinators are going to catch on to his run-first style.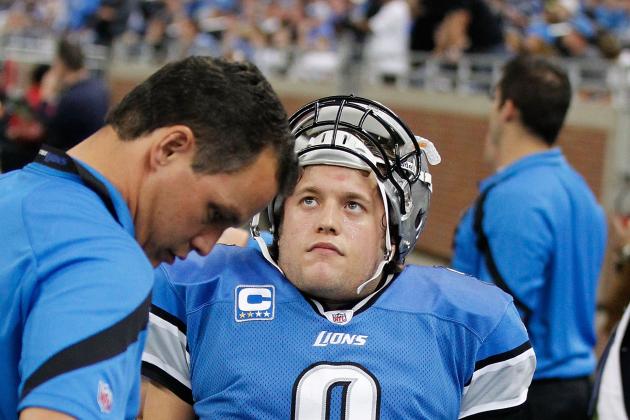 Gregory Shamus/Getty Images

Matthew Stafford Catches the Injury Bug Again
The roar was restored as the Lions reached the playoffs for the first time since 1999.
A main reason for that was Detroit having prized, young quarterback Matthew Stafford healthy for the entire year.
Having Chicago and Green Bay in their division isn't the only thing that could hurt the Lions in the near future.
As the past has shown, there's always a chance that Stafford's injury-prone ways resurface.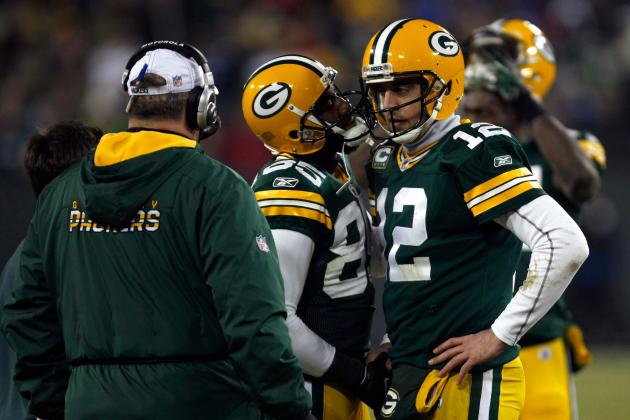 Scott Boehm/Getty Images

They're Affected by the Loss to the Giants

The Packers could go one of two ways in 2012. They could either become a victim of a severe hangover after their crushing loss to New York in the divisional round after a 15-1 regular year. Or, they could come back even stronger and determined to right their wrong in the previous postseason.
The first possibility is not likely. But there is still a chance it could happen considering that this was a near-dominant team poised to win a second straight Super Bowl.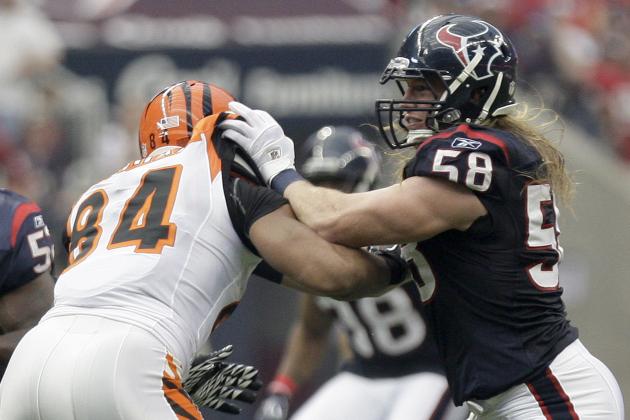 Thomas B. Shea/Getty Images

Opposing Offenses Figure out Their Defense
There are many things that could go wrong here.
First, Matt Schaub could find the injured list, and the Texans could be left with T.J. Yates running the show. In addition, Arian Foster not signing with Houston in the offseason would be a major problem.
The most destruction that could be done to this team would be for this defense (ranked second overall) to take a few steps back. Offensive coordinators are currently trying to find a way to outsmart the Texans' ability to limit the run and pass.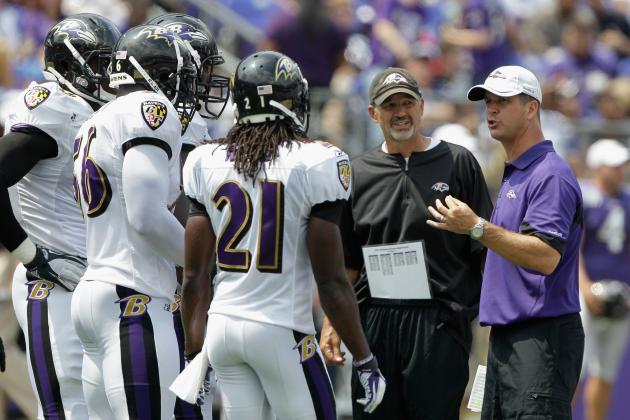 Rob Carr/Getty Images

Chuck Pagano is Not the Right Fit
All signs point to a Colts overhaul.
The most recent building block came in the hiring of Pagano, a man who spent last year as the Baltimore Ravens' defensive coordinator.
But if likely No. 1 overall draft pick Andrew Luck becomes the team's starting quarterback, do the Colts have the ideal individual to help him through what's going to be an overwhelming first year?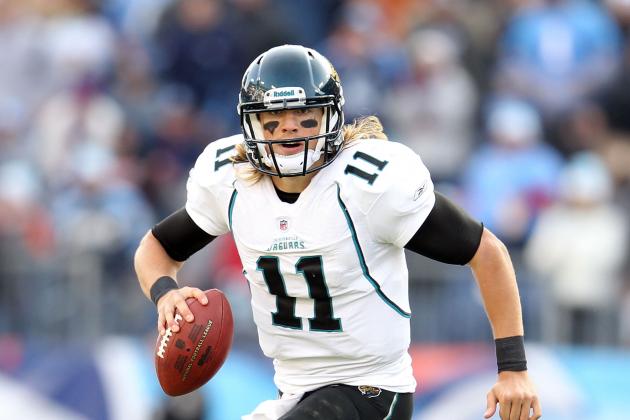 Andy Lyons/Getty Images

They Made a Wrong Choice at Head Coach
There are a multitude of problems in Jacksonville. Granted, their running back is solid, and the defense is sturdy.
Those two elements, however, can't carry this Jags squad.
Blaine Gabbert, the quarterback who struggled to get through his rookie season, is in need of some guidance. Just as is the case in Indy, can new head coach Mike Mularkey do the trick?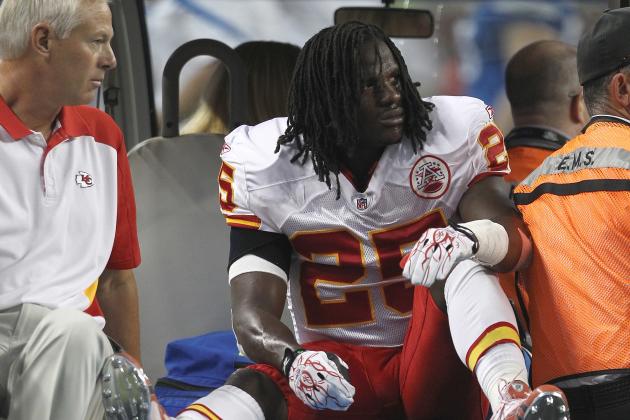 Dave Reginek/Getty Images

Unable to Avoid Injuries
The Chiefs can lament physical ailments for their downturn this season.
Kansas City was hopeful when 2011 began. But after injuries to Jamaal Charles, Eric Berry and their starting quarterback Matt Cassel, Kansas City is hoping that next year brings better luck.
Should the bad fortune of poor health continue, the Chiefs will start to wonder who put a hex on them.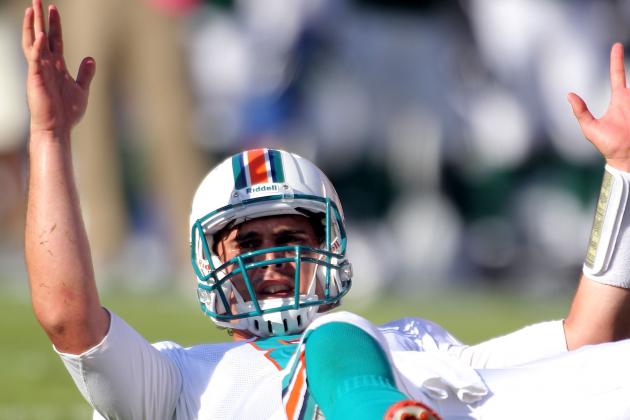 Marc Serota/Getty Images

They Still Can't Find a Passing Game
New head coach Joe Philbin arrives in South Beach after being the coordinator of a powerful Green Bay offense that passed on opposing defenses at will.
So you could assume that the air show in Miami will be improved in the upcoming season.
The Dolphins have plenty to build on: a strong showing in the second half of 2011, a solid defense and a good running game. Who's throwing the ball for Miami will have a major impact on their growth.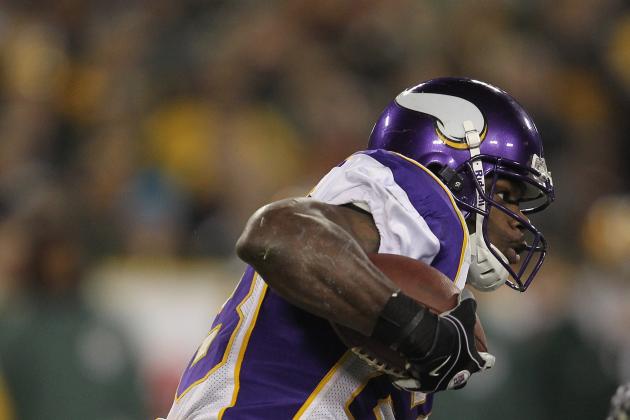 Jonathan Daniel/Getty Images

Adrian Peterson isn't Fully Healthy
For the first time in his career, Adrian Peterson failed to reach the 1,000-yard rushing mark. What's more troubling is the injury that ended his 2011 season.
Against the Washington Redskins on Christmas Eve, Peterson left the field carried by two trainers. The diagnosis was a torn ACL and MCL. He now faces an eight or nine-month recovery process that could jeopardize his status for the start of the 2012 campaign.
Second-year QB Christian Ponder can lead the offense on his own. He needs a quality producer to help carry the load.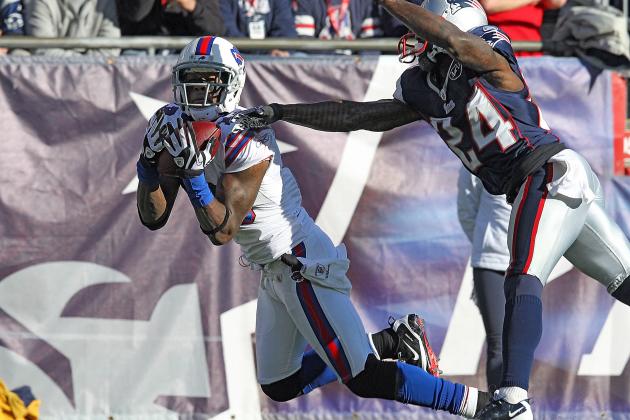 Jim Rogash/Getty Images

More Struggles in the Secondary
It's a testament to Tom Brady and the New England offense that they have advanced this far with a bottom-feeder of a defense.
It did, however, limit Denver and Baltimore enough to advance in the postseason. A much stiffer test will come when faced with Eli Manning and company.
Pats' management would be silly to pass up on strong players in the secondary in the free-agency period or via the draft. The offense can only do so much to win games by itself.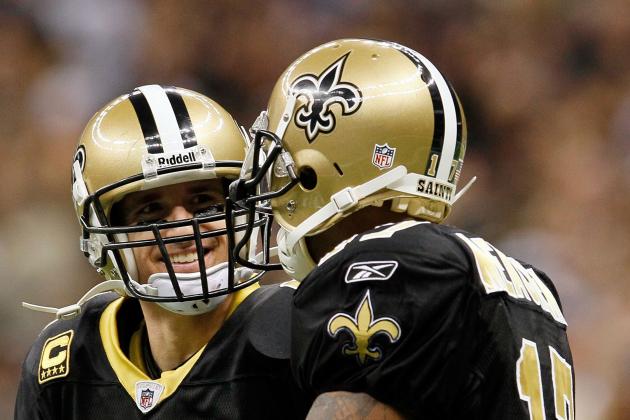 Kevin C. Cox/Getty Images

Drew Brees Goes Down
As was stated in the initial slide, losing a star player is devastating.
The Saints losing Drew Brees (who's guaranteed to re-sign with the club) would be the worst possible thing that could happen to any of the 32 teams in the NFL.
Take away Brees from this Superman-like offense, and it resembles a bumbling Clark Kent.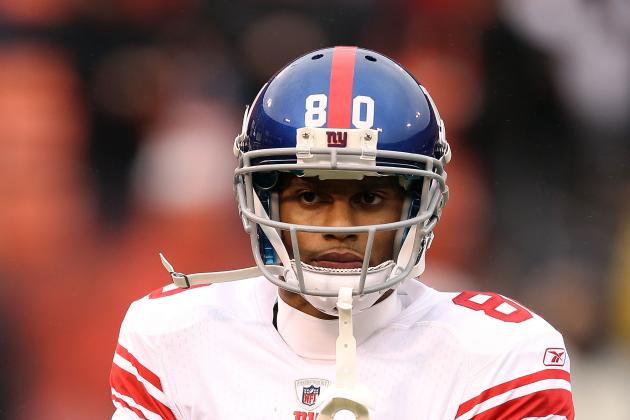 Ezra Shaw/Getty Images

Cruz and Nicks Falter
Eli Manning is the MVP of this team. The most help towards his elite status has been the play of his top pass catchers.
Hakeem Nicks has come on as of late, while Victor Cruz has been a revelation in 2011. The UMass product set the team record for most receiving yards in a single season.
The Giants had better hope that he doesn't become a one-hit wonder and can remain the No. 1 target in the future.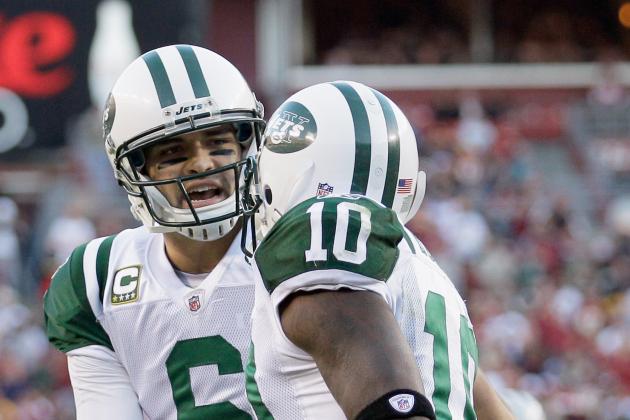 Rob Carr/Getty Images

A Mutiny Forms
The soap opera that is the New York Jets sees its main storyline be that of the team's most important player: Mark Sanchez.
After two solid years to start his pro career, the former USC Trojan regressed in year three. Serious questions surround Sanchez's ability to remain New York's starting QB. And this has come from both the media and his own teammates.
You can start to see the signs of divide in this locker room...which could lead to a real divide at any moment.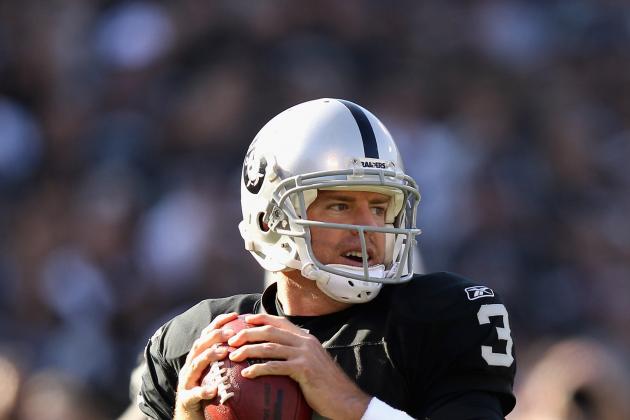 Ezra Shaw/Getty Images

Carson Palmer Still Doesn't Have It
When the Raiders needed a new quarterback at mid-season, head coach Hue Jackson wanted the former Cincinnati Bengal, Carson Palmer.
Oakland traded multiple draft picks in exchange for the former USC Trojan, who had yet to be in uniform all year.
The end result was Palmer throwing 13 touchdowns along with 16 INTs and the Raiders missing out on the playoffs. He now has an offseason to shake the remainder of the rust off and prove his worth.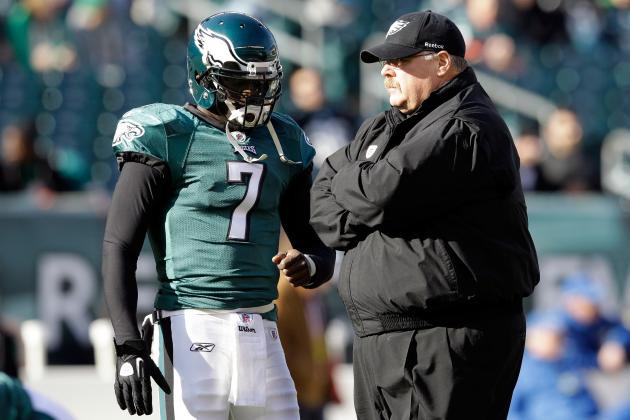 Rob Carr/Getty Images

Another "Pipe Dream Team"
There's no question that their nightmare scenario came true in 2011.
After the star-filled Eagles went through insomnia to the tune of an 8-8 season, some may sleep on them to contend on 2012.
Some are still expecting big things after giving them a year to mesh. The pressure is on for the secondary, Michael Vick and (most certainly) Andy Reid.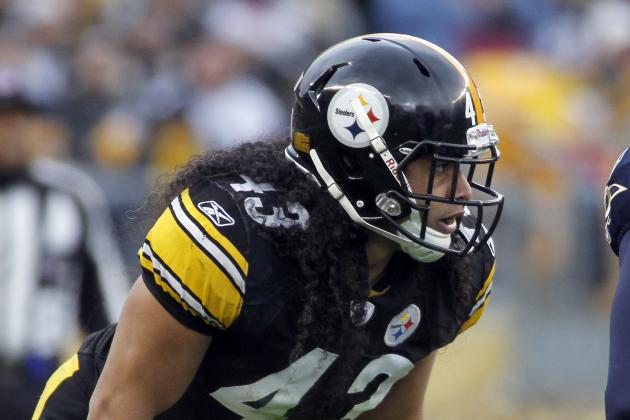 Justin K. Aller/Getty Images

They Get Older Quicker
At times during the 2011 season, we heard whispers about the Steelers starting to slow down.
The defending AFC Champions weren't as sharp against Baltimore (losing twice) and ultimately fell to the Denver Broncos in the Wild Card round.
It's a good bet that Ben Roethlisberger gets nicked up. That, however, has never seemed to bother him.
The real issue is the veterans who help shape this proud team. Age may hurt the Steelers more than their keen management team can overcome with the hopes of trying to add young pieces.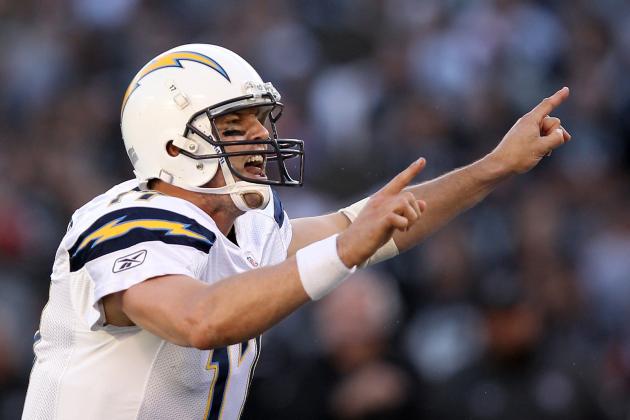 Ezra Shaw/Getty Images

Philip Rivers Still Can't Hold on to the Ball
As the NFL's greatest group of underachievers, San Diego's six-game losing streak prevented the team from reaching the playoffs.
Philip Rivers was one of the main disappointments, throwing 20 interceptions and having 11 fumbles. Is this an aberration or the start of a downward trend?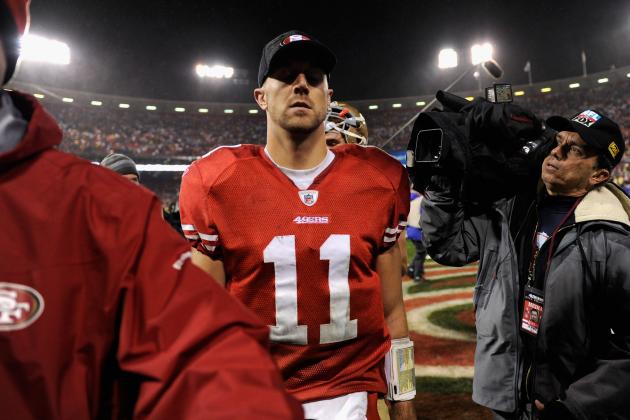 Thearon W. Henderson/Getty Images

Alex Smith Plays Like 2005-10
Jim Harbaugh was outstanding in his first year as San Francisco head coach, lighting a fire under revived quarterback Alex Smith.
But the former No. 1 pick was incapable of sustaining a drive in the late going against the Giants, recalling unwelcome memories of his disappointing first six pro seasons.
There's room to improve for Smith, and a step in the wrong direction could prevent the Niners from growing as well.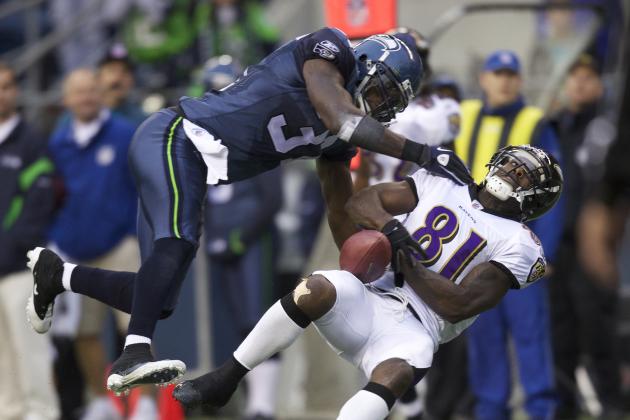 Stephen Brashear/Getty Images

The Defense Lets Them Down
With less-than-average quarterback play and a team filled with mostly unknowns, the Seahawks had faint playoff chances until the end. Not many thought that was even possible earlier in the season.
While Marshawn Lynch is the key to the offense's success, the defense as a whole is integral to the overall well-being of Pete Carroll's club.
A group that was fourth in the NFL in turnovers (22) and ranked ninth in total yards allowed can keep them in postseason contention next year.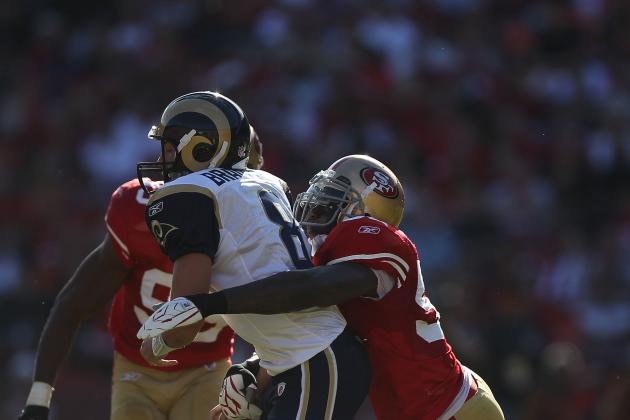 Jed Jacobsohn/Getty Images

The Offensive Line Continues to Yield Sacks
St. Louis was 22nd in total defense. A more pressing concern comes in pass protection.
The Rams allowed a league-high 55 sacks in 2011 and probably contributed to Sam Bradford's year of continuous injuries.
Jeff Fisher's first priority should be to try to keep their young QB upright in 2012.
Kevin C. Cox/Getty Images

The Downward Spiral Continues
In a heartbeat, the Buccaneers went from a stable team that was coming off a 10-6 season in 2010 to a club that consistently made mistakes en route to a 10-game losing streak to close the year.
With that, young head coach Raheem Morris was shown the door. A new leader hasn't been named but should be prior to the draft.
Josh Freeman and the defense, two areas that appeared horrendous at times, are in need of improvement.
If they don't improve, then the Bucs' ship will sink further.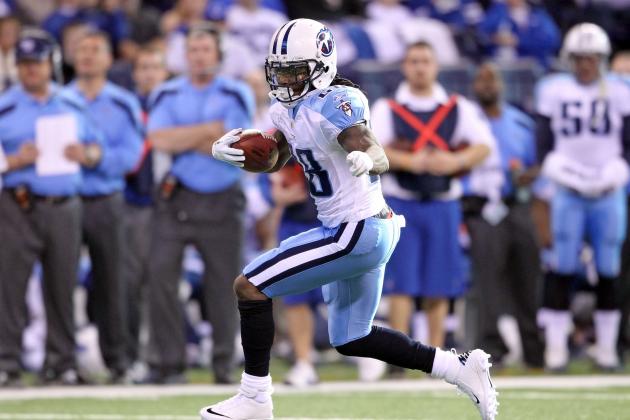 Andy Lyons/Getty Images

Chris Johnson Underperforms Again
The Titans' 2011 season began with their star running back showing rust from a holdout that stretched into early September.
He regained his old form by mid-season, but it was a year that was disappointing compared to his usually spectacular efforts.
A CJ2K bounce-back is crucial, especially if Tennessee decides to go with Jake Locker as its starting quarterback.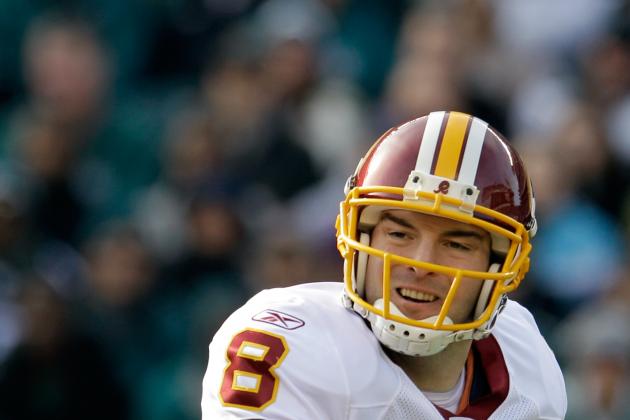 Rob Carr/Getty Images

Having Rex Grossman at Starting QB
As is the case with all the teams at the start of this list, Mike Shanahan and the Redskins have plenty of holes to fill if they want to be a contender.
Priority No. 1 must be at quarterback. Rex Grossman and his 20 interceptions is not the answer. Washington's brass will be determined to either get one via free agency or through the draft.
If the 'Skins get outbid for available veteran QBs that they want (is that really possible?) and don't find what they're looking for based on the college prospects able, then it's on to keeping the situation as is.
And for a fan base desperate to see their franchise return to prominence, that won't suit well in D.C.