Who Should Bat Leadoff for the New York Mets in 2012?
January 21, 2012

Thearon W. Henderson/Getty Images
Spring training is right around the corner. The 2012 baseball season is getting ready to begin, and teams are already beginning to decide how their rosters should look come Opening Day. Spring training will allow each team to evaluate their players who are on the fence for making the teams major league roster.
However, Mets' coach Terry Collins, already knows who his leadoff man will be for Opening Day 2012. It is common knowledge that Andres Torres will most likely be the first Met to take the plate in 2012. Torres was acquired in the Angel Pagan trade earlier this offseason, and he will be the Mets' starting center fielder for the beginning of the season.
A lot of people don't believe that Torres will make a good leadoff hitter for the Mets this season. Torres is a solid defender who possesses above average speed. However, his hitting skills are simply not up to par with the rest of the leagues leadoff hitters.
Torres has a .244 career batting average, and he managed to hit a mere .221 last season. With that said, Torres put up solid numbers in 2009 and 2010, but I expect the Torres of last season. He is 33 years old and not getting any younger.
I like Torres, but not as a leadoff hitter. He is a good fit as a fourth outfielder, but he will most likely be starting in center field for the Mets early in the season. If Torres is indeed starting, then I believe that his bat would be best suited lower down in the lineup.
If Torres shouldn't be the Mets' leadoff hitter, then who should be?
The Mets have a number of players who are all capable of hitting leadoff; albeit, not overly effective ones. With the loss of Jose Reyes, one of the best leadoff hitters in the game, the Mets will be hard pressed to replace Reyes' bat at the top of the lineup.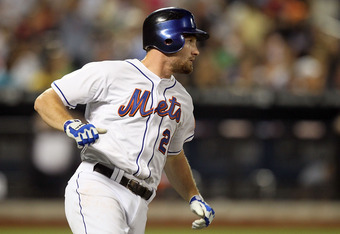 Jim McIsaac/Getty Images
You can make a case for every Mets starter to bat leadoff with the exceptions of Ike Davis and Lucas Duda. That leaves us with five potential leadoff hitters.
Jason Bay, Daniel Murphy, Ruben Tejada, Josh Thole and David Wright. 
Jason Bay has decent speed, and can be a solid situational base stealer. With that said, it is no secret that Bay has been struggling over these past couple of seasons. He isn't an ideal leadoff hitter to say the least, and until he returns to his old form, he should not be seriously considered for a crucial part in any lineup.
Daniel Murphy will most likely be the starting second baseman for the Mets this season. If he can stay healthy, he should have a great year. Before Murphy's season-ending injury, he was in the top 10 in the league in hitting.
Murphy may not have great defensive skills or be the most graceful player, but he can certainly hit the ball. Murphy has average speed, but his OBP of .362 in 2011 makes a strong argument for him to lead off. It'll be hard for Murphy to replicate that OBP this season, but I believe that he is very capable of producing something close to that number, if not higher.
Ruben Tejada seems like another strong choice to leadoff for the Mets this season. He produced surprisingly well with the bat last season, and it seems as if he keeps getting better. Tejada isn't fond of stealing bases, but that does not mean that he cannot run well.
He has slightly above average speed, but he runs the bases like a seasoned vet. Tejada has great base running vision, makes fantastic turns,and great reads on the basepaths. He might make a nice leadoff hitter for the Mets in a couple of years, but not now.
Tejada already has huge shoes to fill with Jose Reyes leaving, and while the Mets organization is stressing to him that they don't expect him to be Reyes, Tejada's young mind might be a bit overwhelmed. Putting Tejada in Reyes' old lineup spot seems like it would put expectations at unrealistic heights for him.
Josh Thole walks a lot and he is a solid contact hitter, therefore he is capable of a great OBP. A high OBP is a crucial part to a successful leadoff hitter. Thole can hit for a great OBP, but he is just too slow to leadoff for the Mets. Simple as that.
David Wright is a very interesting option to bat leadoff for the Mets. Wright has shown the ability to steal bases, and he also has the potential to be one of the best hitters in the game. With the changes to Citi Field's dimensions, they lead us to believe that Wright will revert to his 2005-2008 form.
If the Mets had a deeper lineup than I would be open to the idea of batting Wright leadoff, but he is better suited to bat in the heart of the Mets' lineup for this season. He will be much more valuable there.
At the end of the day, some people might make too big a deal of who bats leadoff for a team. The truth is that the leadoff hitter usually leads off only a few innings in a game, with the only guaranteed inning being the first inning. Batting leadoff might get to some hitters minds, and it isn't worth risking their season just so they could lead off a few innings.
In my eyes, Daniel Murphy should be the New York Mets' leadoff hitter. He has a bulldog mentality and nothing seems to phase him. Murphy can flat out rake at the plate, as well as draw his share of walks. Pair that with his decent speed and the Mets have themselves a more than capable leadoff hitter for the 2012 season.