OKC Thunder: Future Roster Predictions After Westbrook Extension
January 20, 2012

Rob Carr/Getty Images
The Russell Westbrook contract situation is quickly off the table after he agreed to an $80 million, five-year contract extension representing the maximum deal.
You could make a pretty good argument that the Thunder might have overpaid at this point in Westbrook's career, but the 23-year old All-Star is still brimming with potential and could easily make this contract look like a bargain in a few years.
GM Sam Presti is a smart guy and likely knew the repercussions of trying to low-ball Russell and his agent up front. Things could have gotten ugly fast with high-paying teams like the Lakers in need of a point guard of the future.
But whether you believe this was the right move or not, the move is done and it is time to look forward to Presti's next big dilemma: How to keep James Harden and Serge Ibaka while still being able to field a respectable team. The Thunder's success is attributed in large part to the wildly efficient play of their second group, so gutting the roster to keep those two isn't ideal.
Luckily this isn't a problem that needs to be addressed any time soon. Serge and James don't become free agents until after the 2013-2014 season, giving the Thunder plenty of time to wait this out and see how things go.
But while we're on the subject, let's discuss how this is all going to go down.
First of all, it's not like Presti hasn't seen this coming. Nick Collison's extremely front-loaded contract signed in 2010 was designed for this very purpose. Collison received over $13 million in salary and signing bonuses two seasons ago but his salary decreases annually to only $2.5 million in its final year, the 2013-2014 season.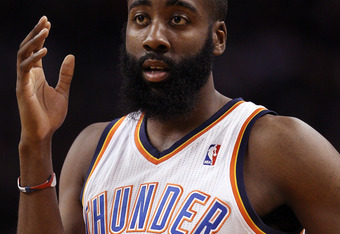 Elsa/Getty Images
Nazr Mohammed, occupying the vital "Veteran With a Ring" role is on a one-year deal this season, which will pay him $3.75 million. Nazr will stick around until Cole Aldrich finally develops into his role as backup center. I could see Nazr getting one more deal from the Thunder, but if Cole shows big improvement this season we could see the 13-year veteran hit the road, taking his cap space with him.
Another intriguing storyline is the Eric Maynor/Reggie Jackson situation, made even more interesting since Maynor went down with a torn ACL earlier this season. Jackson is not near the point guard Maynor is today, but the rookie has played surprisingly well after being thrust into action.
Reggie still has a lot of learning to do, but has proven to be a great dribbler as well as an able, confident shooter and slasher. He has a fairly solid grasp of the offense which, when he is on the floor, is usually just pass the ball to James Harden.
Maynor is cheap this year at $1.5 million but his salary increases to $3.4 million in 2013-2014 when Jackson is only due $1.3 million. By that time Reggie will likely have improved his game enough to make life without Maynor more than livable and, more importantly, a lot cheaper. 
I have always thought Eric Maynor was a little too good to be a backup point guard and would eventually want to start somewhere else (Lakers? Mavs? Phoenix?).
Lastly, the sharp-shooting services of Daequan Cook, on the books until the end of the 2012- 2013 season for $3.1 million a year, could be replaced fairly easily (and much cheaper) with a draft pick. This would be a last-ditch effort in my eyes, but could be necessary in the coming years. 
All-in-all, the Thunder still sit in a great position to hold onto their core (Durant, Westbrook, Harden, Ibaka, Perkins, Sefolosha, Collison) despite 55% of their salary cap (60% if Westbrook goes All-NBA again this year) going to two players.
If worst comes to worst, the Thunder can just go over the cap a bit and pay the penalty. I keep hearing national pundits referring to this as an impossibility because OKC is a "small market" but they don't seem to understand how much oil-soaked money is behind this team.
Due to their quick success and lovable roster, the Thunder have helped improve Oklahoma City to an immeasurable degree—something the ownership group is well aware of and willing to fork over mountains of cash to maintain.