NFL Playoffs 2012: Is Alex Smith Ready to Take His Spot in 49ers History?
January 20, 2012

Thearon W. Henderson/Getty Images
We are about to start a weekend that has two great NFL matchups.  
The San Francisco 49ers are trying to return to Super Bowl greatness since the days of Joe Montana and Steve Young.
The question is, can current 49ers QB Alex Smith lead his team to a Super Bowl title?
I believe the answer is yes!
Smith has had to deal with adversity throughout his entire NFL career.  He's had seven offensive coordinators during his seven-year NFL career.  There has been no stability for Smith and the rest of the 49ers.
Questions began coming up about whether San Francisco needs to get rid of Alex Smith and try for a new quarterback in the draft.
It looked as if Alex Smith was on his way out of San Francisco, then Jim Harbaugh took over the head coach position.  Harbaugh believed in Alex Smith and made sure he knew it from Day 1.
With support and stability in the coaching staff, Smith was able to evolve as quarterback and not have to worry about his future.  He was just able to play football.
Smith didn't set the world on fire with his stats.  He threw for 3,144 yards, 17 touchdowns and five interceptions.  What Smith did do was keep the mistakes down to a minimum.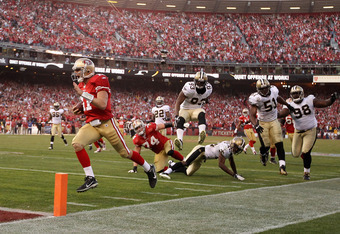 Ezra Shaw/Getty Images
He was able to score points when needed and not put the San Francisco defense in a position where they couldn't hold off the opposing teams.  
Once the regular season ended, questions came up if Alex Smith could lead the offense to scoring drives and take down the high-scoring New Orleans Saints.
Smith stepped up and proved that he can win.  
Smith threw for 299 yards, three touchdowns and no interceptions. He even rushed for a touchdown late in the fourth quarter.
When Drew Brees and the Saints took the lead, Alex Smith did what not many people imagined he could. He led a game-winning drive down the field and threw a great touchdown pass to TE Vernon Davis.
Now Alex Smith's next challenge will be taking on the New York Giants defense.  He is one game away from reaching the Super Bowl.
At this game, we will see Alex Smith take charge again to lead the 49ers past the Giants defense. 
With the right mix of run and pass, Smith should be able to catch the Giants off-guard and sneak some quick passes by their pass rushers.
It's going to be a great game, and it will be great to see the San Francisco 49ers back in the Super Bowl.