Super Bowl 2012: Harbaugh vs. Harbaugh and Other Potential Storylines
January 20, 2012

Rob Carr/Getty Images
As we all know, there's a bye week in between championship weekend and the Super Bowl.
So, for two weeks, we'll be hearing about every possible storyline heading into the big game.
Last year, it was the Packers' injuries and Ben Roethlisberger's redemption that headlined the coverage.
Hopefully, this year's Super Bowl will provide some more compelling storylines.
With that being said, let's take a look at three potentially interesting Super Bowl storylines for Super Bowl XLVI.
John Harbaugh vs. Jim Harbaugh, Part 2
With both of their sons coaching in conference championship games this weekend, Jack and Jackie Harbaugh will watch their sons coach from the comfort of their Milwaukee home, according to Yahoo! Sports.
However, if both Harbaughs win this weekend and make it to the Super Bowl, you'd better believe their parents will be at the game.
John and Jim already became the first two brothers to coach against each other when the Ravens played the 49ers on Thanksgiving.
We'll see if they can become the first brothers to coach against each other in the Super Bowl as well.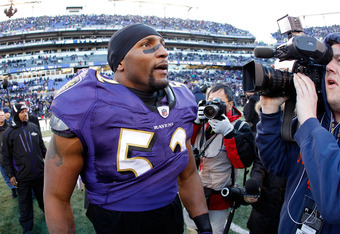 Rob Carr/Getty Images
Of course, they'll have to get past this weekend first, which is easier said than done.
Ray Lewis vs. New York Giants, Part 2
Ray Lewis is the only important remaining player from the first time these two teams met in the Super Bowl in 2001.
Lewis and the Ravens embarrassed the Giants, winning one of the most lopsided Super Bowls in history by a score of 34-7.
Even though most of those players have retired, the Giants would love to avenge that loss 11 years later.
Meanwhile, Lewis's teammates would love nothing more than to get their fearless leader another Super Bowl ring at the hands of the Giants.
New York Giants vs. New England Patriots, Part 2
We all remember the game when the Patriots just needed one victory to finish a 19-0 season.
Then came David Tyree and one of the most amazing catches in football history.
The Giants would love to spoil another great Patriots season and the Pats would love to get some revenge on the Giants on the biggest stage of them all.
If a rematch happens, expect to see plenty of angles focusing on players who were involved in that game.
Tom Brady, Eli Manning, Bill Belichick and Tom Coughlin will be pelted with questions about whether or not players are thinking about Super Bowl XLII and whether or not it will affect the game plans for this year's Super Bowl.