Ravens vs. Patriots Predictions: Difference-Makers on Defense for Both Teams
January 20, 2012

Chris Trotman/Getty Images
The biggest storyline of the AFC championship game, inevitably (and justifiably), will be Tom Brady against the Baltimore defense. With Brady unlikely to throw five TDs by halftime again, though, both defenses will need to come through in what should be a closely-contested game.
These defensive stars will have the most to say about which team books its flight to Indianapolis for Super Bowl XLVI:
Terrell Suggs, Ravens
No secondary can cover the Patriots' wealth of receivers for very long, so putting pressure on Brady will be the No. 1 priority for the Ravens. That job starts with Suggs, who led the team with 14 sacks in the regular season.
New England LT Matt Light has loads of experience, but the edge in talent lies with Suggs. He absolutely must have a big game for Baltimore to thrive.
Vince Wilfork, Patriots
Joe Flacco is a fine NFL quarterback, but he's not at a level where he can carry his team in a game as big as this one. New England's best bet is to make the Ravens one-dimensional by cutting off Ray Rice and the ground game, and Vince Wilfork will be the first line of defense.
The mammoth nose tackle specializes in controlling the line of scrimmage, and if he can keep Rice from getting a rhythm going, he'll shut down a large percentage of the Baltimore attack. Wilfork isn't going to make a big splash in the box score, but a dominating game from him would swing the momentum to New England.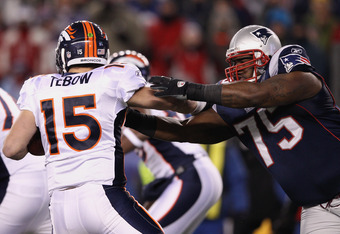 Elsa/Getty Images
Patrick Chung, Patriots
Assuming that Brady is reduced to a mere mortal by the Ravens D, New England's much-maligned secondary will need to improve on its typical porous performance. Free safety Patrick Chung will face perhaps the toughest challenge: making sure Torrey Smith doesn't steal the win for Baltimore.
Smith, a rookie speed-burner out of Maryland, caught just 50 passes but scored seven TDs in the regular season. New England's corners are certain to get burned once or twice in single coverage, and if Flacco can get the ball deep on those occasions, Chung must be there to avert disaster.
Bernard Pollard, Ravens
New England TE Rob Gronkowski had as big a breakout season as any player in the NFL, and shutting him down will be a top priority for the Ravens secondary. The biggest share of that responsibility is likely to fall on SS Bernard Pollard.
Ed Reed is most valuable when he can roam free and play the ball as he did against the Texans. If Pollard can jam Gronkowski and keep him under control, Reed will get the chance to force a game-changing turnover.